Home and Garden
Unexpected Uses for Toothpaste
Toothpaste is not just for brushing your teeth.  It has many uses around the house, from cleaning jewelry to unfogging mirrors and much much more.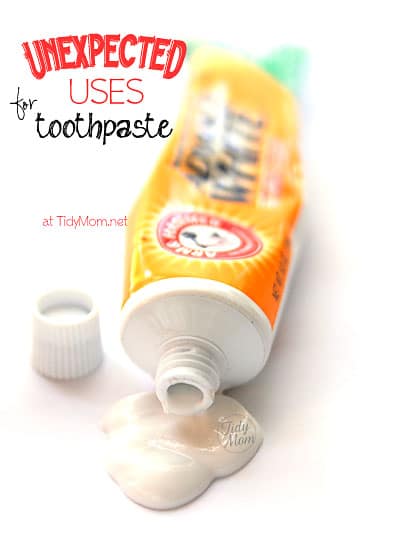 I bet you thought toothpaste was just for brushing your teeth didn't you?
Well, we recently talked about all the uses for baking soda around our home…but did you know tooth paste has many uses too?
Household Uses for Toothpaste
Mirror and Goggle Defogger
Coat a bathroom mirror with a little (non-gel) toothpaste, then wipe with a dry cloth, before stepping into the shower.  When your finished with your shower, you will have a clear mirror to see in.  Same method applies to goggles, smear inside of goggles with toothpaste, then wipe clean, to avoid fogged-up goggles.
Clean Jewelry
My mom told me this little trick years ago.  Put a little toothpaste on an old toothbrush and use it to make your diamond ring and silver jewelry sparkle. Clean off the residue with a damp cloth.
Clean your Clothes Iron
Apply the toothpaste to the cool iron, scrub with a rag, then rinse clean. 
Deodorize baby bottles
No matter how well you clean them, baby bottles can get that sour-milk smell. Toothpaste can be your secret weapon. Just put some on your bottle brush and scrub away. Be sure to rinse thoroughly.
Remove crayon from walls
Grab a rag or, better yet, a scrub brush. Squirt non gel toothpaste on the wall and start scrubbing. The fine abrasive in the toothpaste will rub away the crayon every time. Rinse the wall with water.
Remove watermarks from furniture
To get rid of watermark rings left by sweating beverages, gently rub some non-gel toothpaste on the wood with a soft cloth. Then wipe it off with a damp cloth and let it dry before applying furniture polish.
I would love to hear any other ways you have found to use toothpaste around your home.

This is a sponsored post for Church & Dwight Co., Inc, the maker of ARM & HAMMER branded products, who is paying me to try different products. Sign up for a free sample of Advance White Brilliant Sparkle Toothpaste. And then head over to The Switch & Save Challenge to keep up with all of the bloggers and enter to win $25,000
You May Also Like...