Holiday
Hairy Spider Cookies {Bake at 350 Guest Post}
I know you've heard me talk a time or two about a certain cookie baking fool friend of mine……like when she came to visit me this summer, or when she started the fabulous University of Cookie.  Well, you know how great friends can be…….when you're in a bind, they step in to help!
The amazing Ms. Bridget has offered to entertain you  all while I'm headed to wine country to  hang out with some amazing women!! We will be in Napa Valley, CA cooking with Bush's Beans for their Flavors from Around the World event at the Culinary Institute of America! ……I KNOW! Right?! SO fun!!  I'll fill you in on all the details when I get back.
***************************
Hi there!  I'm Bridget from Bake at 350 and I am so thrilled to be here today guest posting at TidyMom!!!  I am a little in awe of Cheryl…she bakes, she cooks, she crafts, she takes beautiful pictures….all while keeping a tidy home.  Me?  I'm a one trick pony.  I ONLY bake…and can barely keep my house in order.
So, today…how about a HAIRY SPIDER cookie for Halloween?  My sister cut this idea out of Family Circle magazine for me a few years ago and I've always wanted to make them.
Especially as a mom of a boy, making a "creepy" cookie earns me brownie points.


To make them, you'll need:
sugar cookies in a spider shape (I bought my cutter from Sweet Baking Supply, here)
royal icing in brown and white (I used AmeriColor Chocolate Brown mixed with Super Black for the brown and Bright White for the white.)
decorating tips in #2, #1 and #7
disposable piping bags
squeeze bottles
toothpicks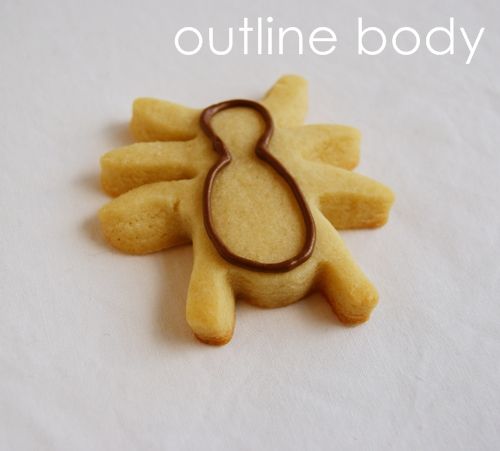 First, using a #2 tip and brown royal icing, pipe the outline of the spider body.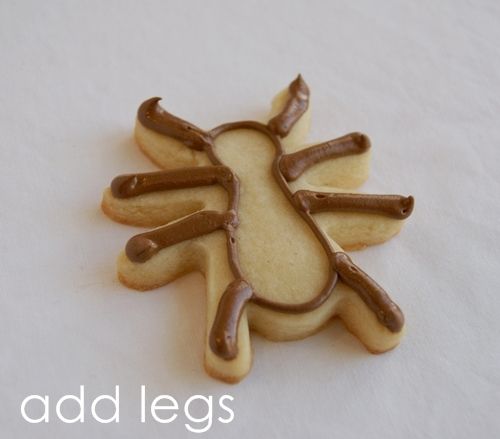 Change the tip on the piping bag to a #7 tip (or another larger round tip) and pipe on the spider legs.
Add water to the remaining brown icing, stirring in a bit at a time, until the icing is the consistency of thick syrup.  Cover with a damp dish towel and let sit several minutes.
Uncover the icing and stir gently with a rubber spatula to pop the bubbles that have formed on top.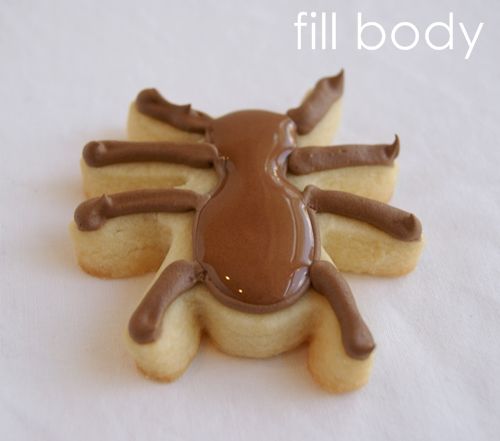 Transfer to a squeeze bottle and fill in the outline.  Use a toothpick to guide around edges.
Let the cookies sit for 1 hour.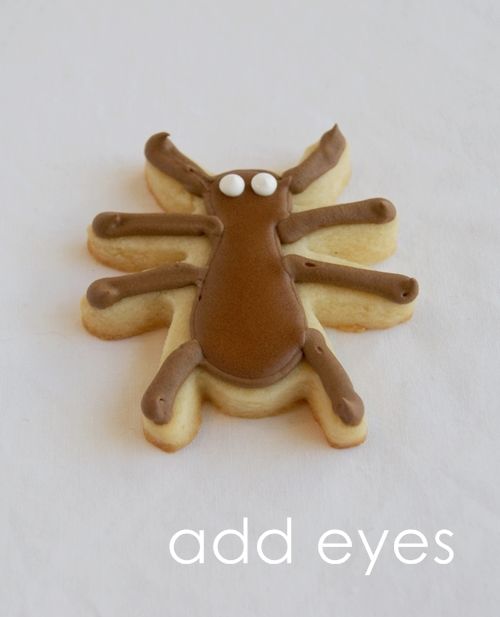 Using a #1 or #2 tip, pipe the spider's eyes in white.
Let the cookies dry overnight.
The next day, mix equal parts of meringue powder and water together.  Set up a "spider leg station" like this: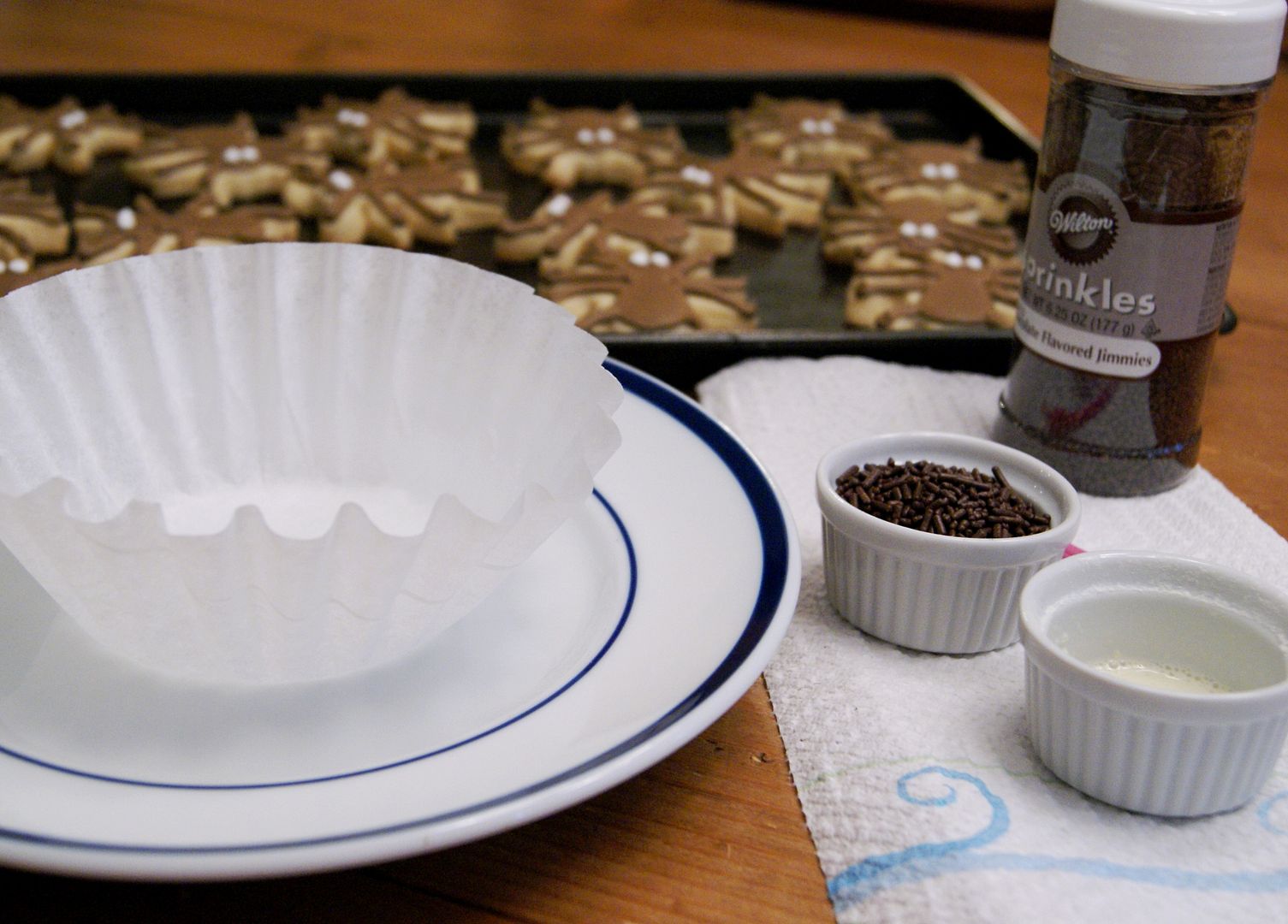 I use a coffee filter as a funnel to reuse sprinkles/jimmies that have fallen off the cookies.
Time to add the hairy legs!
With a small paintbrush, paint on the meringue powder mixture where you want the sprinkles to stick.  Sprinkle on the chocolate jimmies.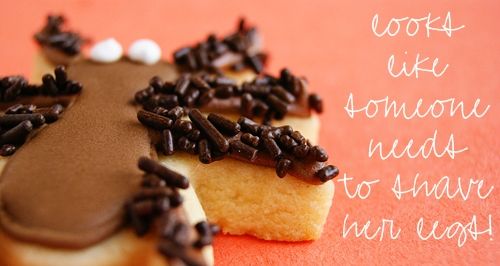 That's it….hairy-legged spiders, ready for Halloween!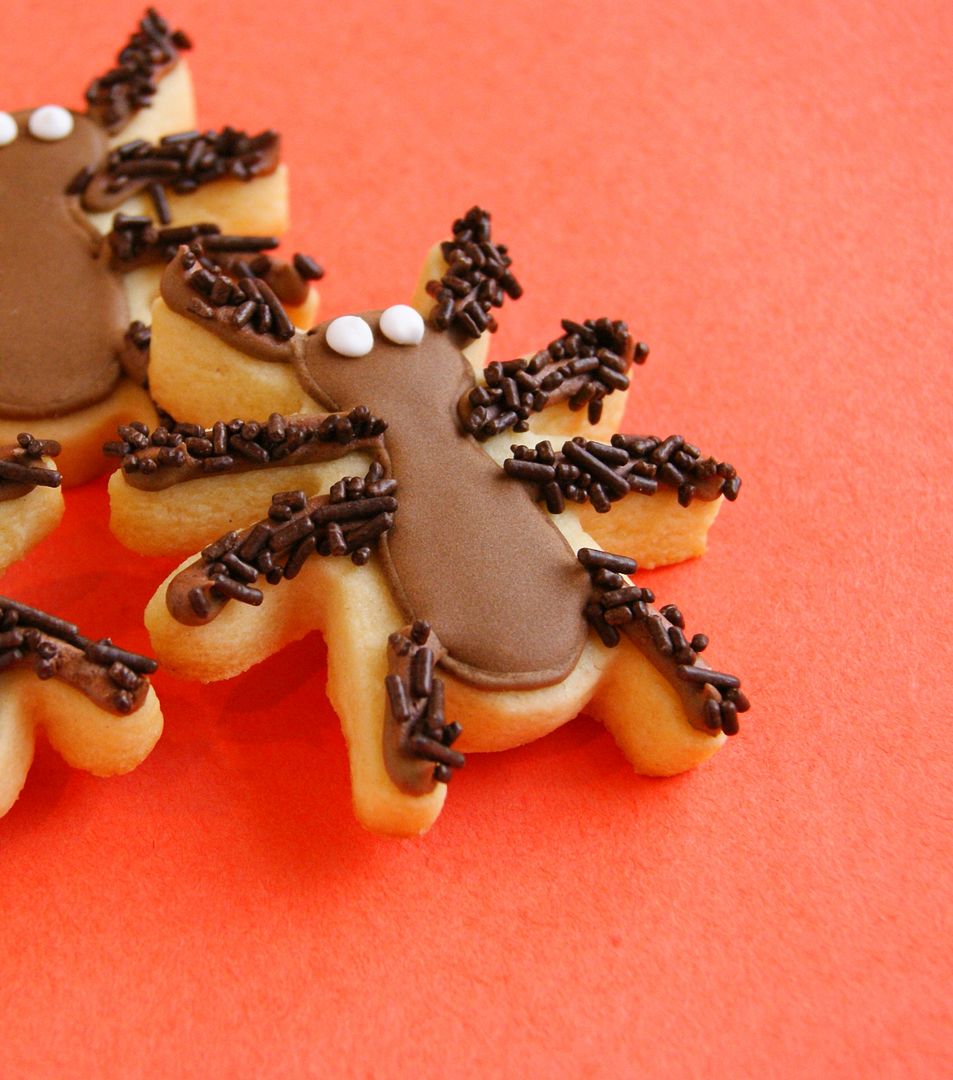 Thank you, Cheryl, for having me!  I hope you all will come visit me for more cookie decorating ideas (and lots of other fattening goodies) at Bake at 350!  Happy Halloween!
more by Cheryl »
Cheryl Sousan
A self-proclaimed neat freak, Cheryl chronicles her journey through homemaking on her blog, TidyMom.net, where she shares recipes, tutorials, crafting and her ever-growing love for photography. This St. Louis mom juggles her passion for life, her daughters and her tiger-loving husband, all while her obsession with tidiness cleans up the trail blazed behind her. Google+
You May Also Like...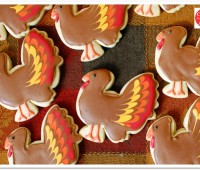 posted on November 18, 2010
posted on April 27, 2011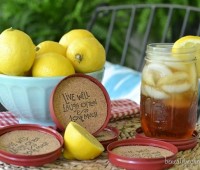 posted on May 27, 2014