Wreath Face Lift
I recently took my Christmas wreath off my front door. My door was empty, and I didn't know what I wanted to put up there.
Kimba then did a post on Winter Wreaths here. She listed links to some great ideas….but I fell in love with the gorgeous winter wreath @ StoneGable. So I set out to make my Winter Wreath……
After a few trips to Michaels, I couldn't find any silver leaves like she used, and then it occurred to me – spray painting my wreath white, wouldn't really show up on my WHITE front door any way.
It may have turned out a little bit springy……but hey, better to be AHEAD of the season instead of behind!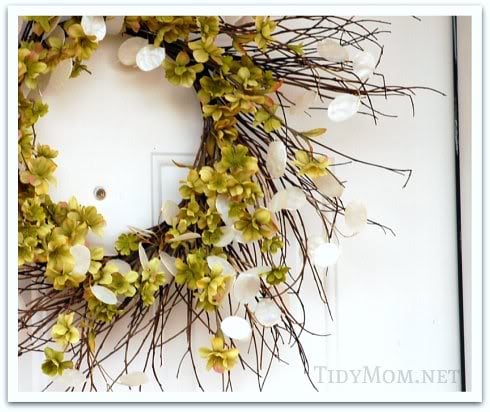 I started out with this wreath I've had for years and was becoming rather tired of.
1. Remove the metal star and homespun fabric
2. For $3 each I purchased 4 stems at Michaels, 2 of the white plastic "paper coin" branches (like StoneGable used) and 2 yellow/green flower stems
3. Break the stems down, pull/cut the flowers/coins off the stem so you have little individual bunches.
4. Randomly hot glue all around the wreath.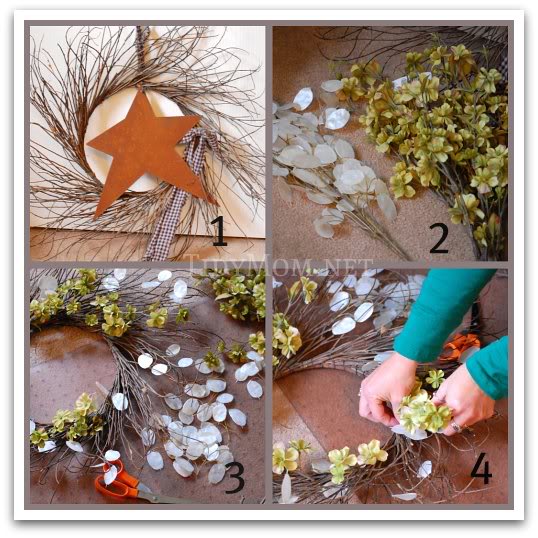 I know it's not rocket science…………….
and it's nothing "out of this world"
but it's a lot better than the poinsettia wreath I had on the door!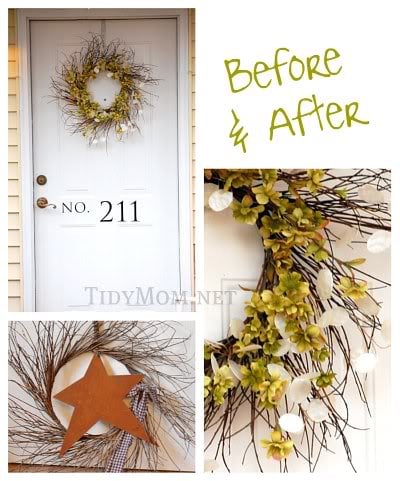 What's on your front door?