What I learned THIS week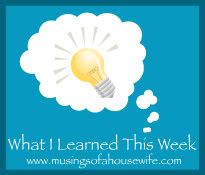 What I learned this week is hosted by Jo-Lynne over at Musings of a Housewife
?I learned I CAN make pretty cookies AND they taste awesome too!
?I learned it's not as scary as I thought being a contributor on one of my favorite blogs Chic Critique – I was SO nervous about my first post!
?I learned I CAN learn all the coding to make-over my blog all by myself (hopefully I can have it all up this week)
?I learned I have some AWESOME blog buddies who go above and beyond for you! Wait until you see my new blog header – *hint* Cathe is SOOOO talented and THE sweetest person!
?I learned how to Hard Cook Eggs
?I learned how to get my home office organized with Peter Walsh and his GREAT new products at Office Max (you can too with my Giveaway!)
?I learned I have GREAT friends on Facebook who help when I'm in a bind with a computer mess!! – Thanks again Debbie!
?I learned how much I miss running around shopping with my mom all day – just the two of us!
?I learned Cullen likes to blog with me! LOL
Whew………….what a week!