I know these days many of us are trying our hand at royal icing and cookie decorating. Along with that comes a LOT of questions…….
I don't know about you, but I'm a VISUAL person. I can read and read, but SEEING what I'm supposed to do can make ALL the difference when it comes to cookie decorating.
Well, we are in luck!
University of Cookie is a new site devoted to cookie decorating!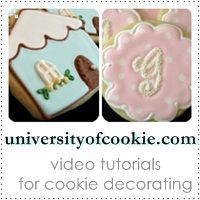 It's going to be "THE PLACE to be" for cookie decorating, tutorial, videos and more!
Who's the "Dean" of this awesome place of higher learning you ask?
Why non other than my buddy Bridget of Bake at 350!
Bridget has always been so giving of information, tips and how-to's with her cookie baking….well now she's bringing it to a whole new level!

Video!
Yep that's right…..it will be like we are right in the kitchen with Bridget!
She has also invited me and an impressive lineup of other "Visiting Professors", who will each contribute videos of their own! …..she said I can do some cupcake posts!! woohooo!!
So head over and take a look at the first video Bridget has up on flood icing. – she's SO cute!
Bridget says "University of Cookie will get a fabulous look in a few weeks after Jessica of The Frilly Coconut gets a hold of it!"
***************
Next up………I promised to announce the winner of the
Custom Vintage Monograms from Cathe Holden
…….boy you ladies LOVE Cathe and Monograms!!
random.org choose one winner out of 187 entries!
Congratulations to Cindy she wrote:
44. Pretty Little Things for Home Life said…

Vinyl for a wall decal. As well, I'd have stencils cut to do some glass etching on some vintage apothecary jars on my bathroom counter, among other things! 🙂
Remember, if you didn't win…..you can always purchase your Custom Monogram from Cathe's Etsy shop
http://www.etsy.com/shop/VintageMonograms
************************
and one last bit of news……
I have 2 fabulous new TidyMom sponsors!!
Snootie Patootie is owned by mother and daughter team, Judy and Robyn. At Snootie Patootie you can find great gifts for every occasion or for yourself. From children's clothing, products by Little Giraffe, jewelry, Vagabond House pewter, and stylish bags, you can find them here.
You can also find Robyn and Snootie Patootie at Our Homeschool Home, Robyn on Twitter, Snootie Patootie on Twitter and on Facebook.
and
Emily is a 30 year old stay at home mom to 2. She blogs about her life.
Emily had been deep in consumer debt after years of overspending on stuff that she thought she needed to be happy. After digging herself a hole more than $10,000K deep by the age of 23, she has been debt free for over 5 years now.
4 years ago, Emily and her husband along with their then 1 year old daughter sold their big house in cold and gray New York and moved to Florida, where they decided to change their life and their ways.
Mostly she writes about simplicity and frugality. She touches on organization, decluttering, and ways to simplify.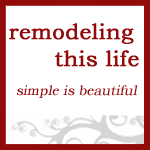 You can also follow Emily on Twitter.
If you're interested in a sponsor partnership with TidyMom, you can email me for more information. Right now I have a Mother's Day's special rate if you sign up by Mother's Day!