TidyMom & Tropicana Team Up with Juicy Rewards!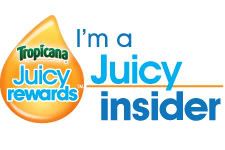 I'm so excited to tell you that I have been selected by Tropicana as a part of a new campaign!
Tropicana has recently introduced a new program called Tropicana Juicy Rewards and I am one of the new Tropicana Juicy Insiders! I will have the chance to try out this new program and share with you how earning Tropicana Juicy Rewards Points can mean BIG saving for YOU!
Basically Tropicana is going to reward you for buying juice!! How cool is THAT?
Three easy steps to participate and save with Tropicana Juicy Rewards
1. Buy Tropicana and find the unique code on the package (either under the cap or on the back of specially marked Tropicana juice products)
2. Register at Tropicana Juicy Rewards, enter the codes to receive your points.
3. Redeem points for over 20,000 rewards!. As a bonus, you can use the code MOMCE-NTRAL* within6 hours of registering for Tropicana Juicy Rewards and you'll get one extra bonus point worth $5 in savings immediately!
You can save money on local activities like aquariums and zoos and museums, even tours in Yosemite National Park. The program also offers savings on Adidas fitness gear, EA Sports Active, TaylorMade golf equipment, local spas, Harrah's resorts and even the Norwegian Cruise Line!
Every carton is worth at least 3 points
One carton can save you up to $15.00 in savings.
Use the following code

MOMCE-NTRAL*

immediately after registering to receive 1 free point right from the start! within 6 hours of setting up your account!
Save on everything from shopping, massages and workout gear to water park and zoo admissions and so much more.
"I wrote this review while participating in the Tropicana Juicy Insiders Ambassador program by Mom Central on behalf of Tropicana. I received 12 free Juicy Rewards points and a $50 Visa gift card to use in redemption of the points and to facilitate my review."