This and that…
You might want to "touch" me right now!
That's because I seem to be pretty lucky lately.
I've won 3 blog giveaways in the last few weeks!!
My first win was a FANTISTIC new shapewear piece called
Slimpressions from The Dirty Shirt
This little dream slims and smooths your top half
– muffin top, back fat AND ARM FLAB!
Finally someone helping us with THAT embarrassing spot!
Be sure to check the Slimpressions website for all the information.
They come in 3 colors and 3 styles.
I've already worn mine on several occasions and just love it!
You don't even know you have it on.
Here's a picture Sunshine took for me with it on and with out.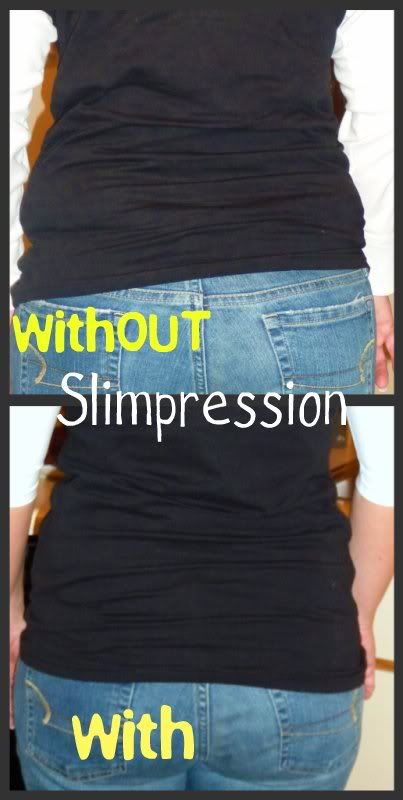 I highly recommend Slimpressions and plan on buying more in other colors
Join me so you can be "Flabuless" too!!
******************************
My next win came when I happened across
Alyssa's blog "Life From My Laptop"
She happened to be having a Giveaway for an awesome Flip
Video
sponsored by Newbaby.com
All you had to do was blog about your "mom hair"
and wouldn't you know it,
I had just blogged about my "mom hair"
Imagine my surprise when I opened my email a few days later to find out
I won the FLIP Video from NewBaby.com
I've only had my new Flip for 2 days, but I can tell you I already love it!
As does my family, The Bug Man has actually had it for the last 24 hours!
It's SO very easy to use and
you just plug it into your computer with it's built in USB arm
and easily publish your videos online, email them
or even edit and create movies!!
I can't wait to vlog with it!! (if The Bug Man ever gives it back to me)
***********************
My third surprising "congratulations" email
came yesterday when I won one of the door prizes from
Krista of We Are THAT Family's
Valentine "S.W.A.K" carnival
with this post
I will get a free marriage audio download from
Sheila Wray Gregoire -author and speaker
**************************
My new Twitter and bloggy friend Kris
has tagged me with a wonderful award!
Kris is always there on twitter to offer support, comments and laughs!
Thanks Kris!!
Love ya Award!!
These kind bloggers aim to find and be friends. They are not interested in self-aggrandizement. Our hope is that when the ribbons of these prizes are cut, even more friendships are propagated. Please give more attention to
these writers!
I'm supposed to pass this award on to 8 other awesome bloggers, but I think you're ALL awesome, so if you'd like to pick up this award, please do so!!
Now that you see that people really do win giveaways….
you don't want to miss my 100th post Giveaway that will be coming up in the
next 2 weeks. I promise, you will be FLOORED with this great giveaway!
I'm also working on a face lift for my blog,
so I hope to have a "new look" soon.
I'm trying to come up with a cute tag line as well,
so if you have any suggestions I'd love to hear them!
If I get a few, then maybe I could have you guys vote.
I put this out on Twitter as well
and WhitneyCaroline suggested
TidyMom
"The best thing to have in a messy world"
Sorry for such a long rambling post……….
but I really wanted to give 'shout outs' and
a big THANK YOU for all of my wins!!
Don't forget to leave me some tag line ideas!!