Strawberry Orange Spinach Salad with Quinoa
A hearty spring Strawberry Orange Spinach Salad with Quinoa is full of protein. Perfect for lunch or dinner on warm spring days.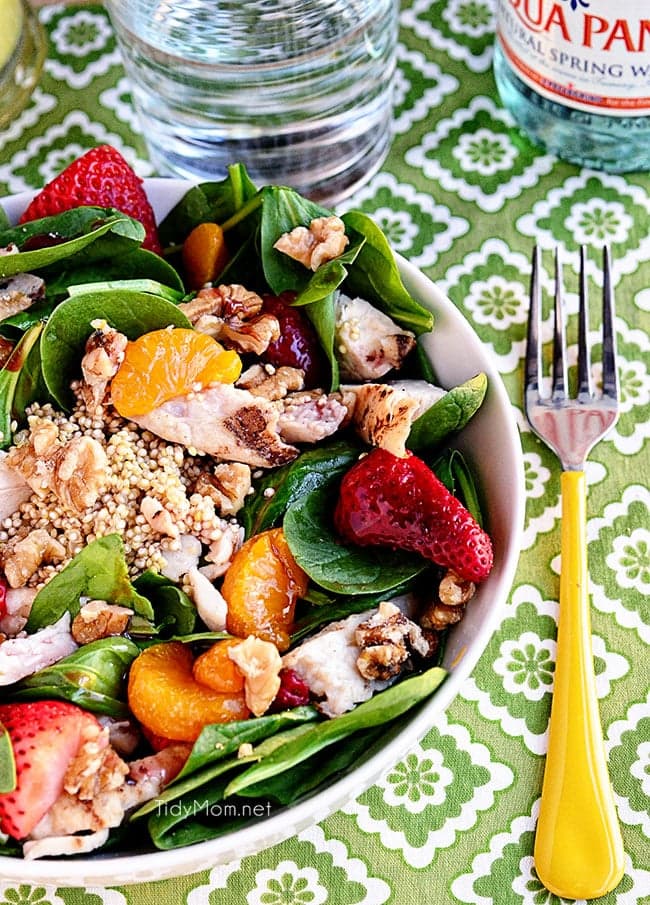 I have to be honest with you………I wasn't thrilled with how these pictures turned out.  So much so, that I almost didn't share this salad recipe with you.  I actually threw this salad together around 6:30pm one evening, with no real intentions of putting it on the blog.  But as I filled my bowl to sit down to eat, I thought I'd snap a few quick pictures, even though we were starting to lose light.
Then I ate…….and knew I couldn't keep this Strawberry Orange Spinach Salad from you!  This salad was inspired by one I ate in Orlando during my stay at the Courtyard Marriott when I made my TV debut on The Daily Buzz TV.  It's similar to my favorite, Pecan Grilled Chicken Salad and almost as easy as Feta, Peach & Prosciutto Salad, so I knew I'd love it!
It's the perfect hearty spring salad, with strawberries and spinach being some of the best offerings at the produce stand right now. And a fabulous dish if you're watching your weight.
Warmed quinoa, a fluffy, grain-like seed from South America, turns this salad into a complete meal, even with out the chicken.  Quinoa (pronounced KEEN-wah) is a complete protein that is full of nutrients and has a wonderful, nutty taste. It's easy to find at health food stores and is becoming increasingly available at large grocery stores.  If you can't find it in the rice section, look in the health-food section, that's where I found it.
The only thing missing in my salad is a little cheese – I had planned to use goat cheese or feta, but I was out.  The warm quinoa barely wilts the spinach, the walnuts add some crunch, while the strawberries and mandarin oranges add a touch of sweetness.  I tossed in a bit of grilled chicken for a little extra protein, but it's definitely something that can be left out, for a fabulous vegetarian meal.  Perfect for lunch or dinner on warm spring days.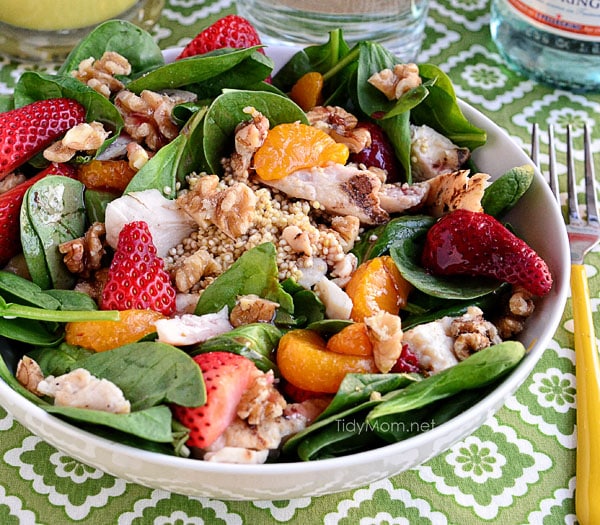 Let's Make Quinoa for a Strawberry Orange Spinach Salad
I knew the hotel used some kind of balsamic dressing,  but I had no idea what it was.   I used Marzetti's Simply Dressed® & Light Raspberry Acai Salad Dressing lightly drizzled on top, and I think it paired perfectly, while keeping this salad diet friendly!
Cooking the quinoa takes about 15-20 minutes, which gives you plenty of time to get your salad prepared.  This Strawberry Orange Spinach Salad recipe will yield one big salad, so multiply it as necessary to make enough for your family.
click to see more of my recipe videos
Have you tried quinoa?  I'd love to hear more recipes with it!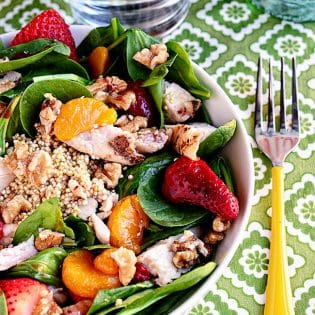 Strawberry Orange Spinach Salad with Quinoa
Ingredients:
1/2 cup cooked quinoa, warmed
2 cups baby spinach
2/3 cup strawberries, sliced or chopped
1/3 cup mandarin oranges
1/2 cup walnuts
1/4 cup grilled chicken (I use the Tyson grilled chicken)
2 tablespoons goat cheese or feta, crumbled
Directions:
Cook the quinoa: Combine quinoa with twice as much water in a saucepan. Bring to a boil, cover and reduce heat to a simmer. Cook for 15 minutes or until water is absorbed, remove from heat and fluff with a fork. Note that 1/4 cup of dry quinoa will yield about 3/4 cup cooked quinoa.
In a bowl, mix spinach with strawberries, oranges and chicken. Top with quinoa, walnuts and cheese, drizzle with with dressing of choice. (I used Marzetti's Light Raspberry Acai Dressing)
Making this recipe? Share it with us on Instagram using the hashtag #TidyMom so we can see what you're creating in the kitchen!
Want more great recipes like this? Follow my TidyMom Easy Recipes Pinterest Board
Like this Strawberry Orange Spinach Salad with Quinoa recipe?  Pin It!
More recipes with quinoa you might enjoy: