St. Louis Komen Race for the Cure

Every year since 2000 our family and extended family participates in the St. Louis Susan G. Komen Race for the Cure.

In 1999 my wonderful, funny, sweet, loving sister-in-law, Bobbie Brennan, was diagnosed with Breast Cancer. We all walked as a family to support her fight in June 2000. It was an AWESOME event! By March 2001 at 49 years old, Bobbie lost her battle with breast cancer. She left behind a loving husband, 3 kids and missed out on seeing her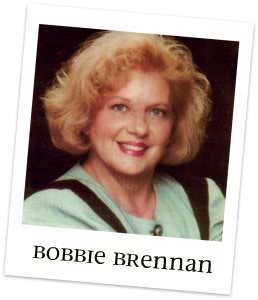 daughter give birth to triplets, her first grand children(pictured here with The Bug Man). Bobbie's family and friends all still gathered in June that year to walk in Bobbie's memory, and we have continued the tradition every year since then!
The picture to the left is one of Hollywood's favorite pictures of her and Aunt Bobbie! ? It just show's how much she enjoyed and loved her!
Our team, Brennan-Nickel Brigade now walks every year in Bobbie's memory and in support of Teri Nickel, Bobbie's niece who fought breast cancer shortly after and has been in remission for several years now!
Our family has grown, Bobbie now has 5 grandchildren, and our team has grown! This picture was taken last year of just a few of us with our team banner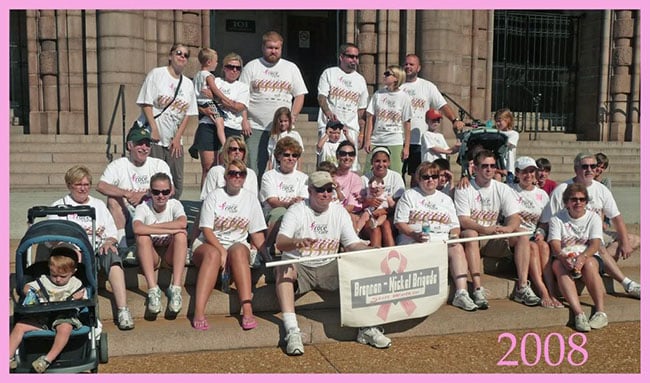 It's such an overwhelming event to participate in. The SEA of people and pink walking thru the streets of downtown St. Louis is UNBELIEVABLE.
I take a picture like this every year. Just look at the
sea of people
!! you can click the picture to see even larger.

This year, Sunshine had pink highlights put in her hair, in support of all the survivors and in memory of Aunt Bobbie!

If you would like more information on our team, I have made
a team page on the Susan G. Komen website
(click here). You can make a donation there if you'd like. Lisa Cornett has been our team captain every year and does an AMAZING job organizing the whole thing and distributes our t-shirts.
After the walk, we all usually gather for a fun day at the park, a restaurant or someone's house. What ever we do, it's a fun day and awesome way to celebrate Bobbie's life!
St Louis is one of the top-three largest Race for the Cure events in the world, the St. Louis Race raised over 3.5 million in 2008 in the fight against breast cancer.
Over 63,000 people gathered for the 10th Annual Race downtown St. Louis on June 21, 2008. The event raised over 3.5 million dollars in the fight against breast cancer, with 75% of those funds staying in St. Louis to help uninsured and underserved women and men.
June 13 2009 is sure to be even bigger!