St. Louis Komen Race for the Cure- signed up!
E
very year, on a Saturday in mid June the streets of downtown St. Louis are painted pink.
(there are people as far as the eye can see ahead of us and behind us)
I just registered my family for this year's Susan G. Komen Race for the Cure on June 12, 2010. Each year since 2000 our family and extended family has participated in the St. Louis Susan G. Komen Race for the Cure, it's one of the biggest in the country.

In 1999 my wonderful, funny, sweet, loving sister-in-law, Bobbie Brennan, was diagnosed with Breast Cancer. We all walked as a family to support her fight in June 2000. It was an AWESOME event! By March 2001 at 49 years old, Bobbie lost her battle with breast cancer. She left behind a loving husband, 3 children and missed out on seeing her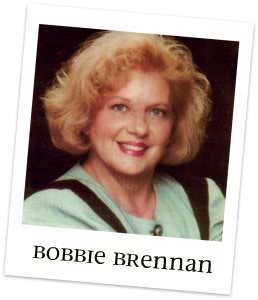 daughter give birth to triplets, her first grand children(pictured here with The Bug Man). Bobbie's family and friends all still gathered in June that year to walk in Bobbie's memory, and we have continued the tradition every year since then!   The picture to the left is one of Hollywood's favorite pictures of her and Aunt Bobbie! ? It just show's how much she enjoyed and loved her! Our team, Brennan-Nickel Brigade now walks every year in Bobbie's memory and in support of Teri Nickel, Bobbie's niece who fought breast cancer shortly after and has been in remission for several years now! Our family has grown, Bobbie now has 7 grandchildren, and our team has grown! This picture was taken last year of part of our team along with our team banner.
It's such an overwhelming event to participate in. The SEA of people and pink walking thru the streets of downtown St. Louis is UNBELIEVABLE.
Even though most of us only participate in the 1 mile walk……..we still get our picture at the finish line.
* Yes – Allison colored part of her hair pink last year *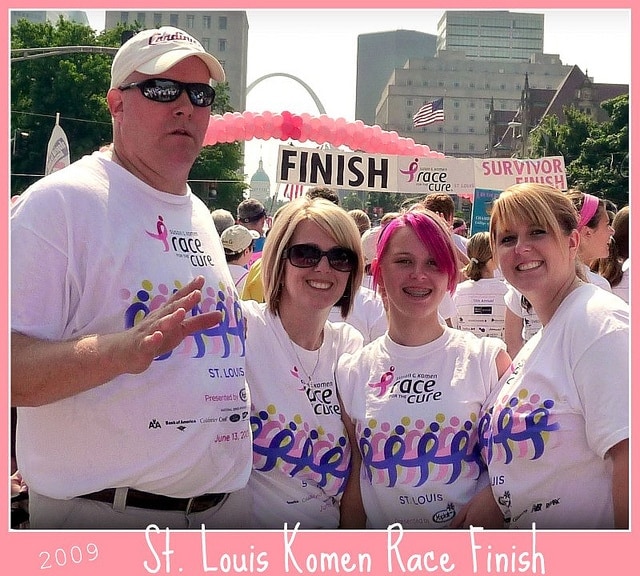 After the walk, we all usually gather for a fun day at the park, a restaurant or someone's house. What ever we do, it's a fun day and awesome way to celebrate Bobbie's life!
The Susan G. Komen St. Louis Race for the Cure hit the ground running in 1999 – the first St. Louis race immediately earned the distinction of being the largest road race ever held in the city. The 10,257 St. Louis Race participants set and still hold a Komen record as the largest first-year event of any race around the globe. Today, the Komen St. Louis Race for the Cure is one of the largest in the Komen Race for the Cure Series and one of the top five largest 5K races in the world!
Over 66,000 people gathered for the 11th Annual Race downtown St. Louis in June 2009. The event raised over 3.2 million dollars in the fight against breast cancer, with 75% of those funds staying in St. Louis to help organizations provide breast cancer education, screening and treatment programs.
June 12 2010 is sure to be even bigger!
If you live in or near St. Louis, and have never participated, I highly encourage you to help make the St. Louis Race for the Cure another huge success! If you can't be at the race, it's easy to
make a donation
.
"Imagine life without breast cancer"