Something to keep you busy…….
Over the weekend my mom and I went on a GREAT outing. I'm working on pictures to post about it, but it's taking some time. There's some GREAT stuff happening in Blogland! So, I thought I'd share some links so you can enjoy while you wait for my pictures.
The Inspired Room is featuring a Fall Drive By "Fall Porches on Parade" Click here to check out all the BEAUTIFUL Fall porches she has spotted and click all the links to the other blogs to see their Fall Drive Bys.
Char at The Pickled Pepper Patch is doing "Mug Me Mondays". Just in time for all your holiday gift giving. Each week Char will post recipes for individual servings that you can cook in your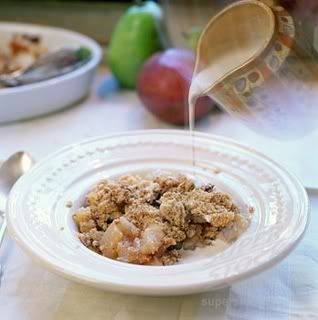 average mug. These are so simple to create and are just that perfect one person snack that we all crave for! You bag them up, put them in a cute jar or mug and keep them on hand for unexpected guests or wonderful gifts for teachers, bus drivers, hair dressers, mail men etc.
Char's first recipe is for Pumpkin Spiced Apple Crisp!! Can you say YUM!? Be sure to follow The Pickled Pepper Patch so you don't miss a recipe, or her other great tutorials
Keep Mom's in Business…..Buy Handmades!
This is the theme going around
Blogland
for this Holiday season! Isn't it a
GREAT
idea?!
The Nester
will be having several Giveaways from some wonderfully talented ladies, as well as, starting tomorrow, Wed Oct 22 she will be hosting a blog party taking us to sites of women who make and sell their items!
The Nesting Place
is the place to be!
A Soft Place to Land is joining in on this bandwagon as well. She is having a CHARMING Giveaway right now! Be sure to hurry over and enter, the contest will close Wed at Midnight.
The Tip Junkie is hosting her own Mom-prenuer Holiday Shop-a-thon!

Tip Junkie is supporting Mom's who make handmade items 🙂 They're trying to promote business to SAHM's who want to make a few extra bucks. Please help support the cause! This year, buy handmade items!! There are lots and lots Mom-prenuer's over at Tip Junkie so check it out!
Buy from WOMEN this Holiday Season!