Our Favorite Pumpkin Bread
Our easy Pumpkin Bread recipe is moist and fragrant with warm spices, chopped nuts, and raisins. This favorite fall treat bakes up wonderfully and is perfect for holiday gifting!
If you are a fan of pumpkin everything like we are, you don't want to miss our Crustless Mini Pumpkin Pies, Apple Butter Pumpkin Pie with Streusel Topping, or everyone's favorite Vanilla Pumpkin Cupcakes with Cinnamon Buttercream.
Be sure to sign up for my email… to get new recipes and ideas in your inbox!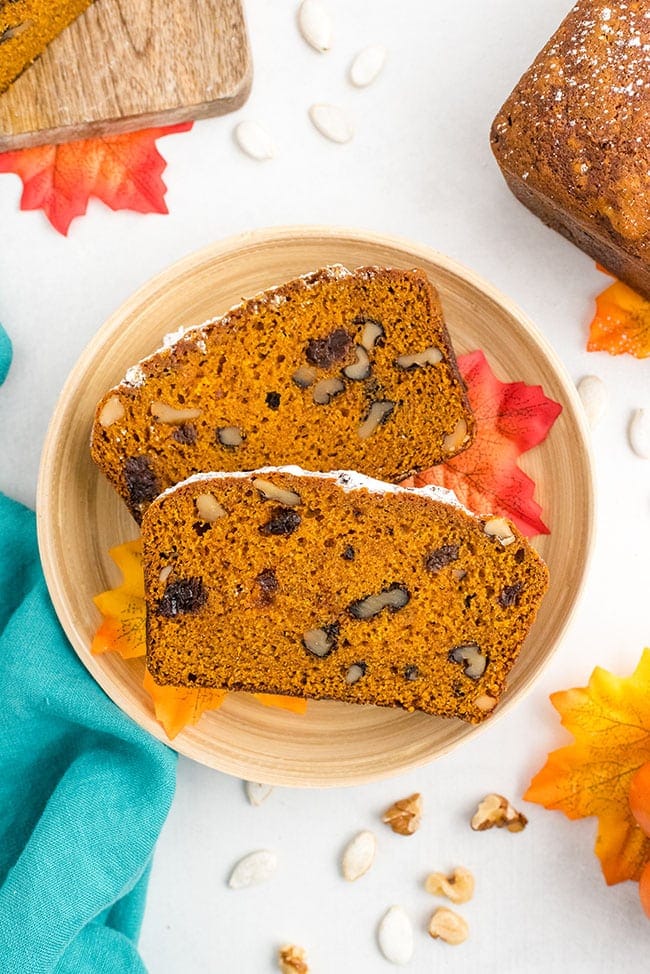 Why We Love Pumpkin Bread
Autumn brings orange and red leaves, cool breezes, and pumpkins! I've always loved a sweet quick bread to drink with my morning cup of coffee, and what's better than sweet, moist pumpkin bread?!
Of all the pumpkin recipes we make each year when fall starts to make an appearance, pumpkin bread is the one I look forward to the most. The smell of it baking makes our entire house smell amazing from the moment you walk in the front door. I've been making this classic pumpkin bread recipe since I was a teen.
So what makes this pumpkin bread recipe so special? Maybe it's the walnuts and juicy raisins, or maybe it's just the fact that this pumpkin bread has stood the test of time in our family for decades. So make room in your recipe box for this one!
Loaded with pumpkin puree and warm spices
Uses everyday ingredients
Moist, soft quick bread with a tender crumb
Makes 2 large loaves or 48 muffins or make 1 loaf and 24 muffins
What is Pumpkin Bread?
Pumpkin bread is a type of quick bread. Quick breads don't require yeast or kneading and they bake up quicker than yeast breads. They can be baked immediately after mixing the dough. This recipe uses baking soda which is a leavening agent that requires no rise time, hence the name "quick bread".
Quick breads were not developed until the 18th century. Up until quick breads were discovered, we had to beat air into the dough using eggs, egg whites, or yeast. Quick breads like this pumpkin bread allow even a novice baker to make a deliciously warm, quick bread.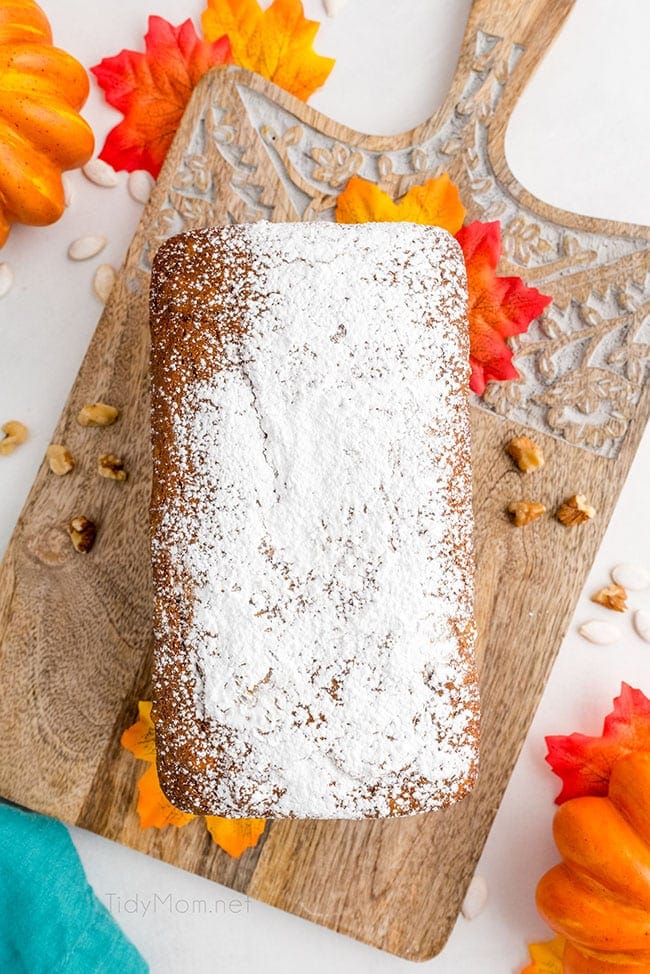 Easy Pumpkin Bread Ingredients
I love pumpkin bread because it's so quick and easy to make, and it's made with simple ingredients that I usually already have on hand!
Pumpkin– For this recipe, I use canned pumpkin found in the canned goods section at the grocery store. You can make your own pumpkin puree if you have baking pumpkins.
Granulated sugar – also known as white sugar.
Flour– Measure flour correctly. Spoon the flour into a dry measuring cup to measure it correctly. Don't use the measuring cup to scoop the flour, you'll use more flour than you should.
Baking soda– For this quick bread, baking soda is the leavening agent that helps the bread to rise while baking. It's very important to make sure your baking soda is fresh.
Ground cloves and cinnamon– complements the pumpkin, and fills your home with a sweet aroma. Check for freshness. If the flavor or smell is weak or hardly noticeable you should replace it.
Eggs– If you're not sure how old your eggs are, here's a little trick to find out if your eggs are still good. If they float in water, they are bad. If they sink, they are good.
Vegetable Oil – Be sure to use a NEUTRAL flavored vegetable oil – I use canola oil or you can use butter if you wish.
Raisins– These are totally optional. If you don't like raisins, you can substitute cranberries or just keep them out.
Walnuts– Walnuts give you a nice crunch, but they are optional as well. You can also substitute them for pecans or hazelnuts.
Powdered Sugar – optional but delicious dusted on top of a loaf of pumpkin bread.
How to Make Our Favorite Pumpkin Bread
(full printable recipe at the end of this post)
This quick bread isn't your ordinary quick bread. It's moist, fluffy, and deliciously sweet. These loaves won't last long, and you're going to love how easy they are to make!
Preheat and prep: First, preheat your oven to 350℉. Then, grease or butter two 9×5 loaf pans.
Blend soft ingredients: Blend sugar, pumpkin, eggs, and oil with an electric mixer until it's fully incorporated.
Mix dry ingredients: In a separate bowl, stir your flour, baking soda, cinnamon, ground cloves, and salt together.
Combine wet and dry ingredients: Next, slowly add the dry ingredients to the wet ingredients. Stir until combined without overmixing.
Fold in remaining ingredients: Fold in your walnuts and raisins.
Pour and bake: Pour the batter evenly into both loaf pans. Bake on the middle rack for 55-65 minutes.
Cool: Allow the loaves to cool for about 10 minutes before removing from pans to wire racks.
Add powdered sugar: Dust the loaves with powdered sugar. Serve and enjoy!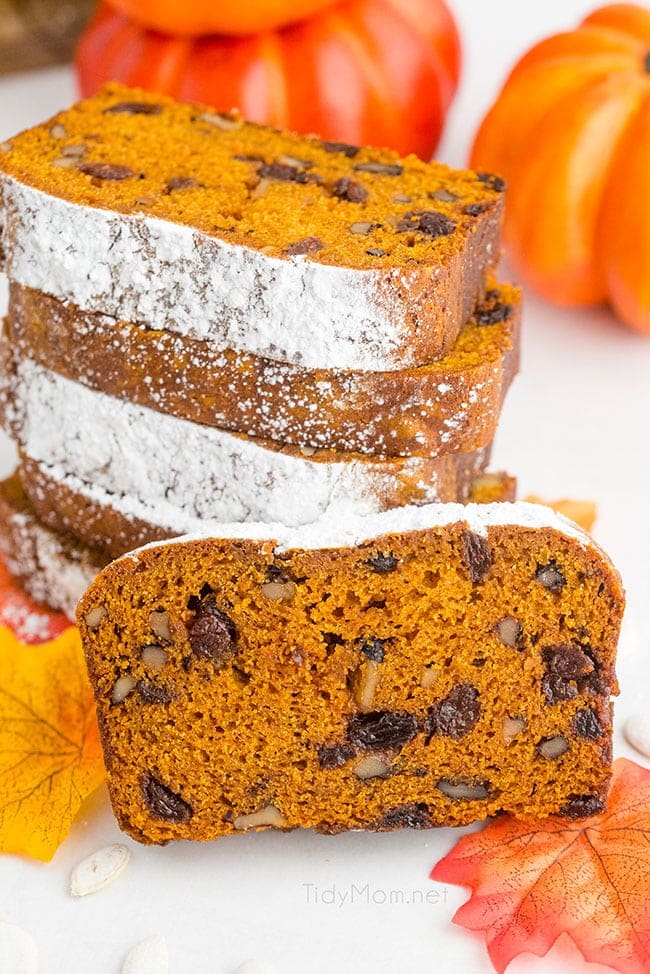 Pumpkin Bread FAQs
This post may contain affiliate links. Please read my disclosure policy here.
What's the difference between canned pure pumpkin and canned pumpkin pie mix?
This recipe calls for pure pumpkin which is essentially pumpkin cooked and pureed. Pumpkin pie mix is already sweetened and seasoned with spices. It can be found in a can right next to the cans of pure pumpkin, so be careful and double-check that you are using pure pumpkin when making this pumpkin bread.
What kind of loaf pan should I use?
Use metal pans for quick bread. Metal heats up faster and will result in a better rise and crisp, brown edges.
How do I know the pumpkin bread is done?
There will often be a large crack running down the center of the bread, this is normal. The inside of the crack should not look wet. Use that crack (or center of the loaf if there is no crack) to test with a toothpick. Place the toothpick halfway down in the center of the crack of the bread. If the toothpick comes out clean, it's done. If you prefer a slightly gooey center (like my family does), remove the bread when there are still a few crumbs on the toothpick. If the toothpick comes out wet with batter, keep it in the oven and test again in another 10- 15 minutes.
What to eat with pumpkin bread?
I love a slice of pumpkin bread with a hot cup of coffee. But if you're looking for something a little "extra" try smearing a slice with Cinnamon Honey Butter, Whipped Pumpkin Spice Butter, Nutella, Pumpkin Butter or Apple Butter !
Can I make this pumpkin bread into muffins?
Yes! You can! I have included times below for turning this recipe into muffins.
Adjust times for different sized pans: You can use this batter to make pumpkin bread, mini loaves, muffins, or mini muffins. You'll need to adjust the times depending on the type of pan that you use. Here are the bake times and pan sizes:
9×5 loaf, bake 55-65 minutes
8×4 loaf, bake 45-55
mini loaf, bake 20-45 mins (depending on size)
regular size muffins, bake 20-25 minutes
mini muffins, bake 10-15 minutes
How To Store Homemade Pumpkin Bread?
Room temperature: This is my preferred way to store this recipe for the best pumpkin bread. Simply cover the loaf pan with foil or plastic wrap and store it on the counter for up to 5 days.
Refrigerated: If you prefer your bread to have more stability, try storing it in the refrigerator. The cold temperature will firm up the bread making it easier for spreading butter or any other toppings. To store in the refrigerator, cover the loaf with foil or plastic wrap, or place it in an airtight container.
Frozen: To store for later, let the bread cool completely, then cover the entire loaf with plastic wrap and store for up to 4 months.
Gifting Pumpkin Bread
For packaging quick bread like this, I like to bake them in pretty (holiday) disposable loaf pans or in an 8-well mini loaf pan. Place the cooled mini pumpkin bread loaves in cellophane treat bags, add some pretty ribbon to wrap them up, and a gift tag. The cellophane keeps the cake fresh, and the ribbons and tags make them look pretty.
This recipe makes two 9″x 5″ loaves of pumpkin bread or 48 pumpkin muffins. Often I will make 1 loaf of pumpkin bread and 24 pumpkin muffins, or I will make 6-8 mini loaves (for gifting)- mini loaf pans come in a variety of sizes. I don't own 8″x 4″ loaf pans, but this recipe should yield 4 loaves if you are using that size.
Like This Pumpkin Bread Recipe? Pin It!
Pumpkin bread is my favorite quick bread – ever! and I honestly see no reason why you can't eat it all year long.……. I hope you love it as much as we do.

Follow Along On Social Media
If you're looking for even more inspiration check out the fun little group I created on Facebook, I'd love for you to join in! It's a place where you can share YOUR favorite recipes, home tips, creative ideas and ask questions and see what's new with TidyMom! If you'd like to check it out, you can request to join HERE.
Be sure to follow me on Instagram and tag #tidymom so I can see all the wonderful TidyMom recipes YOU make and tips YOU use!
Connect with TidyMom! Facebook | Twitter | Pinterest | Instagram
Sign up to receive an email in your inbox for each new recipe:
Originally posted in October 2014. UPDATED September 2021. We spiffed up this post with more info and better pictures! No changes to the original recipe.
Ingredients
4 cups granulated sugar
3⅓ cups (29 ounce can) canned pumpkin
3 eggs
1 cup canola oil
4 cups all-purpose flour
1 tablespoon baking soda
2 teaspoons cinnamon
1½ teaspoon ground cloves
1 teaspoon salt
2 cups raisins
2 cups walnuts, chopped
powdered sugar for dusting (optional)
Instructions
Preheat oven to 350°F and grease or butter two 9"x 5" loaf pans (see notes for other sizes). Yield: two 9"x5" loaves
Using a large mixing bowl, combine sugar, pumpkin, and eggs and beat with an electric mixer until blended. Add oil and continue beating until well incorporated.
In another mixing bowl stir together flour, baking soda, cinnamon, ground cloves, and salt.
Add the dry ingredients to the wet ingredients and stir until just combined and there is no more dry flour in the batter. Do not overmix!
Stir in walnuts and raisins.
Pour the batter into the loaf pans. Bake on middle rack in oven for 55-65 minutes (depending on your oven and the color of your loaf pan—dark pans cook the contents more quickly than light pans), or until a toothpick inserted in the center of the loaves comes out clean. Cool for 10 minutes before removing from pans to wire racks.
Dust with powdered sugar, if desired.
The loaf will keep at room temperature, covered, for about three days.
To freeze, wrap the fully cooled pumpkin bread in plastic wrap and then foil. Freeze for 2-3 months. Thaw overnight at room temperature still wrapped.
Notes
NOTES: This recipe makes 2 9"x 5" loaves of pumpkin bread or 48 pumpkin muffins. Often I will make 1 loaf of pumpkin bread and 24 pumpkin muffins, or I will make 6-8 mini loaves (for gifting)- mini loaf pans come in a variety of sizes. I don't own 8"x 4" loaf pans, but this recipe should yield 4 loaves if you are using that size.
* 9x5 loaf, bake 55-65 minutes
* 8x4 loaf, bake 45-55
* mini loaf, bake 20-45 mins (depending on size)
* regular size muffins, bake 20-25 minutes
* mini muffins, bake 10-15 minutes

Nuts and raisins are optional. Feel free to leave them out if you prefer.
Recommended Products
As an Amazon Associate and member of other affiliate programs, I earn from qualifying purchases.
Nutrition Information:
Yield: 20 Serving Size: 1 slice
Amount Per Serving: Calories: 510Total Fat: 20gSaturated Fat: 2gTrans Fat: 0gUnsaturated Fat: 17gCholesterol: 28mgSodium: 309mgCarbohydrates: 81gFiber: 3gSugar: 56gProtein: 6g

Nutrition information is estimated based on the ingredients and cooking instructions as described in each recipe and is intended to be used for informational purposes only. Please note that nutrition details may vary based on methods of preparation, origin, and freshness of ingredients used.