POM Wonderful -WFMW
I've been keeping a secret for a few months now…………….
This has been my new daily addiction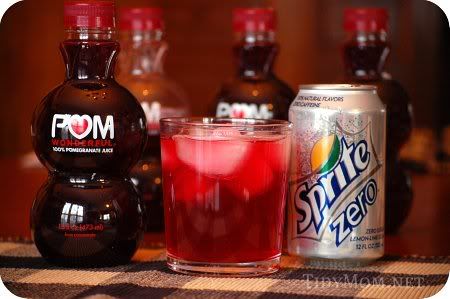 POM Wonderful
mixed with my Sprite Zero!
Seriously people….this stuff is DELCIOUS!!
Back in late December the awesome people at POM Wonderful sent me a few bottles of their 100% Pomegranate juice to try.
My original intention was to use it in a recipe…..they have lots of amazing recipes on their web site. I thought of trying it in a sauce to serve over pork, or may in some orange muffins.
I have NEVER eaten a pomegranate or any thing pomegranate flavored, so when the box arrived I was anxious to open one of the snazzy bottles and give it a try!
My whole family stood around the table as we opened the box and passed the opened bottle around!
We LOVED it! It's a little sweet and a little tart and a whole lot of healthy!!
Did you know about all of the health benefits of pomegranates?
You can read about how you can protect your immune system with all of the antioxidants and many other health benefits on their web site.
Shortly after opening that first bottle I wondered what it would taste like to splash a little POM Wonderful in my Sprite Zero????
I was hooked at the first sip!
You can find POM Wonderful Juices in many varieties in the refrigerated section of the produce department of your local supermarket. They're a little on the expensive side, so I love that I can just add a little to my soda every day.
I enjoy the taste, the benefits and a little 8 oz bottle will last me several weeks. (I only drink one soda a day)
I'm linking this post up to Works for Me Wednesday since
POM Wonderful in my Sprite Zero WORKS for ME!!
WFMW for the next two week's (March 3 & 10) will be hosted by Shannon of Rocks in My Dryer, while Kristen is in Kenya with Compassion Bloggers
I was provided 4 bottles of POM Wonderful. I was not compensated for this review. These are my own honest opinions and experience with the product.