My new Gig….Chic Critique Contributor!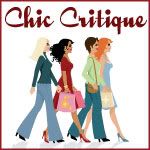 I'm posting over at Chic Critique today, talking about shoes for spring!
"The Wedge" is a HOT style for spring, and I found 6 great shoes all under $60!
Chic Critique is a fashion and beauty blog where you can stay on top of the latest tricks to being a "hip mom", or at least avoiding being known as a complete "mommy fashion don't".
As a matter of fact, I will be posting there twice a month! How cool is THAT? I have always enjoyed visiting Chic-Critique, and Jo-Lynne has become a great blogging buddy, I am honored to be a contributor along with all the other great ladies over there.
So go Here to check it out!
~and leave me some comments over there for my first post!!