My new Epson Workforce 610 printer!!
In December I attended the online conference, A Girlfriends Guide to the Business of Blogging. It was a fabulous webinar geared to help you ramp up your blogging skills.
Conference organizer Debbie Lawrence put together a GREAT group of speakers for three days of online sessions, and there was an attendance prize,
an Epson Workforce 610 wifi printer.
Well guess who won that awesome printer?
……..yep that's right…….yours truly!!!!
I've now had my printer for some time and I thought I'd tell you how amazing this thing is!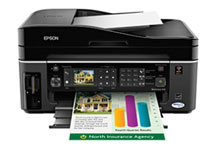 The Epson WorkForce 610 distinguishes itself as one of the most compact multifunction printers with a built-in fax. Measuring only 18 inches x 14 inches x 9 inches and weighing 18 pounds, it is smaller and lighter than others in its class.
If you're in the market for an all-in-one printer that truly does it all, then this feature packed powerhouse is going to fit the bill!!
Easy to set up
The print quality is excellent, black is nice and crisp. I've been printing photos with ease and the results are excellent, professional quality prints- just be sure to print on photo paper!
Speed is very fast, and the auto document feeder is awesome when I have multiple pages to copy or scan.
The Workforce 610 has photo print options as well, it's nice to be able to just stick my memory card in the printer and print, I can even make adjustments if need be.
I can fax right from my computer via my Workforce printer. Check out this video to see how easy it is!
Wifi- this has got to be my favorite feature!! I have this printer wirelessly hooked up to my network thru wifi and we can access it from any where in the house with any of our computers.
I haven't had the printer long enough to see how long the ink cartridges last, but so far so good!
This thing can do pretty much anything you want it to, it truly is an all-in-on printer.
Thanks again to Epson, and We Speak Media for an amazing prize and conference!