My 1st Trash to Treasure Makeover
This past week I made my first attempt at a "Trash to Treasure"
Since Heather moved out, Allison wanted her room since it's much bigger than her room. So I now have several rooms to work on. Helping Allison make her new room and powder room "her own". I also get to make Allison's old room a guest room!
So I thought with not working, it would be a good time to try my hand at a few "Trash to Treasure" makeovers. So bare with me, I'm no pro and don't claim to be! Most All of my ideas came from the great blogs I read!! I've been scoping out the thrift shops and it's truly amazing what you can do with spray paint and scrapbook paper!
Here's what I started with – these are some of my thrift store finds last week.
We're not really into the "gold" and we're needing black not cream.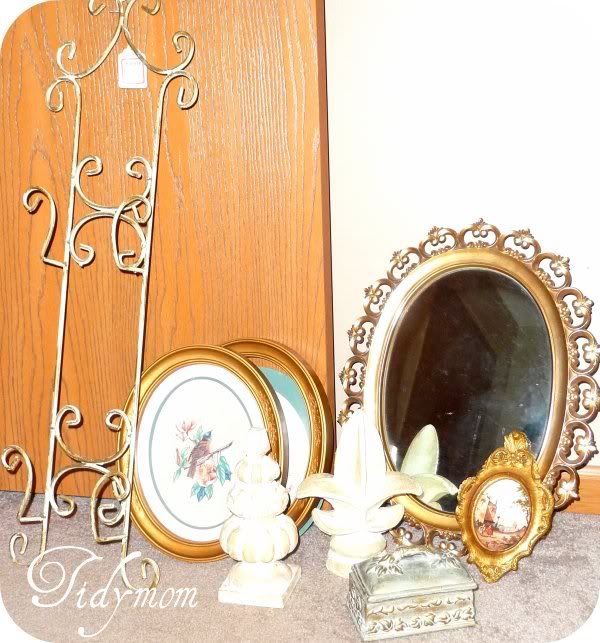 See those 2 cute oval frames with the birds in them ($1.99 ea)? I removed the pictures and sprayed the frames black. Tthere was an oval matting that was peach, I sprayed them white and added scrapbook papers. The black one is actually an embossed black (you can see more detail if you click and enlarge the photo) I found 3 different spots in that little bathroom to hang these, but for now they're on the wall next to the medicine cabinet/mirror (hence weird reflection and lighting in my picture). I liked them hanging this direction, and added a little white plate above them.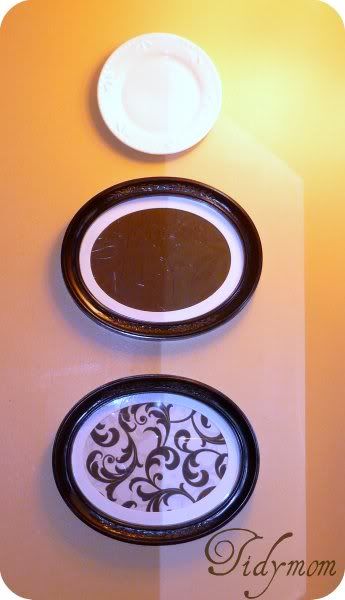 This powder room is painted mustard, so we are adding black and white accents to it.
I found this darling little lamp for $5 – I didn't have to do a thing to it – it looks perfect on the vanity! – I'd like to find something for it to sit on, maybe some books or something.
The little box I thought was darling, but didn't care for it in green and gold. I sprayed it black and sanded it a little to show the underneath colors a bit. It looks really cute sitting next to the lamp.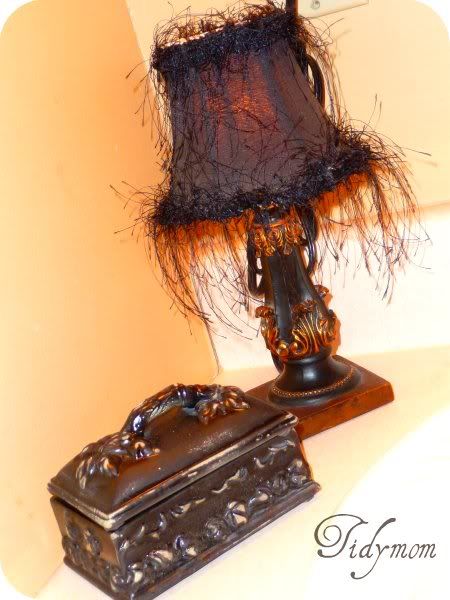 Next are these neat finials. I thought they'd look great on a shelf in the powder room – but they needed to be black. Don't they look much better?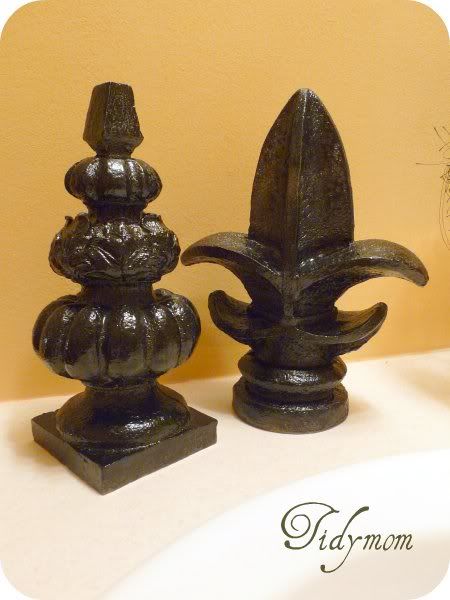 This project was for my office. I've always wanted a nice memory board – so I bought a cork board (I cheated and bought one with a black frame), bought some cute black and white fabric and black ribbon (when I bought the black ribbon I wasn't thinking about the black frame, so I may buy a black and white ribbon to put on top of the solid black). I then hung 3 white plate over it. See the words on the plates? They're not really there yet, I'm going to get some of those rub on letters and put them on the plates. I also need something little and back to put in the middle- so I'll be on the look out for that.
This looks so much better than my cork board squares I had stuck on the wall. Now I need to find some pretty push pins.~anyone have any suggestions?????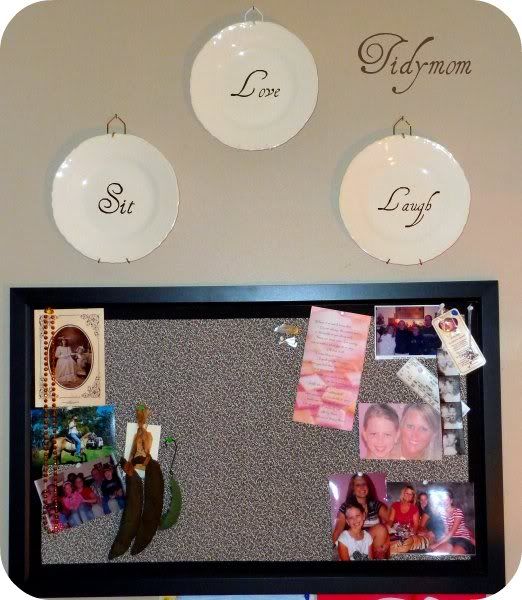 So that's it for now – I have a few more ideas lined up – and yesterday I found a great night stand for Allison's room. That's my next project, but I can't paint it until it warms back up a little outside.