Minature Cows
The other day I heard a story on the radio about the new way to Go GREEN……..Get your family a few mini cows! They claimMiniature Jersey Cows are a sound economic investment. Get this, you can raise mini dairy cattle for beef and it can still provide you with enough milk to drink and leftovers for raising pork, ice cream, cheeses and for many other uses. One cow can give you a lot more than you might think. You can keep them on as little as 1/4 acre of land. They help pay for everything they eat, they are wonderful friends and can supply you with a piece of mind you've probably never known.
So I'm telling The Bug Man about my new found "way to save us some money"  LOL and how big of a price tag they carry – any where from $500 to over $5,000, when Allison heard our conversation. We were jokingly discussing what could vary the cost so much…
Me: "Maybe if they are older or younger"
Allison: "Maybe if they're fat or skinny"
Me: "Maybe if they produce Chocolate Milk they are worth more"
Allison (excited and loud): "THERE are COWS that can make CHOCOLATE MILK?"
Me: "Sure, if they have black spots, then they produce white and chocolate milk"
Allison: "REALLY!?"
LOL Seriously Allison……….you are SO EASY!!!!!
I bet this little girl get's chocolate milk! LOL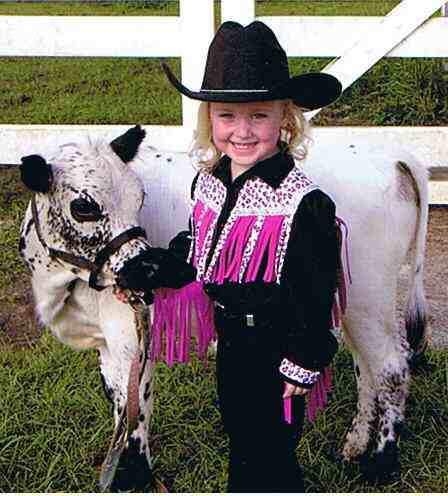 *picture courtesy of Pillards Miniature Cattle
If you would like to know more about mini dairy cattle (and see if you can find one with black spots) you can read about the history of miniature dairy cows here, Minature bulls or Tanglewod Farm
*********************************************************************************
I promised another family favorite recipe. If you're like my family, we LOVE banana's – yet they always seem to get too ripe before we can eat them all. But I'm starting to believe my family has a strategy – "if we don't eat the banana's – Mom will make banana bread!" and they LOVE my banana bread!
*Tip- you can freeze your ripe bananas if you're not ready to bake when they turn ripe, or if you don't have enough – I usually have a freezer full of bananas. Just remove the skins, and put the bananas in a zip-lock bag and place in the freezer – thaw when ready to make bread!
ENJOY!
So tell me, do any of you have your own cows?
You may also enjoy banana cake!