Lia Marie's Garlic Baked Chicken
I'm a big fan of garlic!  I put it in every dish, any chance I get.  I use garlic cloves, minced garlic, garlic powder, garlic salt, and now, thanks to Lia Marie's, I can add garlic butter to my arsenal!  Keep reading for a delicious chicken recipe!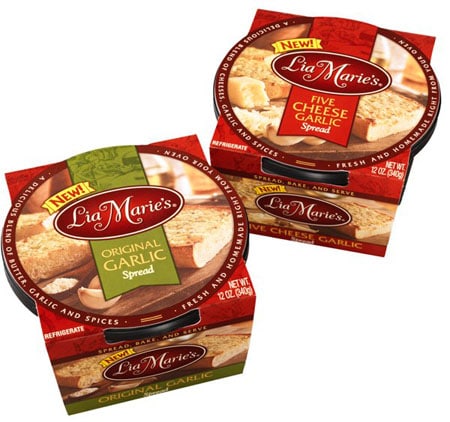 Lia Marie's is a revolutionary new garlic spread that allows you to enjoy the incomparable taste of fresh, homemade garlic bread anytime, prepared just the way you like it!  With it's unique blend of roasted garlic, natural cheeses, butter, oil and savory seasonings you can experience, not only mouth-watering bread bursting with flavor, but this spread goes way beyond the bread!
Over the next few months, I plan to share a variety of  dishes you can serve your family using either of the two varieties of Lia Marie's spread!  From bread, to salad, to pasta and chicken, you'll wonder how you ever cooked with out it!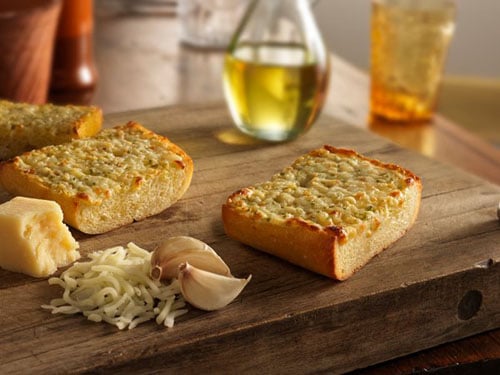 Of course, Lia Marie's spread is perfect on your favorite bread to serve along side any meal.  The first night we tried it was on a loaf of french bread with our spaghetti dinner and it was a big hit! The four of us polished off the entire loaf of bread with dinner that night!
I knew next I would like to try it with chicken.  It was really simple and really delicious!  I think my husband told me at least four times at dinner that night how much he liked it – no joking! lol  It was actually a very simple 'recipe' but the Lia Marie's just kicked it up a notch!
It's so simple, I hesitate to call it a recipe, but here you go so you don't have to write it down.
Lia Marie's Garlic Baked Chicken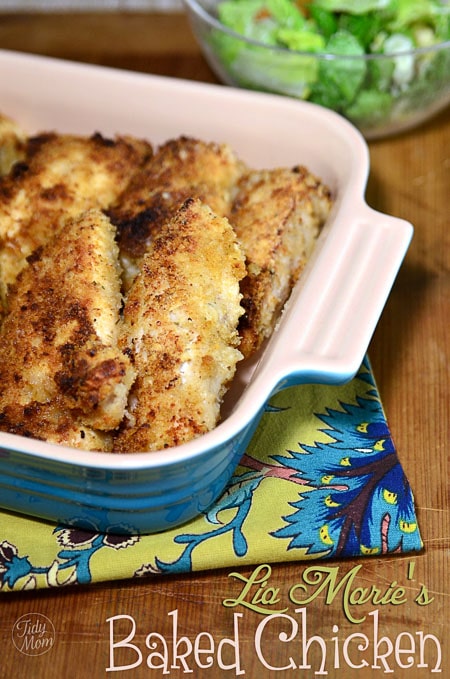 A delicious twist to breaded chicken breasts.
Ingredients
4 Skinless Boneless Chicken Breasts
1 Cup Panko Bread Crumbs
1 Cup Italian Bread Crumbs
1/2 tsp Seasoned Salt
Lia Marie's Original Garlic Spread
Instructions
Pre heat oven to 375°
Line baking sheet with tin foil and give it a good coat of no-stick spray.
Mix bread crumbs and salt in shallow bowl or plate, and set aside.
Cut chicken breasts into tenderloin strips (I got 2-3 tenderloins out of each breast), pat dry.
Spread Lia Marie's Garlic Spread on both sides of chicken.
Coat chicken by pressing each side into bread crumbs, and place on foil lined sheet
Spray top of chicken with no-stick spray (this helps it to brown)
Bake in 375° oven for 30 minutes, then turn oven to broil and continue baking for 5-8 minutes or until coating is a light brown.
Enjoy!
Notes
If you are not able to find Lia Marie's Garlic Spread in your area, you can substitute using real butter with crushed garlic or garlic powder.
https://tidymom.net/lia-maries-garlic-baked-chicken/
Copyright© 2009-2013 TidyMom.Net
Please note that right now Lia Marie's is only available in  St. Louis, San Antonio, Austin, Green Bay and Milwaukee, but they are working hard to get into new territories! So let your grocer know you'd LOVE to see Lia Marie's in your store!  Where to find Lia Marie's, the garlic spread that's sweeping the nation.
Lia Marie's is available in 12-ounce tubs and can be found in the refrigerator section where butter is sold.  Be sure to grab a coupon good for $1.00 off over at the Lia Marie's Facebook page, and let them know TidyMom sent you!!  If you don't live in one of those cities, drop them a note on Facebook telling them where you live and how much you'd like to see their products where you live!

Disclaimer:  TidyMom is working in partnership with Lia Marie's to spread the word about this garlic spread that's sweeping the nation.  All options and love for Lia Marie's are all my own.