Join me….become a better YOU
So I've been thinking a lot lately……. I take care of my family, I take care of my blog, and I like to think I take care of my friends……..but I don't take care of myself as much as I should.
I don't eat terribly, but let's face it…….when you blog about food you EAT the food you blog about……and I'm not much of a health food blogger.  Add to that, exercise has never been my BFF.
So a little over a week ago,  Jen of Balancing Beauty and Bedlam, mentioned she was joining up with several other bloggers to do the Jillian Michael's 30 Day Shred Challenge.  The Jillian Michaels – 30 Day Shred is $8.49 on Amazon.com, or you can pick up at Wal-Mart like I did.

Today I completed Day 6 of the 30 Day challenge and I have to be honest…….it's still HARD, but I don't fell sore any more and I'm feeling MUCH better.  I'm excited to see results!  I know I'll never be a size 4 again…..but if I can drop 2 sizes, I will be thrilled!!
You can follow me on Twitter and Facebook where I talk about my daily progress with The 30 Day Shred and love to hear if you decide to join me.
I have also decided to start taking a daily vitamin.  I started this almost a month ago and I have really noticed an increase in my energy and over all how much better I feel.  Amanda recently wrote about her weight loss story, and mentioned how she enjoys the One-A-Day Vitacraves Sour Gummies, so that's what I've been taking.  I love them! I actually enjoy taking them…..you take 2 and it's like a little candy treat!  If your not big on sour, they come in non-sour flavors too.
And one last thing I am doing is paying more attention to my dental health!  According to the U.S. Surgeon General, a person cannot be healthy without good oral health.  Good dental health can add years to your life!! Perfect timing  too because I have been challenged to use the new Crest Pro-Health Complete Rinse, an all new product for overall dental health, for one month and share any change.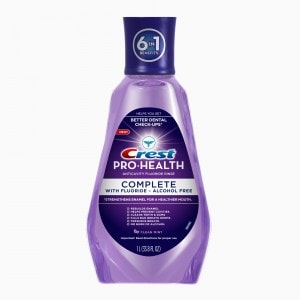 Crest Pro-Health Complete Rinse gives you six benefits in one rinse:
Rebuilds Teeth Enamel
Helps Prevent Cavities
Cleans Teeth & Gums
Kills Bad Breath Germs
Freshens Breath
No Burn of Alcohol
I received a full size sample of the new Crest Pro-Health Complete Rinse in Clean Mint and I have been using this mouth rinse for over a week now. Honesty I don't use mouth rinses regularly, but my husband does.  This rinse just  might help me make this a permanent change.  I am loving the clean, refreshing mint taste in my mouth after I brush my teeth my mouth even feels fresher first thing in the morning! I also like that this mouth rinse contains no alcohol so there is no burning sensation!  That's a big plus in getting my kids to use it as well!
I'm excited about these changes I'm ready to make……to become a better ME!!……will you join me and become a better YOU? are there changes you'd like to make with your self?


"I wrote this review while participating in a test drive campaign by Mom Central on behalf of Crest and received a sample to facilitate my candid review. Mom Central sent me a gift card to thank me for taking the time to participate."