I'm Lovin' It! – Tumblr Blog {and Giveaway}
W
elcome to the Party!!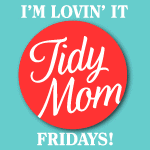 I run across somre really great stuff in blogville every day. Some I share the links on twitter and on facebook. But what I really love is my Tumblr Blog aka "TidyMom Finds"!! It's my "notebook" of sorts to keep track of all the awesome things I see around the web!
I love the simplicity of Tumblr, you can easily add great links while you are web surfing, because they provide a button you can put in your tool bar that says "add to tumblr" –one simple click and it's added – you can even have it tweet the post automatically to you twitter account if you want.
If you're ever wondering what great things I've found when I'm out and about on the web – just check my "TidyMom Finds" link…it's at the top in my toolbar.
**Edited to add——Today(Friday) is
Mega Swagbucks Friday

If you signed up for
Swagbucks
and keep forgetting to use it, today would be a good day to jump back in! Ditto if you have to
sign up
still.
I've talked about Swagbucks before and I'm really loving all the Amazon gift cards I'm accumulating (I will use them for Christmas shopping)
***********
I have a treat for you today!!
This week I'm a featuring one of my favorite shop's and have a giveaway !
Snootie Patootie is owned by mother and daughter team, Judy and Robyn. At Snootie Patootie you can find great gifts for every occasion or for yourself. From children's clothing, products by Little Giraffe, jewelry, Vagabond House pewter, and stylish bags, you can find them here. 
Would you like to win a $50 Gift Certificate code to use at Snootie Patootie?
******GIVEAWAY HAS ENDED******
congrats to Nancy of "How To" Homemaker
You can enter a few ways:
1. Link up your blog post to I'm Lovin' It this week (Make SURE your post has a link back to here…if it doesn't your ineligible to win)
2. Don't have a blog or post to link up?…..just leave a comment telling me what you are LOVIN' from Snootie Patootie!!
3. Tweet or Facebook about the party and giveaway (be sure to leave a comment telling what you did)
*This giveaway will close on Wed June 9th, 5pm CST.
What is I'm Lovin' It Fridays? get all the info, how to's and button here
Now let's see what you are loving this week!!