SwagBucks | I'm Lovin' It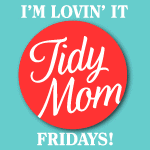 Welcome to the Party!! I'm Lovin' It is a party I host at the end of each week to celebrate things that makes us happy….things we are loving! Please share anything from a new(or old) product, to a recipe, a picture you took, a project, or even your children or family…..really anything that you would like to share that you are loving right now!!
I want to share a little something I've been loving since the first of the year…..
I think I first heard about Swagbucks from Kristen. She told us about several friends who paid for all of their Christmas gifts with Swagbucks! That was enough to intrigue me!
What is Swagbucks? Swagbucks is a search engine that rewards you with digital dollars (Swagbucks) for searching. You can redeem your Swagbucks for Amazon, Target and Starbucks giftcard , music downloads, and tons of other cool stuff. The search engine is powered by Google, so you get good results. You'll never have to pay shipping and you don't have to buy anything to win. You can easily join (for free) and start earning your own Swagbucks today!
So now I'm saving up for Christmas!!
I spend a lot of my time online searching for stuff…..now I earn Swagbucks every time I search! To make it even easier I have installed the Swagbucks toolbar.
And there's one more way I can earn Swagbucks. I've learned that if you invite friends and family and they sign up, it increases your Swagbucks. When your friends earn Swagbucks, so do you.
(click to join)

Remember, this isn't a fast way to make money. It's a slow, but it you are consistent and stay committed to it, it will pay off in the end. All for doing nothing more than I would be doing every day anyway!!
If you aren't already using Swagbucks, you really should be! I know it sounds too good to be true, but really there is NO catch. Once you sign up, upload the Swagbucks tool bar. Then, anytime you need to do an online search, use your Swagbucks toolbar. It's that easy!!
Now it's your turn, let us know what you're lovin' this week! If you have something to share with us on your blog, add your link below. Just please be sure to:
Add the permalink to the specific blog post, not your general blog address in the MckLinky form below (need help with finding the permalink? click here to see a great post Darcy wrote on this!)
Include in

your blog entry

a link back to

this

post so that your readers can come and see what everyone else is loving today and have an opportunity to contribute! You can use the code below to add the banner to your posts or blog if you'd like.
Visit as many of the other participants as possible and leave comments! That's what makes a party fun!! You don't want to come to a party and have no one talk to you!!
Let me know if you have any questions, problems or need help!
MckLinky will stay open until April 11, 2010 11pm CST.

Disclosure: This post contains a link to an affiliate.