I'm Lovin' It! – New Window Treatments & Endust Giveaway!
W
elcome to the Party!!
*****************
Have I ever told you that I'm terrible with making choices? I think that's why I don't change things in my house very often, because it's exhausting for me to choose new items.
A while back I decided it was time for new window treatments in my kitchen.
I was tired of the old red and white checked that I've had up there for years!!
I've been looking, and like always, I just didn't see anything that screamed "THIS IS IT!"
until one day I clicked………
and that was my "AH HA" moment!
THAT is what I wanted for my windows!!
Brittany was so sweet and shared that she MADE her valances with a roll of vintage toweling.
Toweling is 16″ wide fabric that is used to make towels….but it's PERFECT for window valances!! The only thing I needed to do was hem the 2 short ends and clip them up!!
I bought new rods, and they took me longer to hang than it did to iron and make my valances!
SOOOO much better don't you think?
I love the colors……it allows me to keep my reds, and add the blue, yellow and green!
What do you think?
This was SOOO easy.
You could even use fabric glue if you don't want to sew.
If you're interested…..
I purchased from a FANTASTIC lady on ebay

vintage_mkt

I p

aid $2.15 per 1/2 yard

I doubled the width of my windows and left a "tail" hanging on each end" -I had 2 windows 35″ and one window 70″ – I bought 10 yds. I used 4 yds on the 70″ window, 2 yds on each of the 35″ windows over the sink and I have 2 extra yards for another project.
I linked up at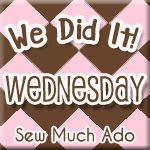 *************************
With my new window treatments up, it really motivated me to get the rest of the house cleaned!!
The good people at Endust recently sent me a new product to try, Endust Free Dusting and Cleaning spray, which reduces allergens on surfaces and in the air. This cleaning spray recently received the asthma & allergy friendly Certification Mark from the Asthma and Allergy
Foundation of America, making it the first fragrance-free, hypoallergenic dusting and cleaning product scientifically-proven to work.
When my home is totally dusted I feel better! And now I can feel better doing it!
Besides being free of fragrances, Endust Free Dusting & Cleaning Spray has a unique, hypo-allergenic formula that contains less-irritating ingredients and has an innovative dispensing system that features a narrow-directed spray to reduce bothersome lingering mist and overspray. The product also has a twist-and-lock cap to protect against accidental spraying. Many products that create a lingering mist after spraying can diminish good indoor air quality and lead to indoor allergies by introducing chemicals with high amounts of volatile organic compounds (VOCs), which may also trigger allergic reactions.
My mom always told me to just use a damp cloth to dust with…..

According to research by Allergy Standards Ltd., Endust Free removes up to 90% more dust mite allergen than damp dusting and up to 92% more dust mite allergen than dry dusting
GIVEAWAY!
*5 winners*



GIVEAWAY has ENDED


Congratulations to the 5 winners
#61
Wishing on stars
, #33 Samantha
, #26 Bridget, #1 Diann, and #50 Jacey
Now you have a chance to
win
your own can of
Endust Free Dusting & Cleaning Spray
. To help you clean your house,
Endust
is giving away
five coupons for a FREE Endust product
.
Just leave a comment telling me how often YOU dust.
Make sure there's a way for me to contact you if you win!!
*********************************
Now it's your turn
, let us know what you're lovin' this week! If you have something to share with us on your blog, add your link below.
Don't miss a post subscribe via
Rss Reader
or
by E-Mail
Disclaimer: I was provided with 6 cans of Endust, I was in no other way compensated to publish this post. These are my real opinions.