I'm Lovin' It – My Mom
Welcome to the Party!! I'm Lovin' Itis a party I host at the end of each week to celebrate things that makes us happy….things we are loving! Please share anything from a new(or old) product, to a recipe, a picture you took, a project, or even your children or family…..really anything that you would like to share that you are loving right now!!
Since Mother's Day is this weekend………
I thought it would share how much I love my MOM!?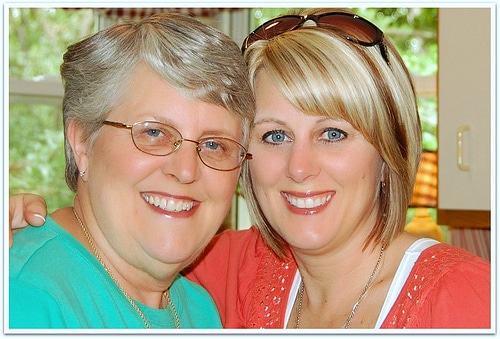 My mom has been thru a lot in the last several years since we lost my dad, but thru it all she has remained strong! She has over come all of the obstacles life has thrown at her, and she never lets them get her downfor long.
Each spring we like to go out and buy plants together. We made an unplanned stop at a wonderful nursery last weekend.
She made fun of me for taking so many pictures……
I told her it's the only way I can have plants and not kill them! lol
I want to share my favorite Mom poem:
~Author Unknown
Thank you God….
For pretending not to notice that one of your angels is missing and for lending her to me. You must have known how much I would need her, so you turned your head for a minute and allowed her to slip away to me.
Sometimes I wonder what special name you had for her. I call her "Mother." To think of not having her with me is unbearable. I don't know what I would have done without her all these years. She has loved me without reservation, whether I deserved to be loved or not. Willingly and happily, she has fed me, clothed me, taught me, encouraged me, inspired me, and with her own special brand of gentleness reprimanded me.
A bit of Heaven's own blue, her eyes reflect hope and love for you and her family. She has tried to instill that love in us. She's not the least bit afraid of work. With her constant scrubbing, polishing, painting, and fixing, she has made the house we lived in a beautiful home. When I'm confused, she sets me straight. She knows what matters and what doesn't… what to hold onto and what to let go of.
You have given her an endless supply of love. She gives it away freely but never seems to run low. Even before I am aware I have a need, she is making plans and working to supply it. You gave her great patience. She is the best listener I have met. With understanding and determination she always seems to turn a calamity into some kind of success. She urges me to carry my own load in life but is always close by when I stumble and fall.
She hurts when I hurt. She cries when I cry. And she will not be happy until she has seen a smile on my face once more. God, please thank the other angels for filling in for her while she is away. I know it hasn't been easy. Her shoes would be hard to fill. She has to be one of your GREATEST MIRACLES God, and I want to thank you for lending my Mother to me.
I love my Mom so much and I don't know what I would do without her and I want to thank her for everything that she has done for me ?
I LOVE you Mom!
I've linked this post to The Inspired Room's Inspiring Finds
******************
Now it's your turn, let us know what you're lovin' this week! If you have something to share with us on your blog, add your link below. Just please be sure to:
Add the permalink to the specific blog post, not your general blog address in the MckLinky form below (need help with finding the permalink? click here to see a great post Darcy wrote on this!)

Include in

your blog entry

a link back to

this

post so that your readers can come and see what everyone else is loving today and have an opportunity to contribute! You can use the code below to add the banner to your posts or blog if you'd like.

Visit as many of the other participants as possible and leave comments! That's what makes a party fun!! You don't want to come to
a party and have no one talk to you!!


Let me know if you have any questions, problems or need help!
The party will stay open until May 9, 2010 11pm CST.
If you want to play along don't forget to grab a button to place at the top or bottom of your post to show you are participating in I'm Lovin' It Fridays!
Simply copy the code below in the box and paste where you can edit the html in your blog post.
I'm going to try something new this week……. the thumbnail links instead of text links. If anyone has any problems or needs any help just let me know, you can leave a comment or email me tidymom{at}charter{dot}net