I'm Lovin' It – Custom Tile
I'm SOOO excited to share something fun with you all this week!!!
I don't know about you……but I LOVE personalized items.  Monograms, things with my name on them, our family name…..well, you get the idea.  So imagine my excitement when I heard one of my Twitter buddies, Renee talking about how she is hanging up her cookie apron and now hand painting custom tiles.
I emailed Renee my new blog button and before I knew it……I was the proud owner of this fabulous 4″x 4″ hand painted magnet!!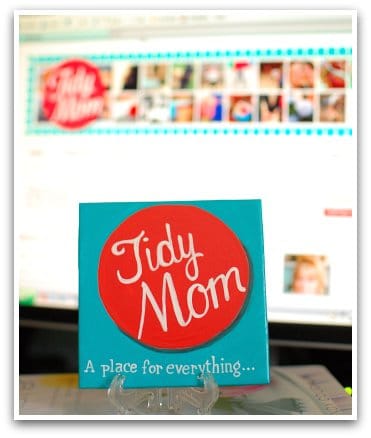 Isn't that cool!!!
I love it so much, I have it sitting on a shelf in my office on that little plate stand.  It makes me smile every time I see it!
Want a custom tile of your own? Renee is offering FREE shipping and handling to all TidyMom readers thru Sept 30th!! Just mention TidyMom when you email your request to Renee at info@kudoskitchenbyrenee.com
You can see more hand painted beauties from Kudos Kitchen by Renee on her sites:
Thanks again Renee………

I just LOVE it!
Now it's your turn!
Let us know what you're lovin' this week!
If you have something to share with us on your blog, add your link below.