I'm Lovin It – CD Visor & new Jeep!
Welcome to the Party!! I'm Lovin' It will be a party I will host at the end of each week to celebrate things that makes us happy….things we are loving! Please share anything from a new(or old) product, to a recipe, a picture you took, a project, or even your children or family…..really anything that you would like to share that you are loving right now!!
This week I actually have two things to share that I am loving!
Late last week we traded in my old van for a new(to me) Jeep Liberty! Can I just say I now LOVE driving…..I love my Jeep!
As much as I love the Jeep, it is a little short on storage space. I really enjoy listening to my CD's when I drive and there isn't a good spot to store all of the CD's. As soon as I discovered the lack of CD storage space I INSTANTLY thought of one of my sponsors, Jessie (Designs By Jessie).
I had recently seen the CD Visors that Jessie makes and fell in love with them! I knew this would be the perfect solution and a cool addition to my new Jeep.
I jumped on Jessie's site on Sunday and had my fabulous new CD Visor by Wed morning!!
I LOVE it!! Doesn't it look adorable?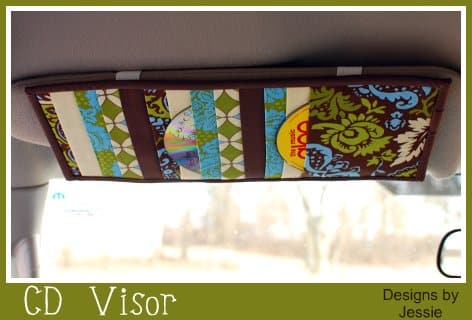 So there you go! I'm driving around town in my new cute Jeep Liberty listening to my tunes…..while I keep my CD's close at hand and looking SO cute in my new CD Visor!!
? Sometimes it's the little things that really make me happy ?
Now it's your turn, let us know what you're lovin' this week! If you have something to share with us on your blog, add your link below. Just please be sure to:
Add the permalink to the specific blog post, not your general blog address in the MckLinky form below (need help with finding the permalink? click here to see a great post Darcy wrote on this!)
Link back to the party from your post so that your readers can come and see what everyone else is loving today! You can use the code below to add the banner to your posts or blog if you'd like.
Visit as many of the other participants as possible and leave comments! That's what makes a party fun!! You don't want to come to a party and have no one talk to you!!
Let me know if you have any questions, problems or need help!
MckLinky will stay open until March 21, 2010 11pm CST.