I want to paint my office!
We are going to move our home office to another room in our house.
So I get to paint!
and I want to make it a pretty office!
I went to Lowes and had them mix 2 paint samples for me!
This was GREAT because it gives me a chance to put the 2 colors up in the room and see which one I like best.
This is where you come in!
Sunshine and I both liked the same one,
the Bug Man liked the other color.
All of my house is painted in darker country colors
– I want my office to be bright and fresh.
This is Sunshine's old room – it's pink right now, so I put a piece of
white poster board up next to the colors
so we could get a true picture sample.
Leave me a comment and let me know which color you like.
I'm updating this post
with pictures of where I saw these 2 colors so you can see them in a room setting.
Color choice A
Valspar -Woodlawn Valley Haze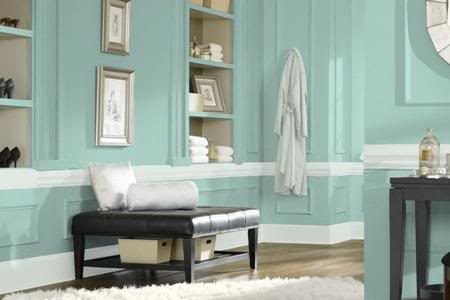 (picture from Lowes)
Color choice B
Benjamin Moore – Wedgewood Gray
From It's the Little Things That Make a House a Home
be sure to click the link to her blog- she's has an amazing home!
 Tomorrow I will share pictures of my existing office,
so you can see what I have to work with.
I want to paint the desks and get some great accessories.
Lets start with the paint!