I Heart Faces week 27-Pets
A stray cat has recently had a litter of 3 little bitty kitties under the shed at our house.
Of course my husband and girls have named them all!
This week i?faces is having a Pets category again! – so I thought I would enter this picture of Sunshine giving Gizzmo a kiss! – look at his blue eyes! ????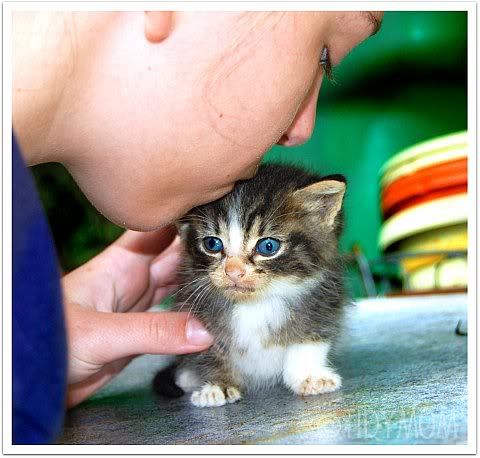 and NOOOOO, we are NOT keeping them. A friend who has lots of property and a barn is going to take all three and their mama to his property for barn cats!
Head over to
i

?

faces
and check out the other entries!
UPDATE: This picture was chosen as

Amy's Pick

for the week!! Wooohooo! Thanks Amy!!
{click the banner to see all the winners and comments}
Gizzmo went to his new home just this weekend(7/17/09). Sunshine was VERY upset about it, but she understands it's for the best……..not that she didn't try every bit of begging and pleading for him to stay…………