Holiday Connections…..with Jen Hadfield {Tatertots & Jello}
Jen Hadfield

Tatertots and Jello
TatertotsandJello.com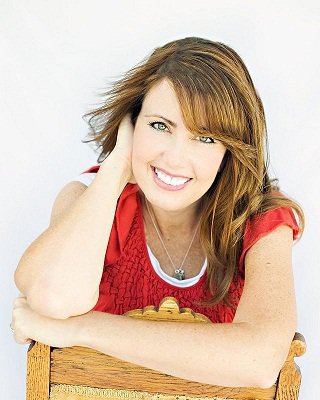 Jen is the bundle of energy behind the blog Tatertots and Jello. The busy mom of 4 is not only incredibly talented and creative, but one of THE SWEETEST women online!  Jen and I have not yet met in person, but I just know if we were neighbors we'd get into a lot of  trouble!!  She started her blog as a place to store creative ideas and projects and she loves encouraging other people to develop their creative side.

TidyMom: You create so many fun projects Jen!  What inspires you?
Jen: I have always loved being creative. I was an art major in college and then I had a family and for many years I didn't do much creating. Then when my kids got a little older and I discovered blogs, I started creating again and it makes me so happy. I love the process of coming up with a project in my mind and then seeing the finished result. Although sometimes it results in a "craft fail" LOL.
TidyMom: When does your family put up your Christmas tree?
Jen: We usually put our Christmas tree up the day after Thanksgiving. Although this year I really wanted to put it up earlier.
TidyMom: How have you handed the dreaded "Is there really a Santa Claus?" question in your house with your children?
Jen: I think my older children know who Santa Claus is but I have told them that he exists in spirit. It's the spirit of Christmas that counts and they haven't really challenged me on whether Santa exists or not.
TidyMom: Do you wrap Santa gifts?
Jen: In our house Santa wraps his own gifts. He has special paper that only he uses. It always has a picture of Santa on it. TM: we do that too….and each girl has her own color paper
TidyMom: What is the most romantic gift you have ever received or given?
Jen: My husband is the romantic one in our relationship. He has given me a few really romantic gifts in the past. One time he gave me a small gift every day during the month of December. Last year he left me a clue each day for a month leading up to Valentine's day with the answer to where we were going on our Anniversary trip. TM: How sweet!! ?
TidyMom: What is your favorite part about the holidays? or favorite Holiday tradition?
Jen: I love everything about the holidays. The music, the food, burning candles, a fire in the fireplace. It's all so magical.
TidyMom: Do you send out Christmas cards? and if so, do you make them or do something special?
Jen: I usually send out cards if I can get it together in time. In the past I have found someone on etsy that would make me a card with a family picture that my sister has taken of us.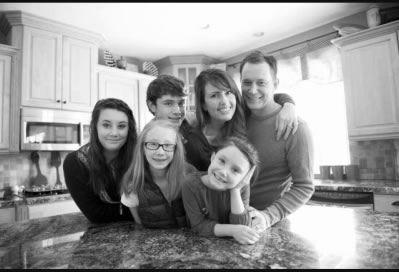 TidyMom: Do you have any special food memories from Christmases past? We have some funny food-related Christmas traditions.
Jen: My side of the family has danish blood, so we always have rice pudding on Christmas Eve. (I actually make it all the time because I love it). Whoever gets the almond in the rice pudding gets a special present that night. Another funny tradition is for Christmas morning breakfast we always have Finnan Haddie (a smoked haddock or cod) and boiled eggs for breakfast. My kids aren't crazy about the fish and neither is my husband – lol. But it's a tradition that I hope my kids will continue.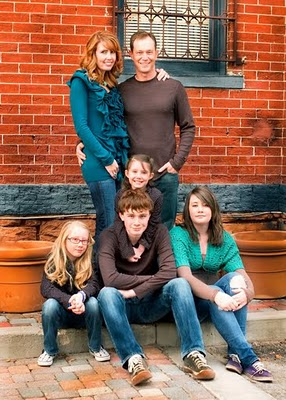 TidyMom: Do you leave out cookies for Santa?
Jen: We love making cookies for Santa. We also always make sure to leave out some carrots for the reindeer.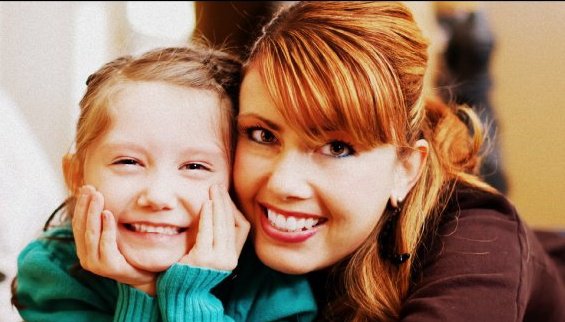 TidyMom: What color scheme or "style" do you use to decorate for the Holidays?
Jen: I am not sure what my style is. I think it's a mix of everything. Last year I was really into orange and white for my Christmas tree. And in my living room it's all green and blue — beachy colors. My sister is really good, her whole house is this beautiful Restoration Hardware grey. But I love color so much that my whole house is different colors.
TidyMom: Do you have a guilty pleasure?
Jen: Of course!! I love watching Rob Lowe movies and eating chips and salsa. I don't think I could survive without some chips and salsa and a big Diet Coke every once in a while!

Thanks so much for sharing your family and your holidays with us Jen!
Thanks to Julie of Lee Lou Blogs for making the cute Holiday Connections button for me, with design elements from Cathe Holden of Home Grown Logos.

Tidymom is a participant in the amazon services llc associates program, an affiliate advertising program designed to provide a means for sites to earn advertising fees by advertising and linking to Amazon.com.
Please respect my work, recipes and photographs. If you do use a recipe in your own writing, please give proper credit and link back to the original post.