Healthy Choice steaming entrées
So yesterday I told you how I'm trying to make some healthy lifestyle changes for myself.
Along with exercise, a daily vitamin and good dental health…….I'm also trying to eat a little more healthy.  Not necessarily dieting, after all, SOMEONE has to do quality control when I bake cupcakes and other goodies! 🙂
So I'm starting with lunch.  Lunch is the meal that I usually only have to worry about myself, and it's the meal I often skip, and then start snacking before dinner.
Well, Healthy Choice has a new option in their line of frozen meals that steam cooks for freshness and flavor!   Fresh. Simple. Delicious.  PERFECT!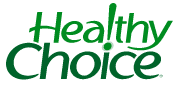 The new Healthy Choice steaming entrées showcase quality ingredients that you can recognize when you read the label. They are priced around $2.50, so they are a much better value than a fast food lunch.
As part of the Heathly Choice Blog tour with Mom Central, I had the opportunity to try out two of the new Healthy Choice Steaming Entrees , the Sesame Glazed Chicken and the Chicken Romano Fresca.
I ate the Chicken Romano Fresca the evening I returned from NYC, I was tired and hungry.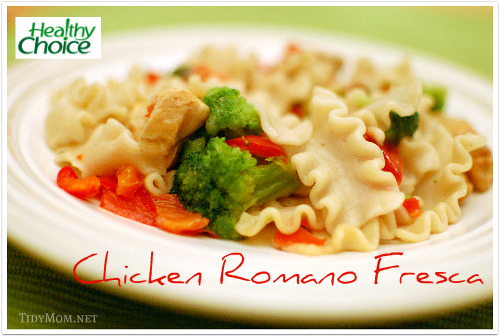 The first thing I noticed when I took it out of the box was how I could easily see all of the ingredients thru the plastic covering.  Thankfully I read the directions BEFORE I started to peel back a corner, because with the innovative steam-release vent in the film there is no need for poking, peeling or extra steps like  stirring.  Just pop it in and 3-1/2 to 4 mins. and it's ready.
Both meals got a thumbs up from me, with my favorite being the Sesame Glazed Chicken……but they both got the TidyMom seal of approval.  So much so, that when I went to the grocery store, I stocked up for the next two weeks!!  There's a lot to offer with the variety of flavors like Rosemary Chicken & Sweet Potatoes, Garlic Herb Shrimp and Portabella Parmesan Risotto!
You can connect with Healthy Choice online at HealthyChoice.com (where you can grab a coupons), Healthy Choice Facebook page and on Twitter

"I wrote this review while participating in a blog campaign by Mom Central on behalf of Healthy Choice and received samples of their new steaming entrées to facilitate my candid review. Mom Central also sent me a gift card to thank me for taking the time to participate."