Giveaways, Award and Friday Facts
Did you know that all around in Blog World there are GIVEAWAYS going on? This is free stuff I say! They just GIVE it away! For FREE!!!!
My good friend Pam of Antique or Not is having a celebration for her 100th blog post!! Pam has a GREAT giveaway on her blog, instead of choosing a gift for you – YOU get to CHOOSE YOUR GIFT!!! That's right, the winner of Pam's giveaway will receive a $25 gift certificate to her website AND she will ship your prize for FREE!!!! Now how could you pass THAT up? All you have to do is go over to Pam's blog and leave a comment! But hurry, you only have until Aug 31.
I found another blog today, and fell in LOVE with her work! And what do you know? She's having a giveaway too!!! Shay of Olde Colonial Peddler is not only giving away one prize, but THREE prizes!! So head over there and check out her blog and her GREAT work and sign up for your chance to win!!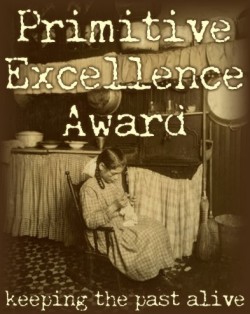 Next, I received another award!!! This time from my new friend Pam of Grits Greens and Cornbread Thanks Pam you're such a sweet friend.
Now for my nominee's, I'm going to list some prim blogs I love to visit.
Just Country
Fruit of Her Hands
Cozy Coops Corner
Bittersweet Prims
Tomorrow is Mr. Tidymom (aka Steve)'s birthday! It will be the 17th anniversary of his 29th birthday! So I need to bake him a cake today!
Hope everyone has a wonderful Labor Day weekend!
I thought I'd try to post some Friday Facts each week – so here you go……………….
Real Facts
1 – Mosquitoes are attracted to people who just ate bananas
2 – Flamingos are pink because they eat shrimp
3 – Emus and Kangaroos cannot walk backward
4 – Cats have over 100 vocal chords
5 – Camel's milk does not curdle