Gigi Salad and Bush's Beans Giveaway
While I was in Napa with Bush's Beans for a day of Flavors from Around the World cooking at the CIA, Connie Guttersen shared her culinary expertise and dietary knowledge by showing us how we can build flavors around the goodness of beans with a salad.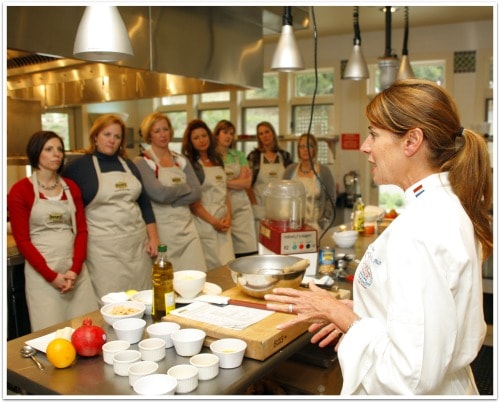 A tasty and tangy salad that would definitely make a beautiful presentation at any holiday table!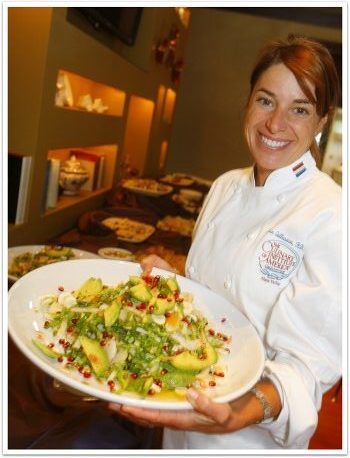 Did you know that beans are one of nature's healthiest foods?! – they are naturally low in total fat, contain no saturated fat or cholesterol, and provide important nutrients such as fiber, protein, calcium, iron,
folic acid and potassium. And according to the Mayo Clinic, beans are packed with phytonutrients that may help prevent chronic diseases, such as cardiovascular disease and cancer? Yep!! just one more great reason to add more beans to your diet!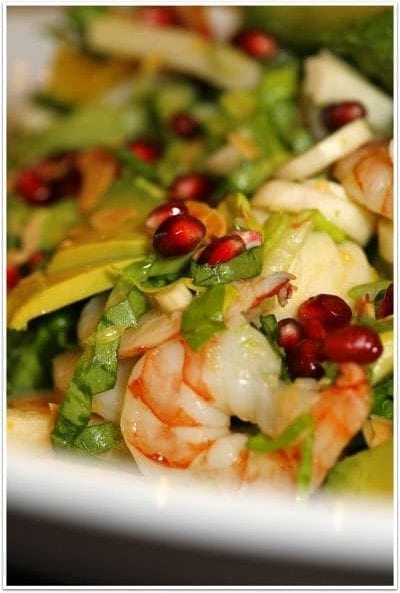 We got to enjoy this salad for lunch, and let me tell you………….it's even MORE delicious than it is GORGEOUS!!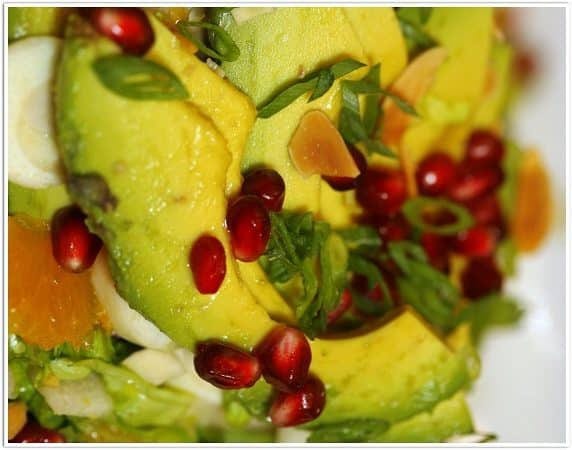 BUSH'S Gigi Salad with Citrus Vinaigrette Recipe
created for [Bush's Beans|http://www.bushbeans.com/en_US/index.jsp" rel="nofollow] by [Connie Guttersen|http://www.sonomadiet.com/about-diet.aspx" rel="nofollow], PhD, RD author of "The Sonoma Diet" and "The Sonoma Diet Cookbook"
Ingredients
Citrus Vinaigrette
1 tablespoon orange zest
1/2 cup fresh orange juice
1/4 cup fresh grapefruit juice
1 tablespoon fresh lemon juice
1 tablespoon red wine vinegar
1 tablespoon soy sauce
1 tablespoon agave syrup or honey
1 pinch chile flakes
1 tablespoon extra virgin olive oil
salt and pepper to taste
Salad
2 cups hearts of palms
2 cups orange segments (approximately 2 oranges)
1 cup jicama, juilenne
1 lb shrimp, cooked
salt and pepper
1/2 cup pomegranate seeds, arials
1 avocado, sliced
1/4 cup scallions, cut thin on bias
2 cups butter lettuce, cut into strips
1/2 can Bush's Cannellini Beans, drained and rinsed
2 tablespoon slivered almonds, toasted
salt and pepper to taste
Instructions
Citrus Vinaigrette
Combine all ingredients in a medium bowl and whisk (or in a mason jar and shake). Season with salt and pepper.
Salad
Combine hearts of palm, orange, jicama and cooked shrimp in large bowl; season with salt and pepper.
Dress salad with 4 tablespoons of citrus dressing.
Gently mix in pomegranate seeds, avocados, scallions, lettuce and beans.
Taste for salt and pepper and additional dressing.
Garnish with toasted almonds.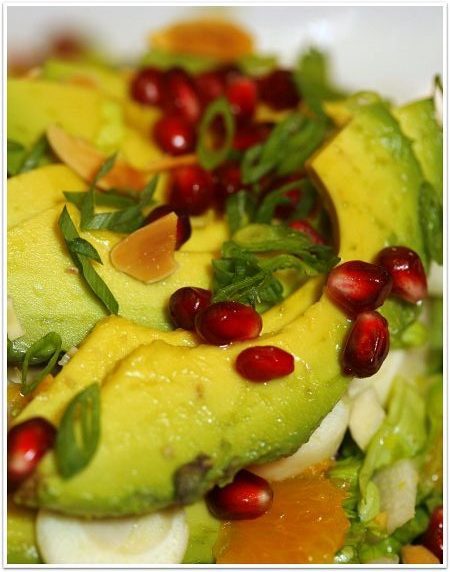 Tidymom is a participant in the amazon services llc associates program, an affiliate advertising program designed to provide a means for sites to earn advertising fees by advertising and linking to Amazon.com.
Please respect my work, recipes and photographs. If you do use a recipe in your own writing, please give proper credit and link back to the original post.