Freshening up the bedroom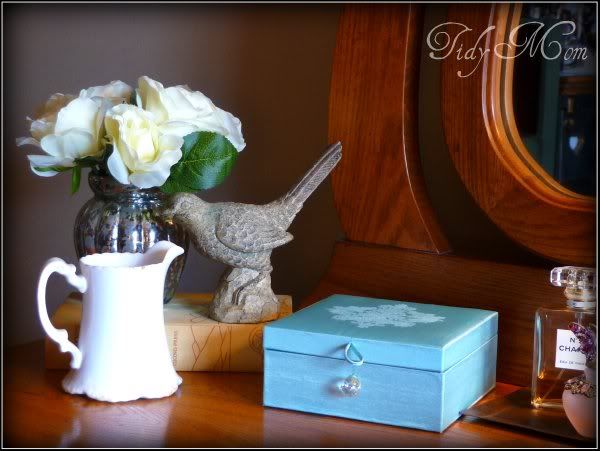 Y
esterday I posted pictures of the white dishes I bought over the weekend.
I eventually want a nice collection that can be displayed all together.
For now, I found a nice spot for 3 of the pieces in our bedroom,
on my dresser.
I picked up the little mercury glass vase and blue box at Big Lots the other day for
a mere $16.
BEFORE
(click to see larger)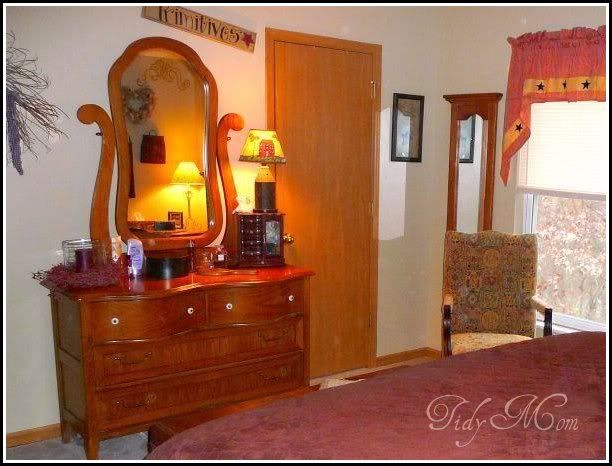 Here's a
before picture
I found on the computer of how my dresser
has looked for the last several years.
I was tired of the berries around the chimney with the candle in it,
the black round shaker box.
I like this new look!
It looks fresh and feminine.
I still need to do something with the lamp, and maybe
the jewelry box
AFTER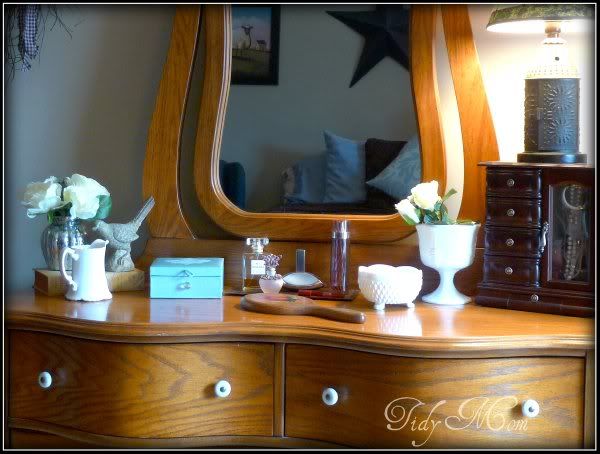 This is where I need some help!
I'm trying to work on our bedroom.
Right now it's in-between two stages
Our room used to be "Americana"
Red and Blue with stars
I'm now working on Brown and Blue and I'm wanting
to get rid of some of the "country" in the room, and
make it more feminine.
Here's a shot of one side of the room.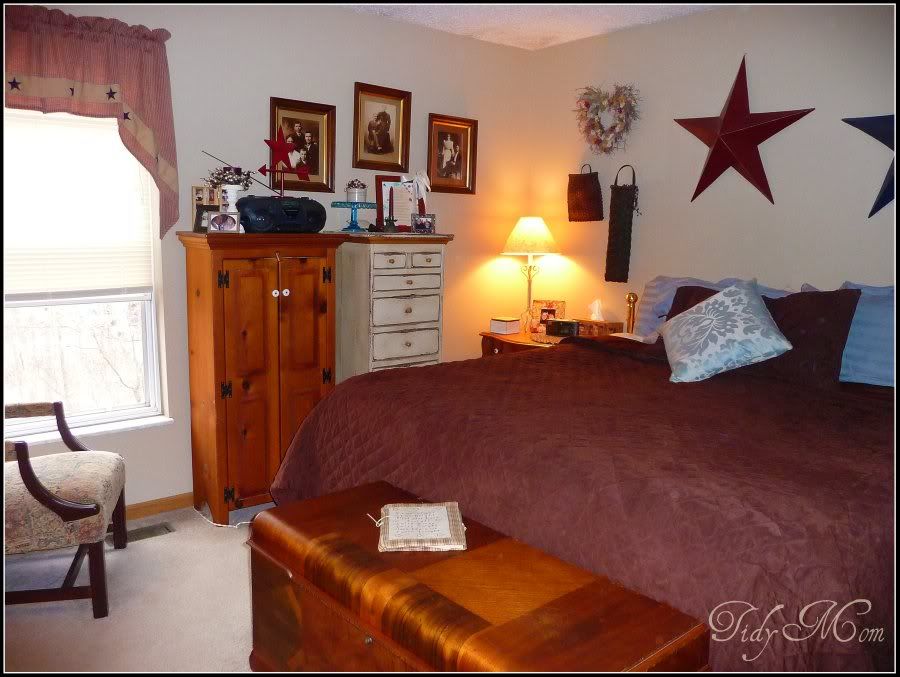 It's not a large room – and I know it has too much furniture in it.
I want to paint the stained 2 door jelly cabinet
– any suggestions on what color?
I posted about my lingerie chest here,
it was the last piece of furniture
my dad made for me before he passed away less than a year later.
I would also love to hear some suggestions for over the bed.
My list of things for this room
?a new headboard
?new window treatments
?wall decor
?throw for the foot of the bed
(or whole new comforter)
?get rid of the boom box
?new frames for the little pictures
*the big pictures are pictures of my grandfather as a baby
and my great & great great grandparents
Please leave me some comments
on what to do with this poor room.
EDITED TO ADD
You have to check out the FLATTERING honor that
Amy over at Living Locurto
just gave to little 'ole ME!!
The BEST MOMMY Award!!
yeah, that's right! click that link and you'll see!
Thanks Amy!
Like I said, you're a GREAT bloggy friend
and hope we get to meet some day!!
**** This is post #98****
only 2 more until the celebration!