French Onion Soup Recipe
A decadent French Onion Soup full of flavor that is topped with croutons and melted gruyere cheese.
We have spent a good part of January curled up in front of the fireplace, watching Dexter on Netflix. We have a good two months of winter and six seasons of the secret life of a blood spatter pattern analyst to go.  I'm ready for winter to end, and I'm still trying to figure out why I'm feeling anxiety and sympathy for a serial killer.
When it's this cold out, and I need comforting, I crave soup. You can't go wrong French Onion Soup……a sweet oniony broth topped with crunchy croutons covered in melted cheesy goodness!
The key to a great French onion soup is the caramelized onions.  This step can be done in about a half hour, but if you have the time,  slowly caramelize them for a few hours on a low heat, you won't be sorry!  It brings out so much more of the sweetness and flavor.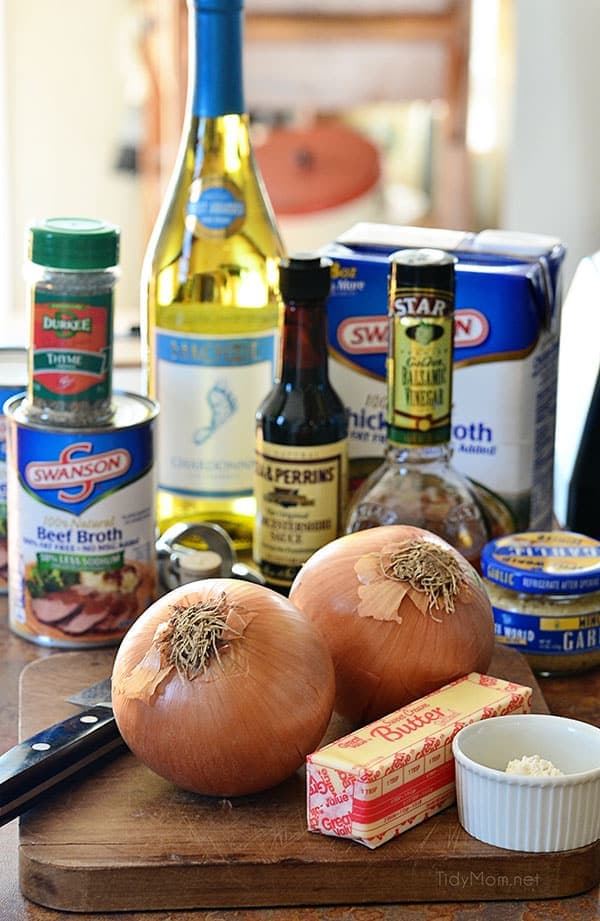 After you have caramelized the onions, you make the broth, which is flavored with a little bit of dry wine, I like to use Chardonnay, Worcestershire sauce, garlic, and thyme. Let it all simmer about 40 minutes to let the all of the flavors come together.
The final step is what makes French Onion Soup so hard to resist.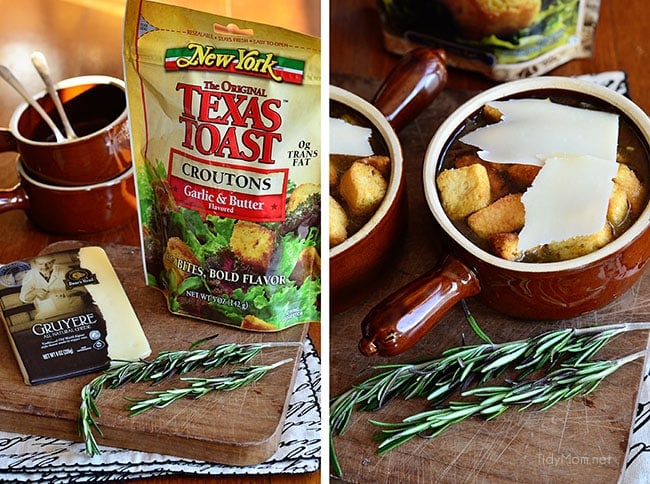 This is the best part!  Just before serving, top each bowl with New York® Brand Texas Toast Garlic & Butter Croutons and lay a few slices of gruyere cheese on top.  Place your bowls on a baking sheet and pop them under the broiler for just a few minutes.  Keep a close eye on it, and pull them out just as the cheese starts to melt, bubble and turns a nice golden brown.
Now excuse me while I have another bowl and watch to see how Dexter makes his way thru season 3.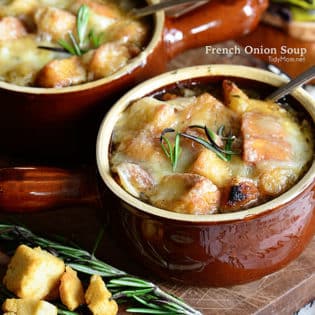 French Onion Soup
A decadent French Onion Soup full of flavor that is topped with croutons and melted gruyere cheese.
Ingredients:
1/4 cup butter
2-3 large white or yellow onions (or 3-4 medium), sliced
1 teaspoon sugar
1/2 teaspoon salt
1 teaspoon minced garlic
1/2 tablespoon dried thyme
1½ tablespoon flour
1/2 cup dry white wine
2 cups beef broth
1½ cups chicken broth
1/2 tablespoon balsamic vinegar
1/2 tablespoon Worcestershire sauce
New York Brand Texas Toast Garlic & Butter Croutons
4 slices gruyere cheese (about 2 ounces)
Directions:
Melt butter in a heavy soup pot or Dutch oven over medium heat, add the onions and stir until they are evenly coated with butter and sprinkle with salt and sugar.
Turn the heat to medium-low, let onions cook, stirring occasionally,for at least 30-45 minutes. You can let them cook even longer over a low heat with the lid on until golden brown and caramelized, about 2-3 hours, stirring every 15 minutes. — just don't let them burn or get black. Adjust the heat as necessary.
With medium-low heat, add the garlic and thyme and saute for about a minute.
Mix in flour and brown for about another 2-3 minutes, forming a paste, but try not to scorch it.
Add the wine and scrap the bottom of the pan to get up all of the cooked-on brown bits.
Add broths, vinegar and worcestershire sauce, bring to a boil then reduce the heat and simmer for 30-40 minutes.
Ladle the soup into oven-safe bowls on a baking sheet and top with croutons and a a thick layer of cheese, making sure to cover the edges of the croutons to prevent burning.
Place under broiler, watching closely, until cheese melts, bubbles and turns a golden brown.
Dunk the croutons and cheese into the soup as you eat. Enjoy!
Making this recipe? Share it with us on Instagram using the hashtag #TidyMom so we can see what you're creating in the kitchen!
Want more great recipes like this? Follow my TidyMom Easy Recipes Pinterest Board

Disclaimer:  Disclosure: I have been invited to participate in a Marzetti® ambassador program. This post is sponsored by Marzetti and product has been provided by them. The opinions and ideas expressed here are my own