Fire Roasted Tomato & Chicken Quesadillas
One of my goals lately, has been to try and eat better and take better care of myself. It's some times hard to do during the holidays. Eating better doesn't always have to mean "dieting" it can mean eating foods that are good for you.
The other day I mentioned how good beans are for you, but did you know how good tomatoes are for your heart? I don't know about you, but I'd like to be around to see my grandchildren. So eating foods that keep my body healthy is important to me. We don't have a lot of heart health issues in our family, other than some high blood pressure, and I'd like to keep it that way!
Last week we enjoyed a dinner recipe packed with good-for-you tomatoes and beans……..who knew how good Quesadillas could be for you!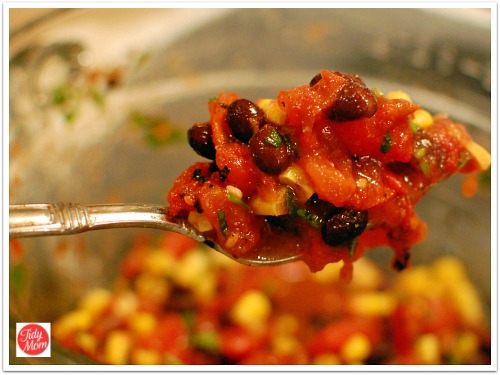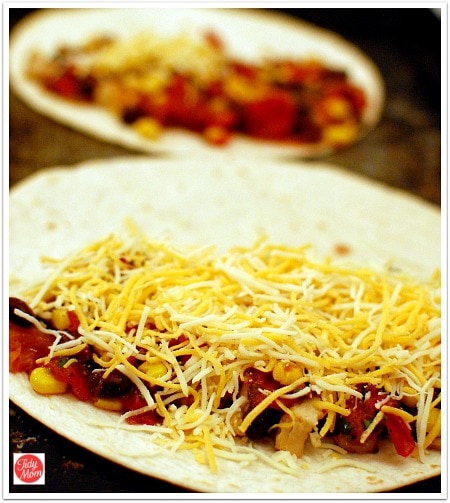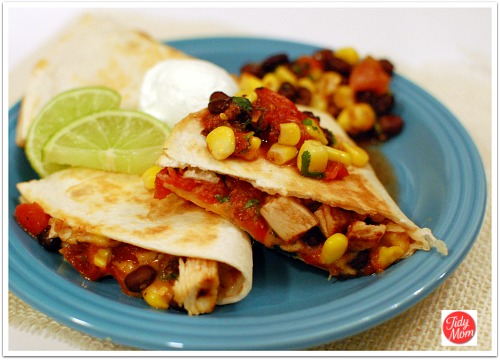 Enjoy!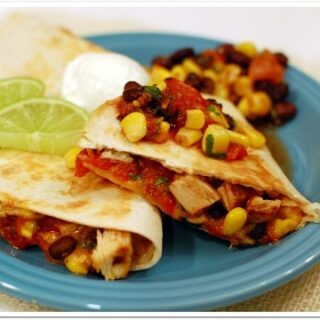 Fire Roasted Tomato & Chicken Quesadillas
Yield: serves 6

Prep Time: 10 minutes

Cook Time: 6 minutes

Additional Time: 6 minutes

Total Time: 22 minutes
Ingredients
1 can (14.5 oz each) fire-roasted diced tomatoes, drained
2/3 cup frozen whole kernel corn, thawed
2/3 cup drained, rinsed Bush's® Seasoned Black Beans
2 cups cooked chicken (sometimes I use rotisserie chicken)
2 tablespoons finely chopped fresh cilantro
1/2 teaspoon garlic powder
1/4 teaspoon kosher salt
1/4 teaspoon ground cumin
1/4 teaspoon ground red pepper
1 teaspoon lime juice
2 cups shredded Chihuahua or Monterey Jack cheese
6 (8-inch) flour tortillas
Lime wedges and sour cream, optional
Instructions
Make salsa: place drained tomatoes in a large bowl; mash into smaller pieces with a fork. Mix in corn, beans, onion, cilantro, garlic powder, salt, cumin, red pepper, and lime juice.
Assemble quesadillas by sprinkling 1/3 cup cheese over half of each tortilla; top each with chicken and 1/4 cup salsa (reserve remaining). Fold each tortilla in half over filling; set aside.
Heat large nonstick skillet over medium heat. Cook quesadillas 2 to 3 minutes on each side or until cheese melts and tortilla is lightly browned.
Cut each quesadilla into 3 wedges. Serve each with remaining salsa. Add a lime wedge and sour cream, if desired.
Recommended Products
As an Amazon Associate and member of other affiliate programs, I earn from qualifying purchases.
Nutrition Information:
Yield: 6 Serving Size: 1

Amount Per Serving:

Calories: 354 Total Fat: 20g Saturated Fat: 10g Trans Fat: 0g Unsaturated Fat: 8g Cholesterol: 80mg Sodium: 442mg Carbohydrates: 20g Net Carbohydrates: 0g Fiber: 4g Sugar: 3g Sugar Alcohols: 0g Protein: 25g

Nutrition information is estimated based on the ingredients and cooking instructions as described in each recipe and is intended to be used for informational purposes only. Please note that nutrition details may vary based on methods of preparation, origin, and freshness of ingredients used.