Feeling a little Green….Treasure Hunting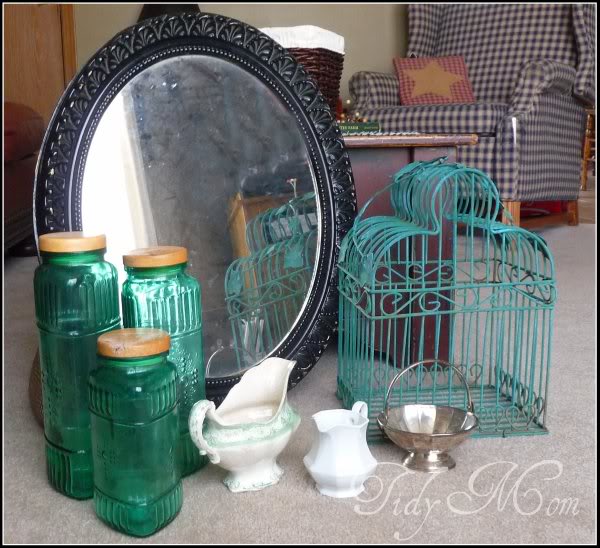 Not sure what my GREEN fascination was the other day, but when I got home from visiting our Good Will, I realized most everything I bought was green . Funny thing…………I don't have green in my home! LOL
I took this picture before I cleaned everything up.
The black mirror I love just as it is, and I put it up next to our front door! – I've always wanted a mirror by the front door, now I can do a quick hair, face, teeth check before I answer the door! LOL
The green jars, I just liked, but I'm not sure about the lids- should I paint them? if so what color? leave them off? fill them with something?
I'm collecting white dishes of any sort – not sure if you can see, but the gravy boat has some beautiful green pattern on it and it was calling my name to take it home. ?
The bird cage, I'll probably paint white and put it in my new office – one problem though, I don't think it opens any where? I was hoping to sit something inside of it.
The little silver dish, is just adorable, I thought I would be pretty on my desk to hold paper clips.
The BEST part? I got ALL of this for $17 WOOHOO!
Have you scored any great finds lately?
Head over toSouthern Hospitality and see what Rhonda and others are finding in their Treasure Hunting!
Sarah at Thrifty Decor Chick is having a Goodwill party!! I didn't link this post but I did link up a few of my older posts. You should check out her party!