Fast and Furious!
Fast and Furious!…….That's how Ike came thru Missouri on Sunday, and it's how I worked on my Organization To Do List over the weekend.
First, I'd like to offer my prayers to all of those effected by Ike and his furry. I have lived in the greater St. Louis area all my life, and I can't ever remember really being effected by a hurricane, and certainly nothing like we had. We did manage to dodge a bullet though. Mom and I closed our shop in Olde Town Eureka in July, we had to sandbag in March for possible flooding, that thankfully never got into the shop. But Ike wasn't as kind. Our spot where we had The Country Junction in Eureka was flooded with 4-6″ on Sunday as Ike made it's way thru. Several of the shops down there were effected. It came too fast for any sandbagging, my heart goes out to all of those business cleaning up from that mess.
So, on a lighter note, I wanted to share my accomplishments from the weekend!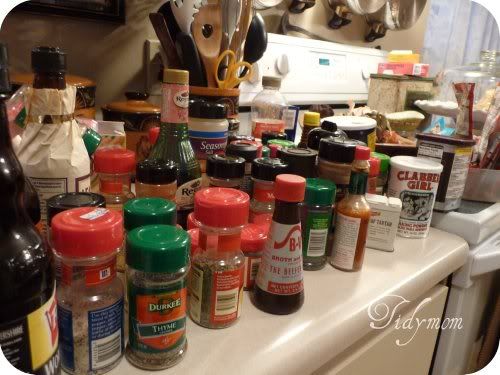 I have decided that I need to bring some sanity to this house and start throwing out crap cleaning out and organizing some cabinets and closets. My mom is having a garage sale this weekend with all the left over shop merchandise, so I thought what better time to start cleaning out since I have a place to go with all the crap lovelies that I no longer need/use.
I started on Friday night with 2 kitchen cabinets that bother me the most. Honestly you would think I throw nothing out and shove it all into a cabinet or closet. I should have taken pictures of the bags I took out to the garbage! These 2 cabinets did not contain any items for the garage sale, just lots of expired goodies for the trash men (who are going to love me on friday – I'm thinking I should put a plate of cookies out for them!)
After about an hour and a half, I was happy with my results – nothing fancy – I didn't buy a bunch of "organizing" containers or products, other than a lazy susan for my spices and a wire rack that I picked up at Target. No joke, both of these cabinets were SO packed with stuff, I couldn't get another item in them……..take a look at how sweet they look now!
This cabinet is next to my stove and I threw out more than 1/2 of what was in it. I now have a place to store all of my tarts (all of the cellophane bags on the middle shelf) and my licorice!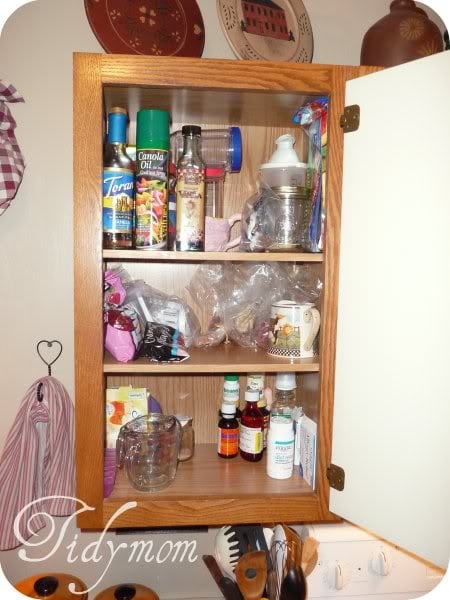 Saturday I tackled the BIG project – My Monica Closet
Early on I had some help…….LOL see my kitty Kix?He had to be in the middle of what I was doing all day.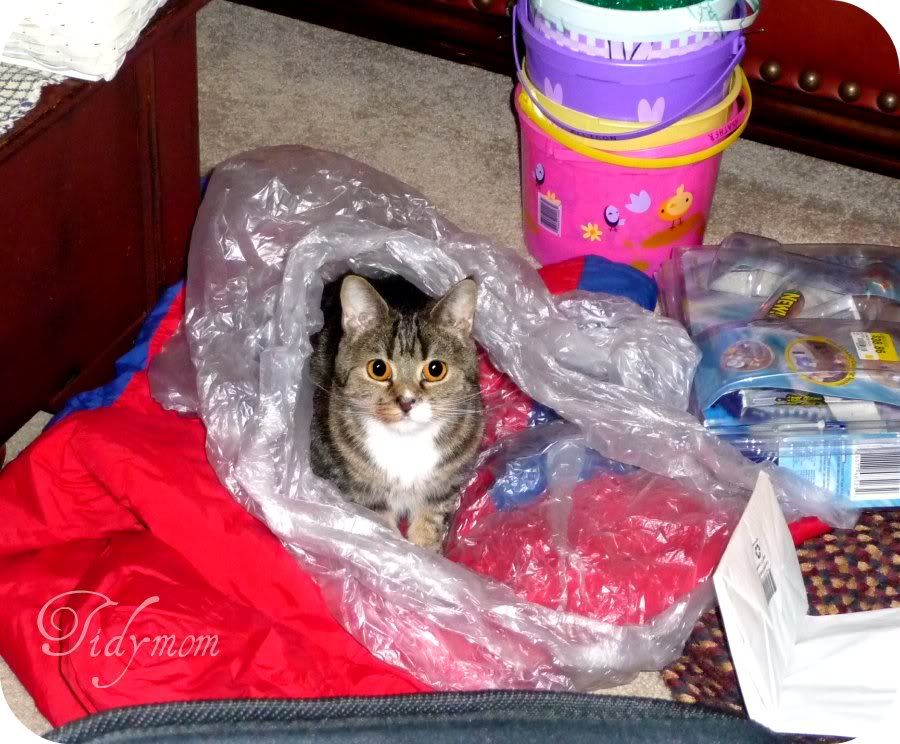 Take a look at what my family room looked like – ALL of this was in that closet AND coats(I didn't pull the coats out)
And here's the finished closet!!!
it actually has a floor and shelves you can see!!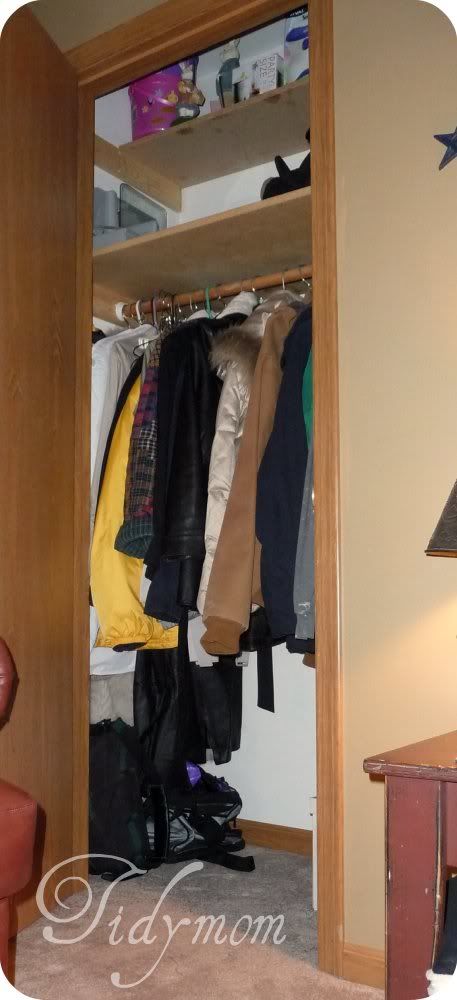 On Sunday I did our linen closet – I didn't take pictures, again nothing overly exciting for anyone but us. I threw away SO much junk, out-of-date medicines, 1/2 empty bottles of hair products ect.
It just feels SOOO good to have these done!! Now to get past this garage sale and I'll really feel like I've accomplished a lot -I know my mom is ready to get all of that old merchandise out of her garage!
I wanted to share this picture I took yesterday while I was out running errands. The weather here is just gorgeous this week, in the 70's an the clouds were so beautiful yesterday – I had to stick my camera out the van window and snap a few pictures.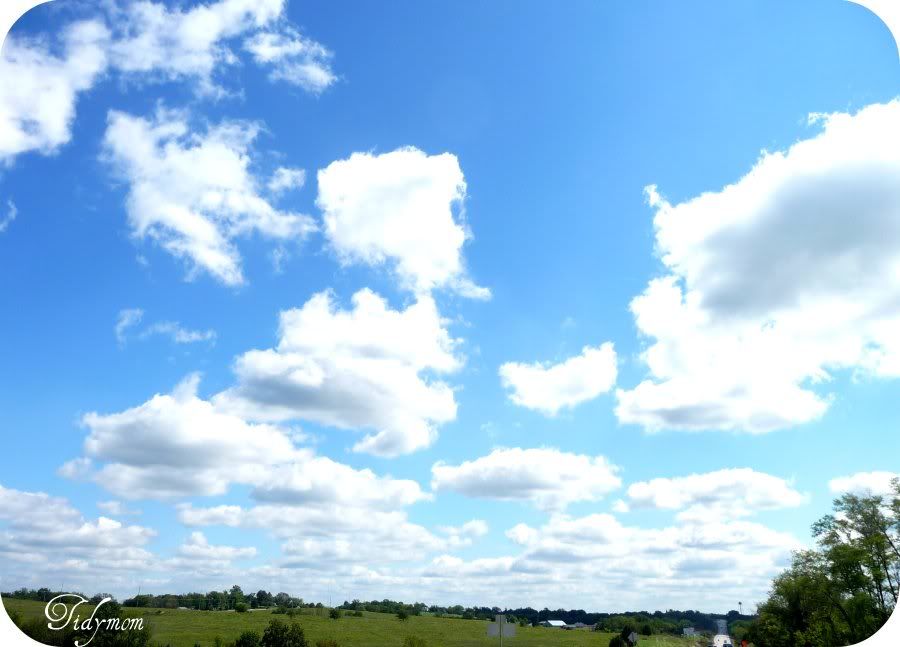 (click the picture to see larger)