Do you Twhirl with Twitter?

If you aren't familiar with Twitter, Jo-Lynne atMusings of a Housewife has written a nice post about Twitter, just click here to read her post.
When you first sign up for Twitter, you may be less than impressed. It may seem like a very useful service, but since you basically have to visit your profile page and refresh the web browser to get updates you may be quickly turned off.

That's where Twhirl steps in!! Twhirl is a desktop application that works with Twitter in real time. That means if you have Twhirl open on your desktop, you will receive every tweet as it's posted, without being "intrusive". It is one less browser window to have to keep open, and the alerts are not annoying.
I've been telling so many other people Tweeps about Twhirl, I thought I'd write a post explaining it just a bit. Now you have to remember, I am not a techie…..this is just my simple terms of what a great app Twhirl is and how much more you will enjoy Twitter if you use it!
Twhirl BASICS – Tidymom style:
Go to Twhirl to download the application. Follow their easy set up instructions
Here is a shot of how Twhirl looks on my desktop – see it doesn't take up much screen space
(yes, I'm still obsessed with Twilight LOL)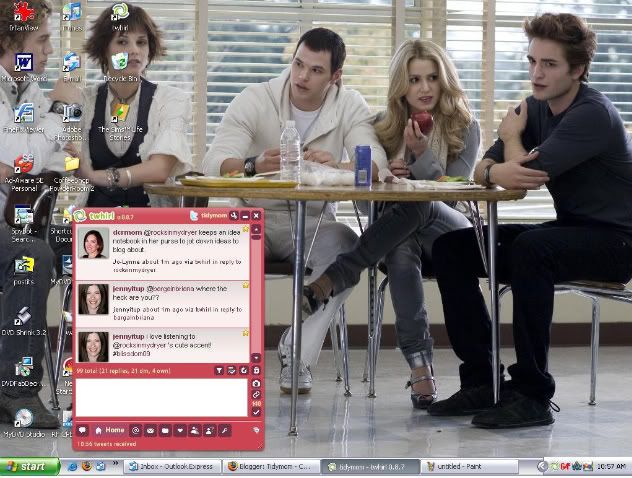 After downloading, you may want to tweak some of the basic settings

If you PROMISE not to LAUGH at ME
…
I'll show you a video I made with my camera
vlogging how I use Twhirl
Now REMEMBER
don't laugh at how I sound or
how I stumble for words. LOL
This is the first time I've video taped a "tutorial" and I used my digital camera
– so the quality isn't fantastic, but I think you can follow it pretty good.

Twhirl with Twitter from Cheryl Tidymom on Vimeo.
Recap – to see messages to you click the following icons
@'s are TO YOU and everyone can see
DM's are Direct Messages to you that only YOU can see


I forgot to show you in the video
how to get to someone's actual Twitter page
when on Twhirl
for lots of GREAT Twitter Tips and "how- to's" check out this blog
TwiTip