Decorating Dilemma Help Needed!
Amanda at
Serenity Now
is hosting a
Decorating Dilemmas Party!!
I thought this would be the perfect opportunity to get some help!
For as long as I can remember, I've decorated my house in a country style, more on the primitive country side, than the "cutesy" country. My family built country furniture and had a business selling it and country home decor. So for 15 years, it's what I had access to – I loved it, and still do……..but I'm slowing growing tired of some of it.
I love most of my furniture, most all of my wood furniture was built by my Dad and brother (except for the oak pieces) You can read a post about a lot of my furniture in this post.
I would like to clean up the "clutter" and darkness of some of my decor, like I did with my new office last year (see my office here) I want to keep all of the painted furniture (that was all made by my family), a few of those pieces I don't mind painting – like my coffee table and end table.
So, here's my first challenge………my family room. I would love some feedback on how to start making some changes (that wont break the bank)
I don't want to paint (we painted the whole house just a few years ago)
I'd like fitted slipcovers for the couches – but not in the budget at the moment *I should not my mom gave us these couches and PB slipcovers – but they're not fitted and we use these way too much for the non-fitted slipcovers (I put them on the couch in the basement)
I'm willing to paint the coffee table and end table or look for new ones (I can move these to the basement
need to update that picture wall
new window treatments
I'd like to move that roll top desk out and get a sofa table
need new lamps!!!!
get rid of the Americana theme
I want to get rid of this big double shelf and all the little stuff on it- what can I put there?
I would like a new TV cabinet or armoire
the TV needs to stay in this corner—because the hubby likes to watch it while we eat (ugh)
I want ideas for what to put on the walls!
RUG?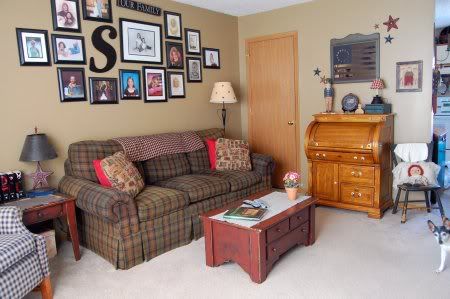 This is not in the family room, but in the next room – I would like to take this shelf down as well, but don't know what to replace it with………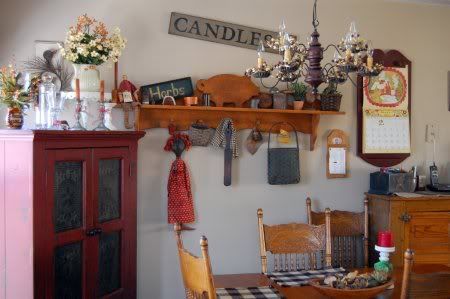 ok……..enough rambling………..some ideas? where to start? Thanks for any help you can give!!
Be sure to head over to
Amanda's party
to help other's in need or post about your own dilemmas!!
Tidymom is a participant in the amazon services llc associates program, an affiliate advertising program designed to provide a means for sites to earn advertising fees by advertising and linking to Amazon.com.
Please respect my work, recipes and photographs. If you do use a recipe in your own writing, please give proper credit and link back to the original post.