Chocolate Chip Cookie Dough Cupcakes
When you need a mind-blowing treat for any cookie dough lover, YOU MUST make these Cookie Dough Cupcakes. Stuffed with cookie dough and topped with an indulgent chocolate chip cookie dough frosting they are the ultimate treat for any occasion.
If cookie dough treats are a favorite in your house, you might want to try our Sandwich Brownie Cookies with Cookie Dough Frosting and Chocolate Chip Cookie Layered Delight.
Be sure to sign up for my email… to get new recipes and ideas in your inbox!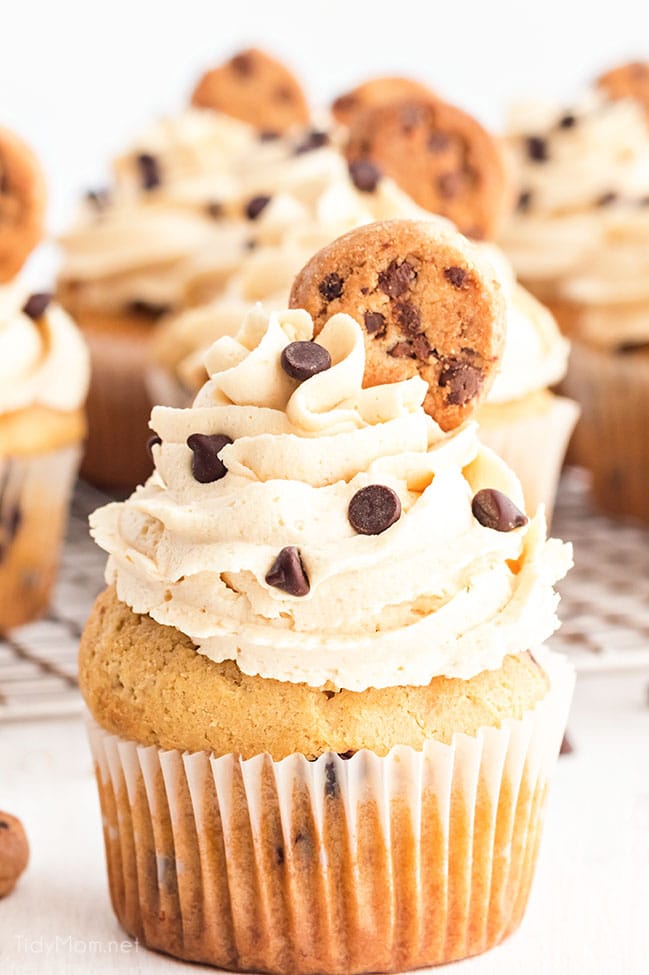 SAVE this recipe to Pinterest!
Cookie Dough Cupcakes With Cookie Dough Frosting
Cookie dough, cookie dough, where would thou be without cookie dough?
While my love for cookie dough might not be the "sacrifice myself for it" kind of love like Romeo and Juliet, the love still runs deep. I remember as a kid being SOOO upset that I wasn't allowed to eat the cookie dough because we all know it was THE BEST part!
The day I discovered edible cookie dough recipes, my life changed forever, and now I hope this recipe changes your life too. These decadent cupcakes are bursting with cookie dough from top to bottom for an indulgent treat you deserve. It really doesn't get any better than mixing two classic desserts, and making them one, right?
How To Make Cookie Dough Cupcakes
While I love the addition of the cookie dough filling and cookie dough frosting, the cookie dough cupcakes alone are good enough to devour in one sitting. They might be a little more involved than your average box mix cupcake recipe, but it's so worth it!
To begin just preheat the oven and then start combining the butter and brown sugar using an electric mixer. You'll want to cream together the ingredients until light and fluffy before adding the eggs one at a time.
Once each egg is added, whisk the dry ingredients together in a medium bowl and begin to add the mixture to the mixer bowl alternating between the dry ingredients and milk on low speed, beginning and ending with the dry ingredients, mixing each addition just until incorporated.
Next, you will Blend in the vanilla, fold in the chocolate chips with a spatula, and divide the batter evenly between 24 cupcake liners. Bake until a toothpick inserted in the center comes out clean and allow to cool in the pan, then transfer to a wire rack to cool completely.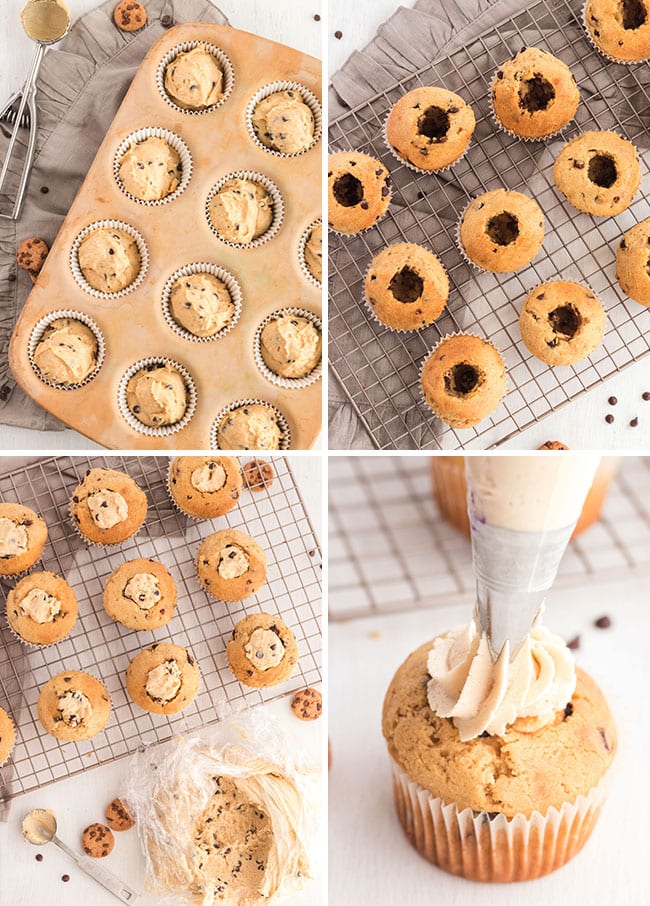 Tips For Perfectly Icing Cupcakes
Let the cupcakes cool completely – If the cupcakes are even slightly warm the icing will start to melt, and you'll have a sloppy mess on your hands.
Chill the frosting – Working with firm icing provides more structure to work with as you frost the cookie dough cupcakes.
Use a piping bag and a metal tip – Using the piping method gives the cupcakes a professional appearance and is just as simple as the spread on method.
Squeeze the bag to remove any air pockets – You don't want any surprise air pockets ruining your perfect frosting, so be sure to squeeze the bag and release and air before starting on the cupcakes.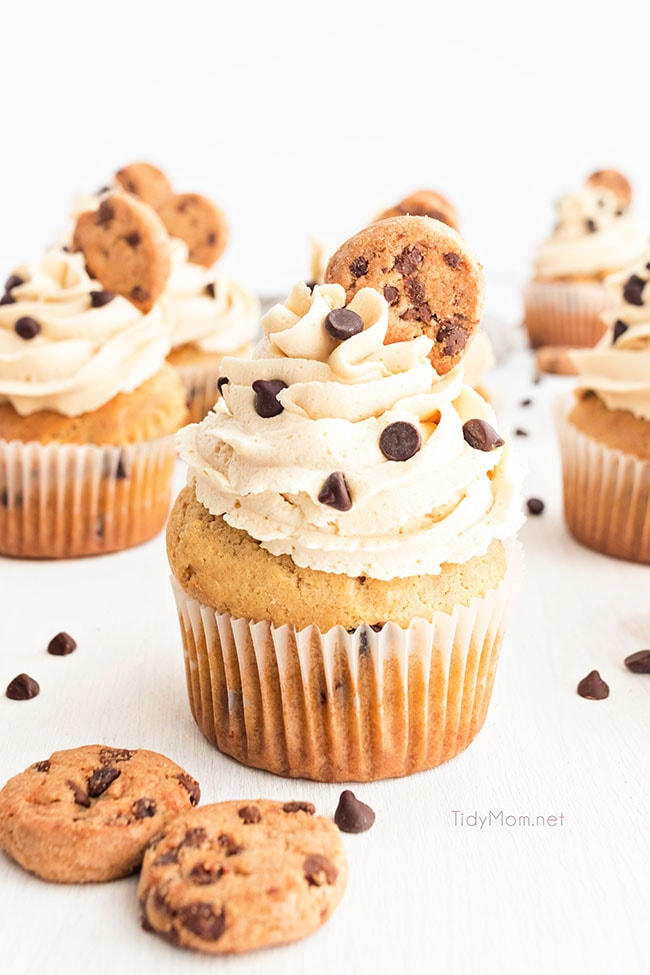 Is Cookie Dough Safe To Eat?
The general answer is, it depends. Cookie dough recipes that don't contain raw eggs are perfectly safe to eat, while traditional cookie dough recipes typically need to be cooked before consumed to avoid salmonella poisoning.
Thankfully this entire recipe is made with egg-free cookie dough, so there is nothing to worry about as you sink your teeth into each bite of these amazing cookie dough cupcakes.
What To Do With Extra Cookie Dough Frosting
The recipe tends to make a little more frosting than you will actually need for a single batch of cupcakes and if you're anything like me then the last thing you want to do is throw away perfectly good cookie dough frosting.
Of course, there's the obvious solution to this excess cookie dough problem, and it involves just a bowl and a spoon, because who doesn't love a big scoop of edible cookie dough?! If you'd like to get a little more creative with how you use the excess ingredients, then try making a batch of my favorite Sandwich Brownie Cookies, that use the same cookie dough frosting. Trust me, you won't regret it!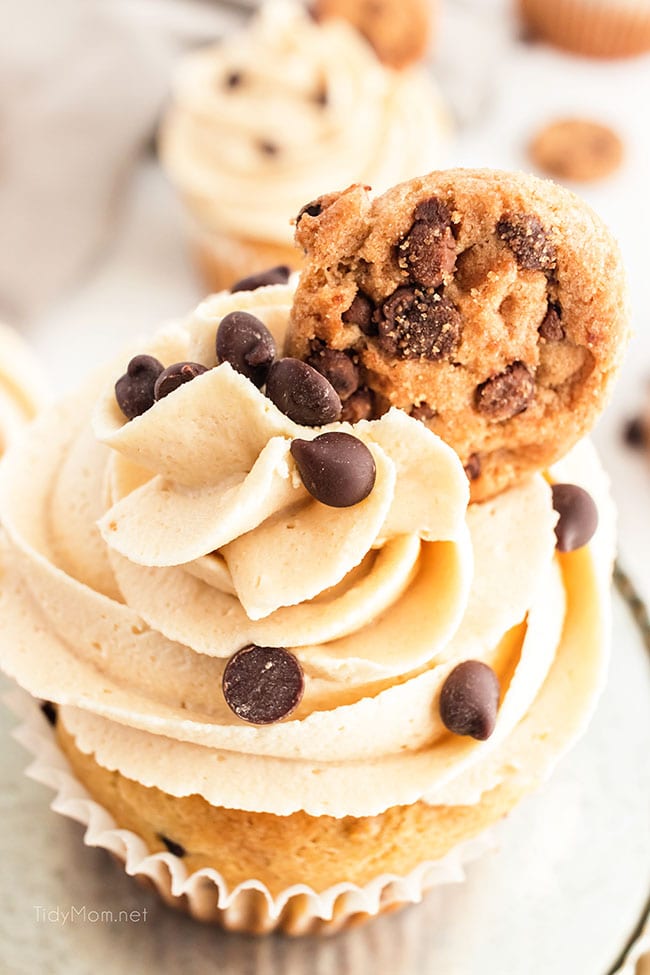 How Long Will Cookie Dough Cupcakes Last?
When stored in the refrigerator these cookie dough cupcakes will last up to 5 days. At room temperature, they will keep for up to 3 days.
Ways To Store Cookie Dough Cupcakes
How to store the cupcakes depends on your cupcake consistency preference, and how long you want them to last. If you want to nibble on the leftovers for an extra few days, or you like a firm frosting then store them in an airtight container in the refrigerator.
For those who plan to gobble them up within a couple of days, or like a soft, smooth frosting, store the cookie dough cupcakes in an airtight container at room temperature.
Want to make an extra batch to save for a rainy day? Store the unfrosted cupcakes in an airtight container and place in the freezer for up to three months and make the frosting once ready to serve.
Don't Miss More Amazing Cupcake Recipes
Banana Cream Pie Cupcakes – an easy to follow cupcake recipe for a tender vanilla cupcake filled with a luscious banana cream custard and topped with a banana buttercream…..reminiscent of banana cream pie.
Snickerdoodle Cupcakes – super moist and taste just like a freshly baked snickerdoodle cookie. Topped with a crown of Brown Sugar Butter Cream, it's a tasty combo you don't want to miss
Strawberry Milkshake Cupcakes – The addition of diced fresh strawberries makes this Strawberry Milkshake Buttercream the perfect complement to the french vanilla cake beneath.
Baileys Irish Cream Cupcakes – filled with a chocolate caramel ganache surprise. Taken up one more notch with a rich buttercream spiked with a dose of Bailey's Irish Cream on top. The perfect St. Patrick's Day treat.
Vanilla Cupcakes With Chocolate Frosting – Simply flavored, sweet, moist white cupcake with a delightful light almond-vanilla flavor and a perfect medium crumb, smothered with the perfect chocolate frosting.
Like This Cookie Dough Cupcakes Recipe? Pin It!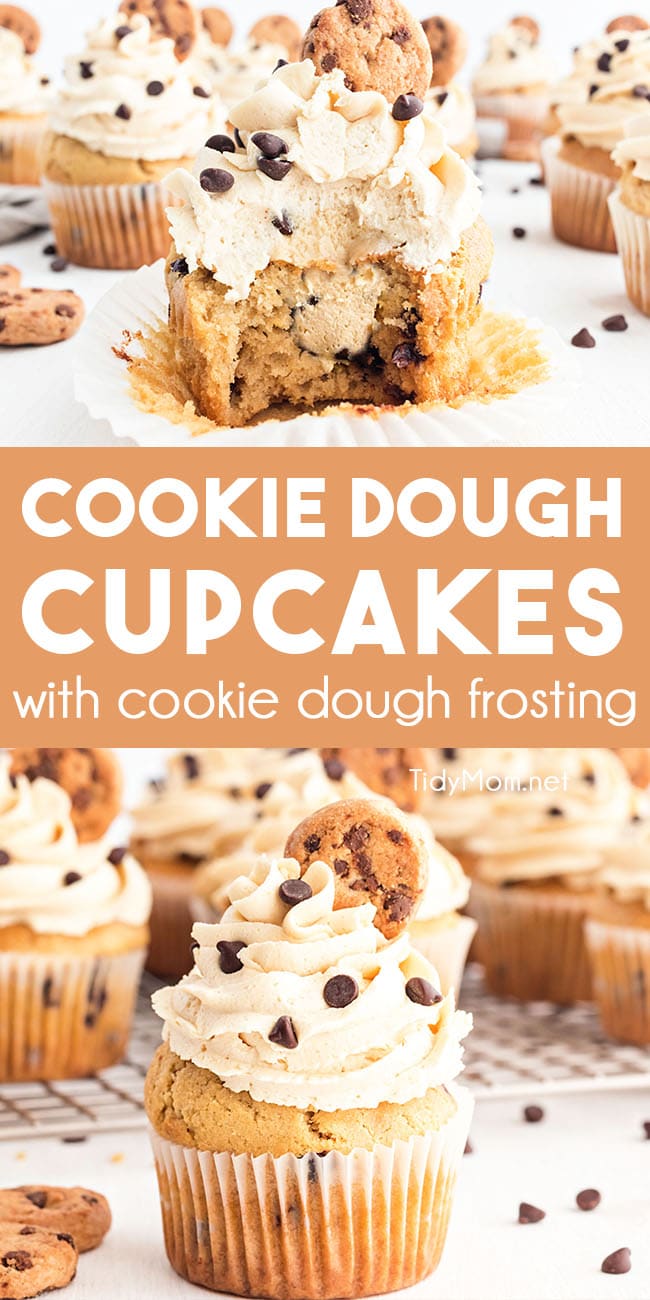 Tools Used To Make These Cookie Dough Cupcakes
I honestly don't know where I would be without my stand mixer! It's truly a lifesaver for anyone who does a decent amount of baking or cooking. With that being said, if you aren't ready to commit to a stand mixer purchase, a good hand mixer works just as well too!
Nonstick pans are a lifesaver when it comes to making cupcakes or muffins. I've had this set for years and I never have a problem removing anything from the pan.
I always used to use makeshift piping bags out of sandwich bags until I realized how much easier it was with the real deal! I'll never pipe another cupcake without using these disposable bags!
Follow Along on Social Media
If you're looking for even more inspiration check out the fun little group I created on Facebook, I'd love for you to join in! It's a place where you can share YOUR favorite recipes, home tips, creative ideas and ask questions and see what's new with TidyMom! If you'd like to check it out, you can request to join HERE.
Be sure to follow me on Instagram and tag #tidymom so I can see all the wonderful TidyMom recipes YOU make and tips YOU use!
Connect with TidyMom! Facebook | Twitter | Pinterest | Instagram
Sign up to receive an email in your inbox for each new recipe:
Ingredients
for Chocolate Chip Cookie Dough Cupcakes:
1½ cups (3 sticks) unsalted butter, at room temperature
1½ cups packed light brown sugar
4 large eggs
2⅔ cups all-purpose flour
1 teaspoon baking powder
1 teaspoon baking soda
¼ teaspoon salt
1 cup milk
2 teaspoon vanilla extract
1 cup chocolate chips (semisweet or bittersweet)
for Cookie Dough Filling:
4 tablespoons unsalted butter, at room temperature
6 tablespoons packed light brown sugar
1 cup plus 2 tablespoons all-purpose flour
7 ounces sweetened condensed milk
½ teaspoon vanilla extract
¼ cup mini semisweet chocolate chips
for Cookie Dough Frosting:
1½ cups (3 sticks) unsalted butter, at room temperature
¾ cup packed light brown sugar
3½ cups powdered sugar
1 cup all-purpose flour
¾ teaspoon salt
3 tablespoons milk
2½ teaspoon vanilla extract
Instructions
Chocolate Chip Cookie Dough Cupcakes:
Preheat the oven to 350° F.
Using the paddle attachment on an electric mixer, combine the butter and brown sugar. Cream together on medium-high speed until light and fluffy, approx 3 minutes. Add eggs one at a time, beating well after each addition and scraping down the sides of the bowl.
Whisk the flour, baking powder, baking soda, and salt together in a medium bowl.
Alternating add the dry ingredients to the mixer bowl with the milk on low speed, beginning and ending with the dry ingredients, mixing each addition just until incorporated.
Blend in the vanilla.
Fold in the chocolate chips with a spatula.
Divide the batter evenly between 24 cupcake liners. Bake for 18-20 minutes, until a toothpick inserted in the center comes out clean. Allow to cool in the pan for 5-10 minutes, then transfer to a wire rack to cool completely.
While the cupcakes bake and cool, prepare cookie dough filling.

Cookie Dough Filling:
Cream butter and sugar in a mixing bowl on medium-high speed until light and fluffy(approx2 minutes).
Add flour, sweetened condensed milk and vanilla and beat until smooth.
Stir in the chocolate chips.
Cover with plastic wrap and refrigerate until the mixture has firmed up a bit, (at least 30 minutes).
After cupcakes have cooled, fill the cupcakes by cutting a cone-shaped portion out of the center of each cupcake. Fill each hole with chilled cookie dough mixture.
Cookie Dough Frosting:
Beat butter and brown sugar with the paddle attachment on high speed until creamy and fluffy.
Mix in the powdered sugar until smooth.
Beat in the flour and salt.
Mix in the milk and vanilla extract until smooth and combined.
Frost cupcakes using a pastry bag and 1M tip. Decorate with mini chocolate chips and a mini cookie.
Notes
slightly adapted from Annies Eats
Recommended Products
As an Amazon Associate and member of other affiliate programs, I earn from qualifying purchases.
Nutrition Information:
Yield: 24 Serving Size: 1
Amount Per Serving: Calories: 530Total Fat: 30gSaturated Fat: 18gTrans Fat: 0gUnsaturated Fat: 10gCholesterol: 102mgSodium: 204mgCarbohydrates: 63gFiber: 1gSugar: 46gProtein: 5g

Nutrition information is estimated based on the ingredients and cooking instructions as described in each recipe and is intended to be used for informational purposes only. Please note that nutrition details may vary based on methods of preparation, origin, and freshness of ingredients used.