Christmas Memories & Traditions
W
elcome to Day 5 of the
Holly Bloggy Christmas Bash!
I'm flattered to be chosen to host the
Christmas Traditions & Memories
portion of the event! (Thanks,
Jerri
for hosting this event and asking me!)
Christmas is such a special holiday filled with traditions and memories.
Some of the happiest memories of my life were made during the Christmas season
Putting up the Christmas tree, always brings back memories of Christmas' past.
Like the year my husband cut down a tree off a friends property, it was a nice big tree and FREE!…….It was big alright, when we got it into the house it's branches stretched across more than half of or family room! It just wasn't going to work, and taking it back out of the house proved even more difficult! We still laugh about that tree to this day! Which is probably one of the reasons we no longer get a real tree.
This was our FIRST Christmas tree, our first Christmas we were married, and our only Christmas that we were not parents.
(oh, I think he's going to shoot me for posting some of these pictures! LOL)
Each year as we fill the tree with ornaments, we play Christmas music and reminisce about each of the girls ornaments. Mama buys them an ornament each year, and every year Sunshine get's upset that her older sister has more ornaments than she does! LOL
Each year the same angel is placed atop the tree.
Santa wraps gifts at our house, and each girl has her own Santa paper. One is green the other is red, that's how they know who's gifts belong to who.
For many years we went to my parents house for Christmas, and as we would get out of the car, their door would open wide and Bruce Springsteen would be singing Santa Claus is Coming to Town so loudly over their Bose system, I'm sure the neighbors could all hear it! That song is STILL my girls favorite Christmas song.
Every year the grand kids would assemble, awaiting their stockings and gifts from Grandma and Grandpa.
Look at the look of excitement on my nieces face!
Of course we have the tradition of taking pictures, you know the kind……..
the family picture,
usually in front of the tree
(OH NO! did I really just post that? LOL)
These pictures are VERY special to me……..
They were taken the last Christmas we spent with my Dad
This is my family –
Me, my Dad, my Mom and my Brother
My Dad passed away from lung cancer just a few weeks after these pictures were taken.
As silly as taking all of those pictures may seem some times, I'm SO thankful I take them.
There is also a picture with the grand kids every Christmas.
Milk and cookies are still set out on Christmas Eve for Santa, along with a carrot or two for the reindeer.
As our girls have gotten older, we have let some traditions go (no more trips to the mall to see the Big Guy…)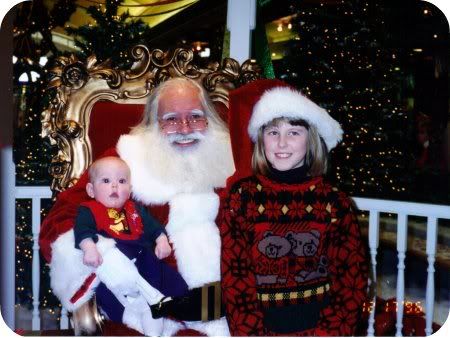 and have started some new traditions, like shopping together on Black Friday, and this will be the second year that Hollywood will host Christmas Eve at her house!
It would be wonderful to hear about some of your Holiday memories and traditions ! If you don't have a blog, tell me about them in the comments!
Please feel free to link up below so that we can all see your Christmas Memories and Traditions . The linky will be up thru Monday! Don't forget that if you link up on this post you'll be entered to win some fun prizes over at Simply Sweet Home. Hope you join us!
Find more holiday posts at The Inspired Room's Holiday Linky Friday.

Tidymom is a participant in the amazon services llc associates program, an affiliate advertising program designed to provide a means for sites to earn advertising fees by advertising and linking to Amazon.com.
Please respect my work, recipes and photographs. If you do use a recipe in your own writing, please give proper credit and link back to the original post.