A Valentine Giveaway
I
t's time for my
first
GIVEAWAY!!
My good friend Liz of Brown and Hopkins has something exciting to celebrate and has chose my readers as part of her BIG Celebration!
Brown & Hopkins
, one of
America's oldest, continuously operating country stores
is celebrating their
200th year in business
! Featured in Country Business magazine last Fall, stepping into
Brown & Hopkins
is like taking a step back in time! From the old pot belly stove, to the 20 foot long original counter, and spanning two floors and over 3000 square feet, this is a country shoppers
dream store
!
Shopkeeper,
Liz McIntyre
and her staff love
Brown & Hopkins
and it shows in their displays and their dedication to customer service. Their website is frequently updated, and they have an online shopping cart with some of the stores more popular items. But the best thing I love is their
blog
!
Liz keeps her blog, Brown & Hopkins Store Biz Buzz, current with new shop merchandise, displays, sales, history, and recipes all mixed with a little fun!
If you are lucky enough to live in or near Rhode Island, you can visit
Brown & Hopkins
in person! If you don't live close enough to visit, be sure to visit
Brown & Hopkins online
!
Right now during this contest, Liz is giving a 10% off all purchases to Tidymom readers. Just use the code word "Tidymom" to receive 10% off your purchase thru Feb 3, 2009.
In celebration of their 200th year and since this is the season of love….Liz is giving away a very heart warming gift to one of my readers!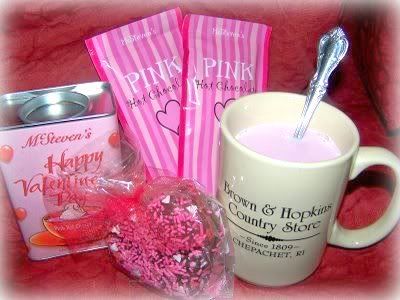 You could win this SWEET gift: a Brown & Hopkins Mug, 2 single serve packets of Pink Hot cocoa, a heart shaped chocolate rice krispie Valentine treat, and two hot cinnamon wax cookie tarts to melt in a tart warmer
Thank YOU Liz for sharing a wonderful assortment of Brown & Hopkins products!
Visit the Brown & Hopkins website and blog and look around.
To enter
(if you don't have a blog, be sure to leave your email address)
1) leave a comment here and let me know what was your favorite thing you saw while "visiting" the Brown & Hopkins sites
* you must have a mailing address within the continental U.S. or Canada.
You will receive one additional entry for each of the following
2) Leave a comment on Brown & Hopkins blog. Tell Liz a short "love story" of yours.
3) Follow me or Subscribe to my blog (leave a separate comment letting me know or that you already follow)
4) Follow me @Tidymom on Twitter and Tweet about this giveaway (leave a separate comment)
5) Post about this giveaway on your blog (again, leave a comment here to let me know)
This contest will close on Thur Feb 5th midnight Central Time.

This contest is now CLOSED
Winner posted here
**I LOVE hosting giveaways!! It's so fun to be able to be a part of a little freebie excitement! Who doesn't love a giveaway? Anyway, if anyone else out there is interested in me hosting a giveaway for you on my blog… email me tidymom AT charter DOT net