A Surprise, a Guest Post, a WIN and other news!
I hope all of you Moms had a wonderful Mother's Day! I know I sure did!!
One of the most FUN parts of my day was when a friend found out what she got for Mothers Day…..
Bridget, of Bake at 350 has THE SWEETEST hubby and son…….
They are sending her to visit ME this summer!!! WOOOOHOOOOOO!!!
Bridget's husband had been emailing me secretly, and set everything up.
I was bursting inside keeping this secret!
Whew! It feels SO good to be able to tell everyone about it!!
I can't WAIT to meet Bridget, and have a whole list of fun things we can do while she's here!
Then this morning I woke up to this……….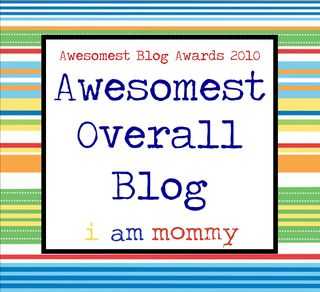 You all are SOOOO Awesome!!
Last week I was nominated  for "Best Overall Blog"
and I asked for you all to vote!
**The winner of each category will receive a $50 cash prize…….
I promised to spend a day using the $50 to perform Random Acts of Kindness. (inspired by this post) if I won!
and guess what?
I WON!!!WOOHOOO!!!
I'll be sure to keep you posted on the details of my RAOK day!!…..I have something extra fun planned! – I'm hoping to plan this day when Bridget is here visiting!
~~~~~~~~~~~~~~~~~
If that all wasn't enough………..
I am guest posting today over at Robyn's blog Our Homeschool Homewhile she is on a cruise this week! Robyn has a lot of fun planned on her blog for this week while she's gone, lots of GREAT guest posts and she's giving away a $100 Amazon Gift Card to a lucky reader this week! Click here to read all the details. So be sure to come over and show some love while I'm there today!!
AND……
yes, there's MORE….
I will also be the guest judge for her blog party "On the Grill"
On the Grill is a weekly, every Thursday, blog party where you share your favorite recipes for items you like to cook on the grill. You are welcome to include side dishes, desserts, or an entire menu! Each week Robyn invites one Guest Judge to review the On the Grill entries and select that week's Grill Master.
So get your grill recipes ready this week and be sure to come post them!! We LOVE to grill at my house…..and I enjoy finding new grilling ideas!!
~~~~~~~~~~~~~~~~~~
If you haven't signed up already, I have 2 great giveaways going on right now.
*************
WOW what a way to kick off a week right?!!!!
Hope you all have a FANTASTIC week!