A little Nightstand Rehab and Remembering Dad
M

y dad
was a
furniture builder
. Our home is filled with pieces he built over the years. My kitchen table, a large pie safe, family room tables, TV cabinet, every piece in
Hollywood's
bedroom was built by Papa, even her four poster bed!
Sunshine
has quite a few pieces as well, including a "Pottery Barn" style bed that he made for her.
The last piece my Dad made for me, was a lingerie chest. He surprised me with it for my birthday almost a year before he passed away. It's hard to say that any one piece is my favorite, but this one would have to be one of them and means the most to me!
Isn't it awesome?
Sunshine never got a night stand built by Papa. She has been using one of those plastic 3 drawer units for years. I recently told her we could keep our eye out for a nice wood night stand that we could try our hand at painting white to match her bed.
We walked in to one of our favorite thrift stores "That 1 Shop" ( that's really the name of it!!) last week and what is sitting right at the front door? The PERFECT pine nightstand!! It was priced at just $35 but it did have a chunk missing on the front "leg" so I was able to talk them down to $25! SCORE one for ME!!! I don't EVER haggle, I don't like to do it.
It's hard to see because of the leaves in the yard, but if you click the picture to enlarge, you can see where the missing chunk is.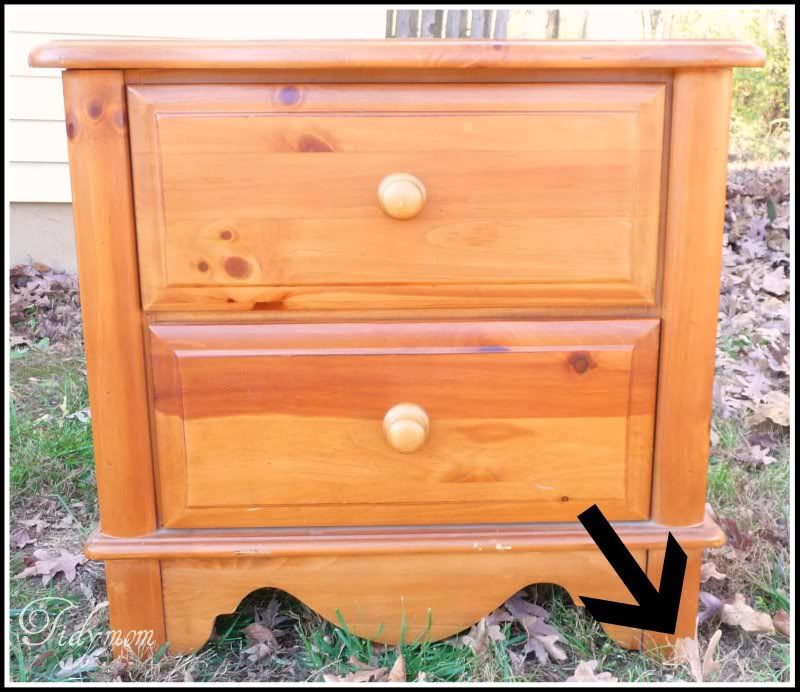 Sunshine and I brought it home and she loved it in her room – and as luck would have it, the weather turned a little warm and we were able to paint outside one day. It got too dark to sand outside so we brought it inside to do some sanding and distressing like the rest of her furniture.
Here's how it turned out!! I think Papa would be SO proud of what his girls did! Even though we didn't BUILD it, we did put our sweat and love into finishing it – and for our first time, I think we did pretty good!
Sunshine just moved into this room, and we are going to get new bedding and make some changes – but this is such a nice start!!
Look how perfect is goes with her bed and how close we came to matching it!