A FRESH NEW LOOK!
Tadaa!!! I can't believe it's finally D O N E!
I'm almost too tired to write this post, I've spent weeks working on this new look, and the last several days I've spent hours on end, but I do have to say I'm please with the outcome! I wanted something Fresh, Clean and unCluttered.
Cathe Holden of Home Grown Logos is my hero and an incredibly talented graphic artist! She worked her magic and came up with a new blog header that I love!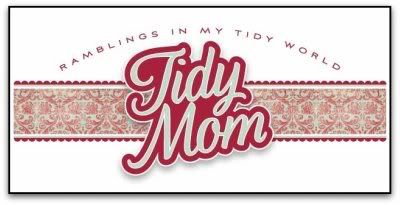 Cathe is the wife of a fireman and the mom of 3 great kids ages 11, 11 and 13. She works from home as a
graphic designer
in Northern California's beautiful countryside. Her blog,
Just Something I Made
, is a combination of craft and design inspiration.
While Cathe was working on my header, I started digging for every Blogger tutorial I could find.
There are some amazing tutorials all over the web, so with a little time and patience I made some fun changes to my blog.
*moved my sidebars around and made them and the post area larger
*made a navigation bar (under my header)
*made the Blogger Nav bar hidden (peek-a-boo)
*made new graphics for my sidebars

*added a search box
*made a TidyMom button, and a "Grab My Button" box
*made my Archives and Labels into drop down menu boxes
*I made these and learned how to install them at the bottom of the pages

*made a new signature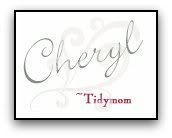 *installed the scalloped line as a post divider
*added extra text to where you leave comments, added the "thought bubble" graphic and when you hover your mouse there is a pop up box telling you "click here to view/post comment"

*when I leave a comment in my comments, they will be shadded green. So it's easy to see my replies to comments.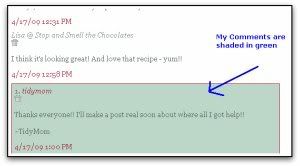 *numbered my comments (this will be so handy for contests)
*changed the format of how the date looks next to each post title

*made some new pages (all of the pages in the navigation bar)
WHEW!! I think that's all! LOL
So what do you think?
Click around. Try it out! Tell me if I'm missing anything or if something isn't working.
Some of these changes will only take place in new posts, like the numbered comments and the shading in my reply comments and my new signature.
Below are links to some of the places where I found the tutorials, if you have questions about specific things I did – just leave a comment or email me and I'll see if I have the direct link to the tutorial you're looking for.
http://www.bloggerbuster.com
http://techtnt2008.blogspot.com/search/label/Blogger
http://bloggeruniversity.blogspot.com
http://beautifulbeta.blogspot.com
http://www.blogbulk.com
http://sneakymommablogdesign.blogspot.com
http://www.blogspottutorial.com
http://bloggingwithsuccess.net
http://www.addthis.com/web-button-select
http://tricks-for-new-bloggers.blogspot.com
http://www.2createawebsite.com/build/hex-colors.html
Tidymom is a participant in the amazon services llc associates program, an affiliate advertising program designed to provide a means for sites to earn advertising fees by advertising and linking to Amazon.com.
Please respect my work, recipes and photographs. If you do use a recipe in your own writing, please give proper credit and link back to the original post.