Yoplait Whips Prize Pack Giveaway!
Do you have an ice cream man/truck where you live?  As soon as the kids hear the jingle music coming down the street they come begging for money!  You MUST read Kristan, the author of A Cookbook Queen's hilarious explanation of the joy, sorrow and anxiety of The Ice Cream Truck!  You will flip when you see her Bomb Pop cupcakes too!!
You won't have to chase down the ice cream truck anymore because Yoplait Whips! can help you satisfy your summer cravings for something creamy and cold.
Like most families, we enjoy ice cream, but not the calories. The summer heat is no match for a frozen Yoplait Whips! yogurt – the same whipped yogurt that's so unbelievably fluffy and light when enjoyed right from the refrigerator. Simply place your favorite Whips! yogurt cup in the freezer overnight and you will have a chilled yogurt indulgence without the calories of regular ice cream.
Yoplait Whips are just perfect to satisfy that sweet tooth,  they have the rich taste of a dessert, without the calories!
What a great after school treat! So, as summer comes to a close, before you head to practice, or family picnic, don't forget to stock your freezer with Yoplait Whips! (It's suggested that you remove the Yoplait Whips! from the freezer for 5-10 minutes before enjoying).
Yoplait Whips! yogurt is currently available in nine delectable flavors – Chocolate Mousse, Chocolate Raspberry, Key Lime Pie, Lemon Burst, Orange Créme, Peaches 'N Cream, Raspberry Mousse, Strawberry Mist, and Vanilla Créme.
You can visit Yoplait on Facebook or Yoplait on Twitter
Everyone can Download a FREE printable coupon for $0.55 towards the purchase of any (2) cups of Yoplait Whips! and try some today!
*This coupon offer for free Yoplait Whips! yogurt is not valid in some states, including California, Idaho, Louisiana, Minnesota, New Jersey, Nevada, North Dakota and Tennessee.
Win It
*THIS GIVE AWAY HAS ENDED*
winner was #74 Julie B – Congrats to Julie!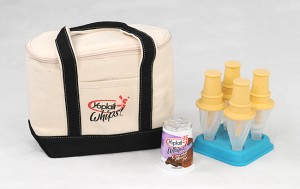 One lucky TidyMom winner will receive a Yoplait prize pack that includes a  VIP coupon for  Yoplait Whips! yogurt, a canvas cooler bag and a set of four ice cream cone shaped popsicle molds.  What fun, right?!
To enter this giveaway:
REQUIRED: Leave a comment on this post letting me know which flavor of Yoplait Whips you like the most or which one you would want to try out first!
EXTRA ENTRIES (leave a comment for EACH)
Share the link to this giveaway with your facebook friends, and let me know you did (https://tidymom.net/2010/5500/)
Like Yoplait Yogurt on Facebook and leave a message telling them what flavor you like best……be sure to tell them TidyMom set you!
Giveaway will end on Sept 3, 2010 at 5 pm CST.   One winner with a valid entry will be selected at random using random.org. I will email the winner and they will have 48 hours to claim their prize.
GOOD LUCK!
Yoplait Whips! yogurt, prize pack, coupon link, information and giveaway were all provided by Yoplait through MyBlogSpark.