Peach Sherbet | 2 ingredients 2 minute recipe
Peach Sherbet is ready to eat in two minutes! Sherbet is sorbet's creamier cousin — it's cold, creamy and SO easy to make at home! All you need is frozen fruit, a can of sweetened condensed milk and a food processor or blender. No machine, no churning, all creamy fruity deliciousness.
Be sure to sign up for my email… to get new recipes and ideas in your inbox!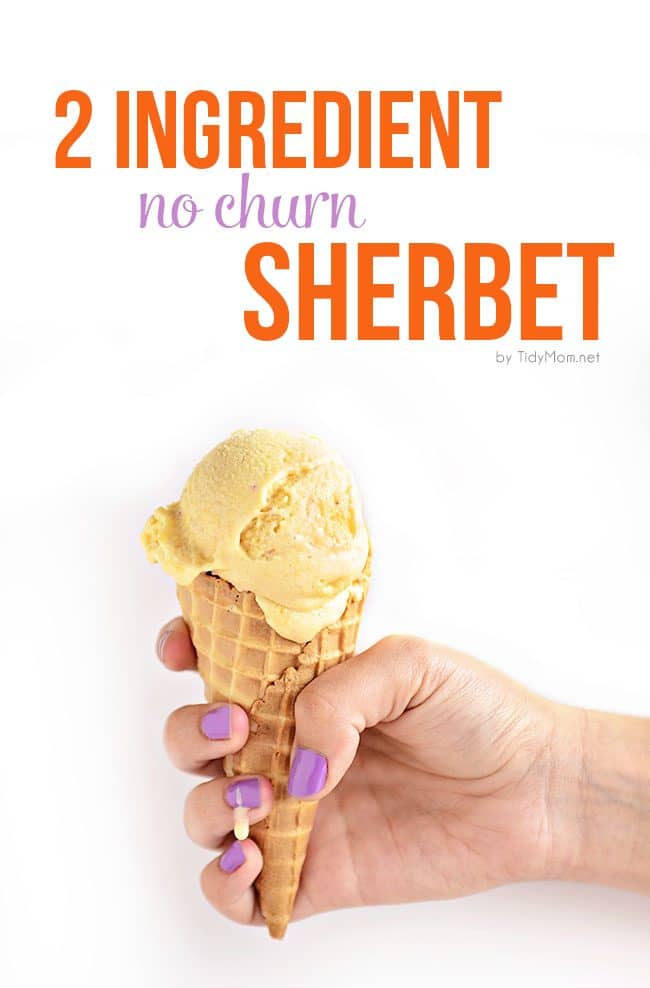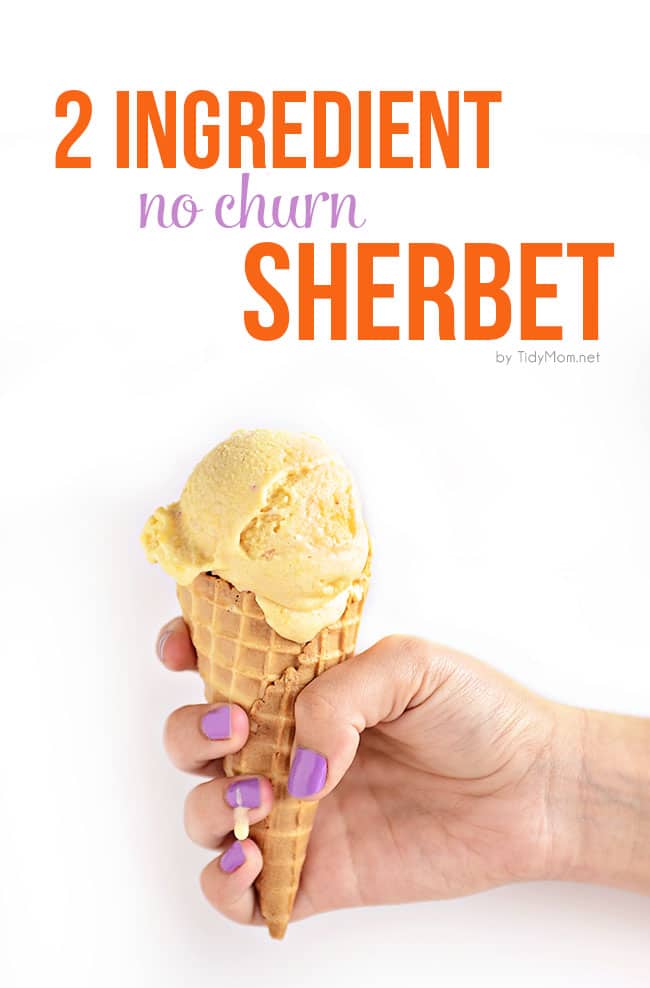 Peach Sherbet Isn't Just For Summer
I've been on a peach kick lately, just can't get enough of that sweet juicy fruit. The great thing about making sherbet is that you need frozen fruit, so you can make it any time of year.
If peaches are in season, you can certainly use fresh, just slice them up and freeze and you can have peach sherbet in the middle of winter!!
No fresh fruit to freeze? no problem, a bag of frozen fruit from the grocery store works just as well.
Either way, you can turn plain old good-for-you fruit into a creamy frozen treat any time of the year.
Homemade Sherbet Is Easier Than You Think
This post may contain affiliate links. Please read my disclosure policy here.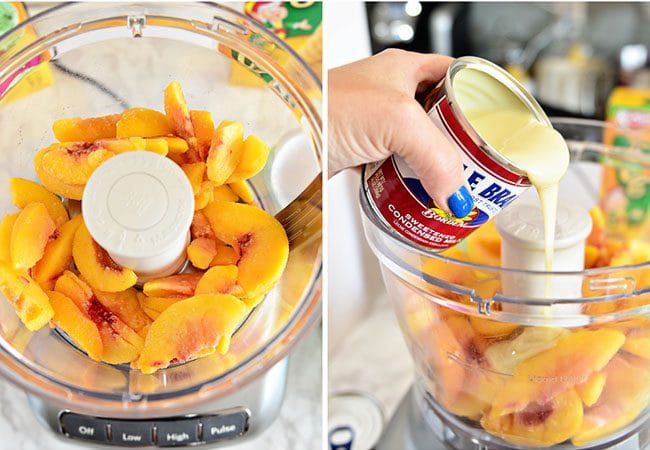 Homemade sherbet is such a fun treat to prepare all year long, not just for summer. It's easier to make than you might think. The trick to this no-churn peach sherbet is a combination of frozen fruit and sweetened condensed milk.
Here are all the ingredients you need to make any flavor of sherbet.
frozen fruit (your choice)
sweetened condensed milk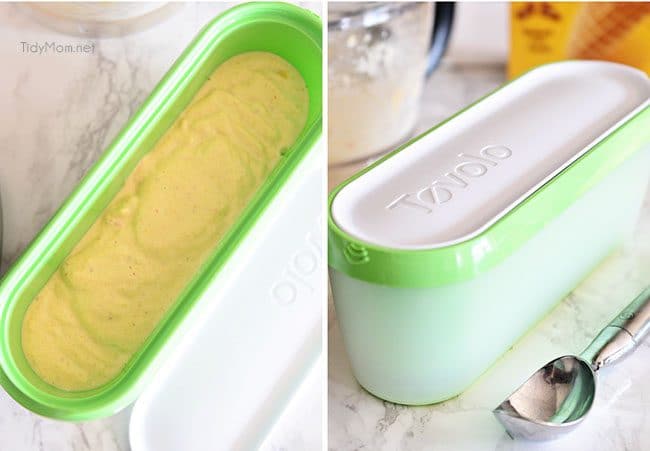 You will also need a food processor or blender and a good container, like an ice cream tub to freeze and store the sherbet in.
How To Make Homemade Peach Sherbet
Not everyone has the space for an ice cream maker, and sometimes you just don't want to deal with the mess of making ice cream at home.
That's why we make so much peach sherbet, it's quick, simple and just 2 handy ingredients you can keep on hand to make any time the mood strikes you 😉 – know what I'm sayin'?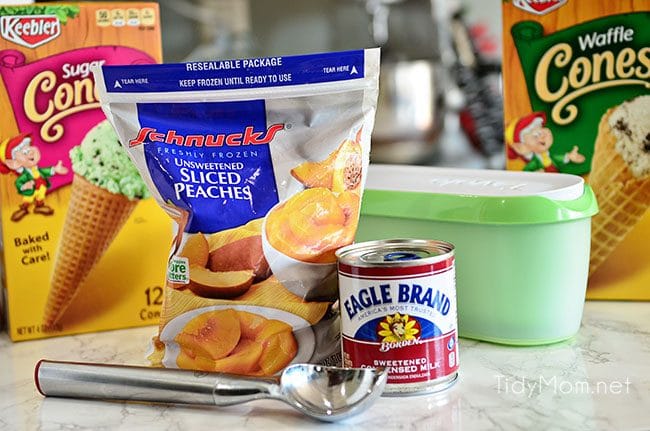 If you're just learning how to make homemade sherbet, here are a few tips to keep in mind while making this Peach Sherbet:
Make sure you have all your ingredients at hand, as well as a something to store/freeze the sherbet in.
You can use fresh fruit, it just needs to be sliced and frozen before starting this recipe
You can enjoy the sherbet immediately without freezing if you'd like. It will have the consistency of soft-serve ice cream. I recommend serving it in a bowl if you don't freeze it.
You can also freeze the sherbet for an 'ice cream' like consistency. Place the sherbet in an airtight container, such as a Tovolo Ice Cream Tub, and freeze for at least 3-4 hours or overnight to harden. Scoop onto a cone or into a bowl and enjoy!!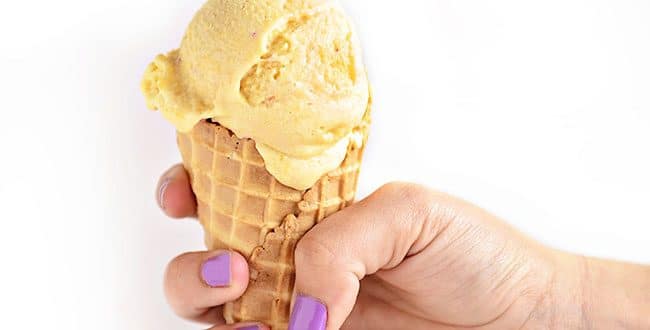 Now that you know the little secret, you too can look forward to peach sherbet treats any time you feel like it. You don't have to stop at peach…. try this 2 ingredient sherbet recipe with blueberry, strawberry, pineapple, even mixed berries!
This stuff is so good — like, magically good and the flavor possibilities are endless.
2 Ingredient Peach Sherbet recipe + video
click to see more of my recipe videos
I love my Tovolo Ice Cream Tub, no freezer burn – yay!!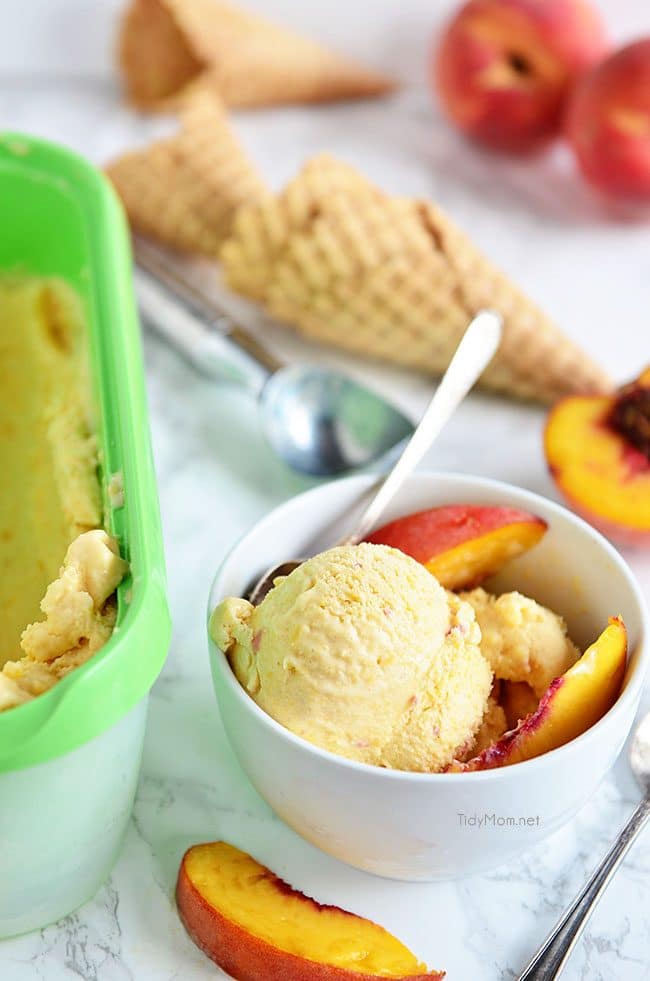 Isn't The Frozen Dessert Called Sherbert?
Sherbet is a frozen dessert that has the taste and consistency somewhere between ice cream and sorbet and is often pronounced sher-bert. The proper pronunciation is actually sher-bet. Chances are, you may be spelling it wrong, too.
The mispronunciation of this word is so common, it's actually listed in the dictionary as an alternate spelling!
I don't care how you pronounce it…………No-churn Peach Sherbet is a wonderful fruity dessert, it's not overly sweet and the fruit flavor is front and center.
I can't imagine how incredible this would be on top of a cobbler!!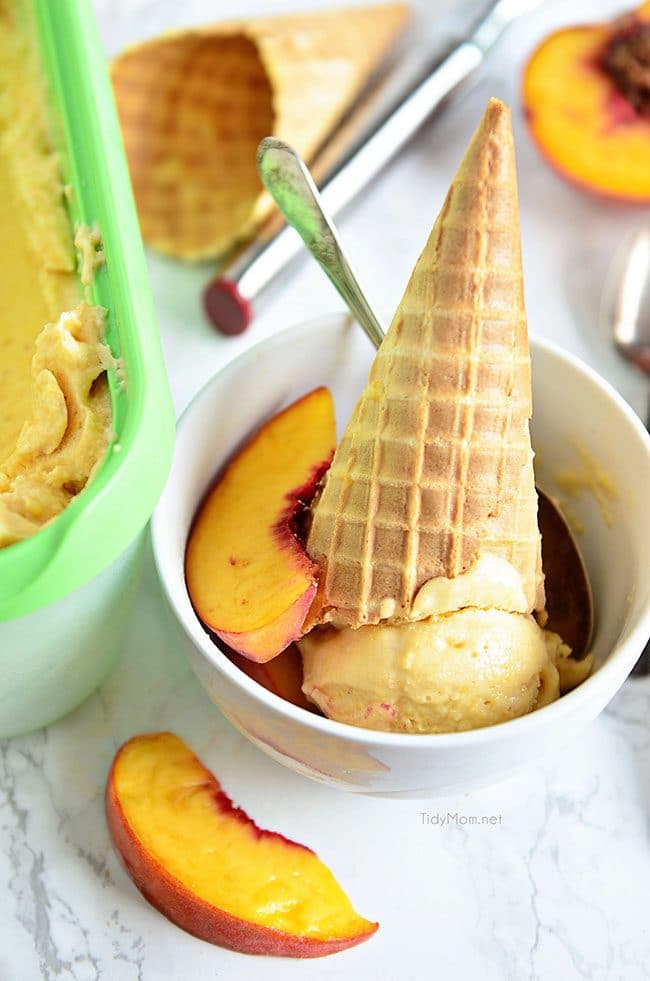 Can You Make Sherbet Dairy Free?
Sherbet means that the frozen treat will contain milk or cream. But you CAN make sorbet as it does not contain dairy and is essentially fruit, water, and sugar
Sorbet – no dairy
Sherbet – 1-3% milkfat
Ice Cream – 4% (and higher) milkfat
If it's EASY frozen treats you crave, check out these favorites:
Strawberry Shortcake Popsicles
Gooey Butter Cake Cold Brew Milkshake
1-ingredient Banana "Ice Cream"
Caramel Pecan Ice Cream Sandwich Cake
Chocolate Pumpkin Ice Cream Pie
LIKE THIS HOMEMADE PEACH SHERBET RECIPE?…. PIN IT!


This 2 Ingredient Peach Sherbet recipe is so easy to make, no churning, no machine and if you like soft serve, this treat is ready to eat in 2 minutes!
I created a fun little group on facebook and I'd love for you to join in! It's a place where you can share YOUR favorite recipes, home tips, creative ideas and ask questions and see what's new with TidyMom! If you'd like to check it out, you can request to join HERE. Be sure to follow me on Instagram and tag #tidymom so I can see all the wonderful TidyMom recipes YOU make and tips YOU use!
Connect with TidyMom! Facebook|Twitter|Pinterest|Instagram
Sign up to receive an email in your inbox for each new recipe:
SEE THE RECIPE CARD BELOW FOR DETAILS ON HOW TO MAKE 2-INGREDIENT PEACH SHERBET. ENJOY!
Ingredients
16 ounces of frozen peaches (or your favorite fruit)
1 -14 oz can of sweetened condensed milk
Instructions
Add fruit and sweetened condensed milk to food processor or blender and combine until creamy.
Serve immediately as soft-serve
You can also freeze for an 'ice cream' like consistency. Place sherbet in an air tight container, such as a Tovolo Ice Cream Tub, and freeze for at least 3-4 hours to harden. Scoop onto a cone or into a bowl and enjoy!!
Recommended Products
As an Amazon Associate and member of other affiliate programs, I earn from qualifying purchases.

What flavor of homemade sherbet will you make first?!