Spicy Ranch Goldfish Snack Mix
This Spicy Ranch Goldfish Snack Mix is crunchy, savory and a cinch to make. It's perfect for a party, football watching, movie night, or any night!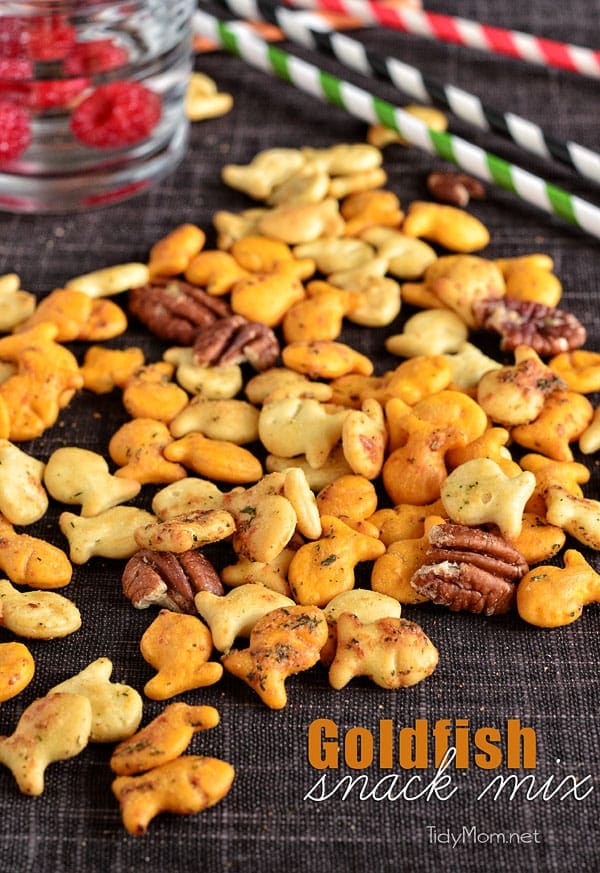 Goldfish Snack Mix — those words evoke a party, don't they?!  We had our first party here at the new house this past weekend.  It was too hot to be outside, so we had 18 adults and 10 little ones all inside, and you know what?  I didn't stress about it.  Not one bit.
I didn't turn into psycho Cheryl like I usually do when we entertain.  I channeled my inner Sandy and Kristen and kept myself pretty laid back about the whole thing.  Did I make ALL of the food? heck no, I made my lasagna and Amber's Creamed Corn (that was AMAZING).  Steve grilled some burgers and chicken early in the day and let them simmer in a pan of BBQ sauce until the party.  My mom brought cheese potatoes and baked beans, and a few others brought desserts, and I picked up some cookies and cupcakes from the grocery store.  I put out a few bowls of chips and popcorn and made a large batch of the most delicious Spicy Ranch Goldfish Snack Mix.
A simple menu that made it very stress free and allowed time to just enjoy our company!
I usually make Ranch and Dill Oyster Crackers for a party, and I thought about making the homemade Ranch Cheese Crackers, but I wanted to try something different that I could make really quick.
There are tons of snack mixes out there.  We are big fans of Goldfish crackers.  This snack mix is flavored with Ranch dressing mix, dill weed and a bit of Worcestershire, with some pecan halves thrown in for a little change. It's incredibly addictive, and makes plenty for a large crowds or party, but could also be easily halved or doubled to suit your needs. You can also use any combination of Goldfish crackers and the mix will be every bit as tasty!
Spicy Ranch Goldfish Snack Mix is perfect for all of your snacking needs!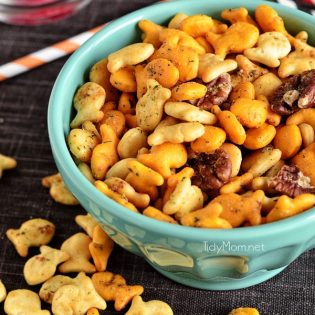 Spicy Ranch Goldfish Snack Mix
This crunchy and savory snack mix is a cinch to make and would be perfect to package in individual snack bags for parties and bake sales.
Ingredients:
2 (6.6 ounce) bags plain Goldfish crackers
2  (6.6 ounce) bags cheddar Goldfish crackers
1½ cups pecan halves
1 stick unsalted butter, melted
4 tablespoons Ranch dressing mix
1 teaspoon dill weed
1 teaspoon Worcestershire sauce
Directions:
Preheat oven to 250° F
Combine crackers and pecans in a large bowl.
Mix melted butter with Ranch dressing mix, dill weed and Worcestershire sauce, and pour over crackers and nuts. Using a wooden spoon, gently stir to coat.
Pour snack mix onto parchment lined large roasting pan or baking sheet.
Place pan in center of oven and bake for one hour, carefully stir mix every 15 minutes while baking.
Cool completely before serving.
feel free to use any combination of flavors of goldfish crackers - just be sure to use 4 (6.6 ounce) bags total.
Making this recipe? Share it with us on Instagram using the hashtag #TidyMom so we can see what you're creating in the kitchen!
Want more great recipes like this? Follow my TidyMom Easy Recipes Pinterest Board
How are you when it comes to throwing a party?  Do you stress out, or are you laid back?