DIY Lime Mint Foot Soak & Printable | I'm Lovin' It
Mother's Day is May 12th this year, this simple to make Lime & Mint Foot Soak packaged up in a cute jar with a label you can download and print for free would make a great gift for any Mom.  Great idea for Teacher Appreciation Gift too!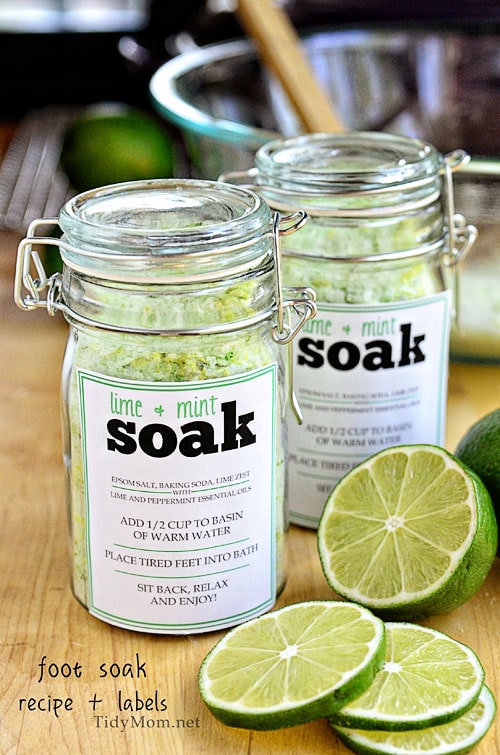 Most of us are busy and I don't know about you, but my feet get tired.  I've always enjoyed counteracting the stress of tired, swollen, achy feet is by soaking them in Epsom salts.  Last week when Angie shared a Lime & Mint Foot Soak I thought it would be a great idea to mix up a batch to have on hand while we get ready to move this month.  I'm certain I'll be exhausted and in need of a good relaxing foot soak many nights to come.
The soothing, homemade mixture of Epsom salt, lime zest and various natural ingredients would also make a welcome gift for Mother's Day or Teacher Appreciation ; use the Foot Soak Label template as a gift tag or label, and affix it to a jar or bag to treat someone special.
To make the foot soak, combine 2 cups of Epsom salts with 1/2 cup baking soda and zest of one lime in a large bowl, and add  3-4 drops of lime essential oil and 3-4 drops of peppermint essential oil. Stir with wooden spoon to mix thoroughly. (optional, you could add just a drop of green food coloring if you'd like) Pour the mixture into a jar or bag, and use within a few weeks.
*store in a cool dark place, like refrigerator if using lime zest.  If you'd like it to keep longer, omit the zest.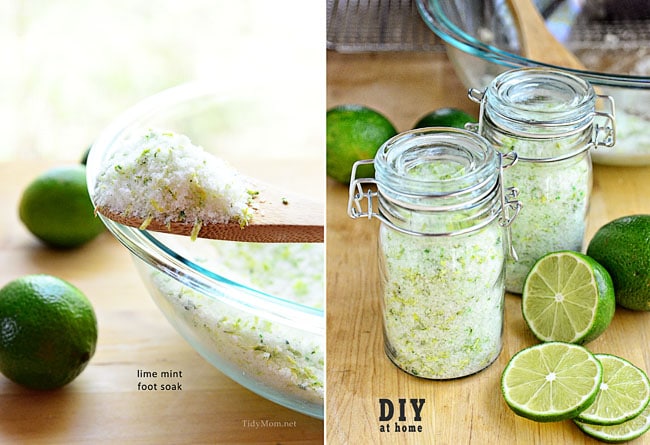 Epsom Salt will soothe aches, eliminate smells and softens up rough skin.
Baking Soda is good for exfoliating, leaving your skin soft and smooth and helps eliminate odors.
Lime is routinely used for its energizing, fresh and cheerful aroma. It is well known in folklore for its ability to cleanse, purify and renew the spirit and the mind. It is also said to be effective in cleansing the aura.
Peppermint is uplifting and fresh.  The menthol induces a cooling sensation, and can help to cool you down,  help ease tension headaches and muscular aches and pains.
Sounds heavenly right?  You can't go wrong with that combo!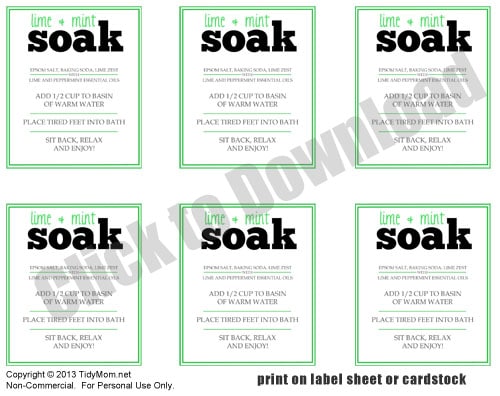 Download the free labels I made here!
FREE FOOT SOAK LABEL
I picked up my jars at Michaels, the essential oils at a local shop called Herbs & More and the other ingredients at Target.
If you'd like to purchase online, you can find everything you need on Amanzon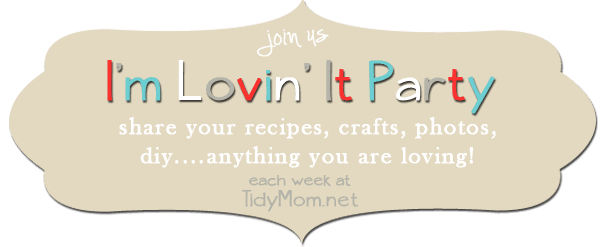 I'm Lovin'…….Homemade Lime & Mint Foot Soak

Now it's your turn! Please remember to link back to http://TidyMom.net
Let us know what you're lovin' this week!
*Don't forget to come back over the weekend for the I'm Lovin' It Wrap Up post……where I feature a few of the great links!!
What is I'm Lovin' It Fridays? get all the info, how to's trouble shoot and button here