Valentine Rose Cupcakes
Valentines Day is tomorrow!  There's still time to make something cute and delicious!  I bet you may even have everything you need for these Valentine cupcakes in you pantry right now!
My oldest needed some birthday cupcakes to take to work the other day.  The birthday girl wanted vanilla cupcakes with vanilla frosting and to be honest, I was a little disappointed. lol  I thought it sounded a little boring, until I remember I've never tried my hand at making rosettes on top of my cupcakes.
It's unbelievably easy. 
How to make rose cupcakes
First  I mixed up a batch of  Perfect Cupcakes using a mix  'recipe' using a box of  Duncan Hines Moist Deluxe French Vanilla .  Now if you really want to go all out, you may want to give this White Wedding Cake recipe a try, but honestly that doctored box mix recipe is AMAZING! I get compliments on my cakes and cupcakes every time I use it.
While the cupcakes are cooling whip up a batch of your favorite butter cream frosting.  This time I used a crusting butter cream and LOVED it!
Supplies
You will then need 16″ Disposable Icing bag and a 1M tip and gel food color (of choice).
Instructions
Place the frosting in the bag with the 1M tip. To make your rose, simply start at the center of your cupcake and move around  the center in a circular motion. Basically, it's like making a spiral from the center out.  Most of the cupcakes I went around the center two times.
Garish with sanding sugar or sprinkles if you want.
SHOP THIS POST

Notes
I frosted 8 cupcakes with my white frosting, then I added pink coloring to the butter cream and frosted 8 pink cupcakes, then finally added the Super Red color to the pink to get my red frosting.  It was way less mess and stress than trying to made all three colors before I started.
Share them with someone you love!
Rose cupcakes aren't just for Valentine's Day, they would be a sweet surprise for Mother's Day, a birthday, wedding or shower.
More Valentine Treats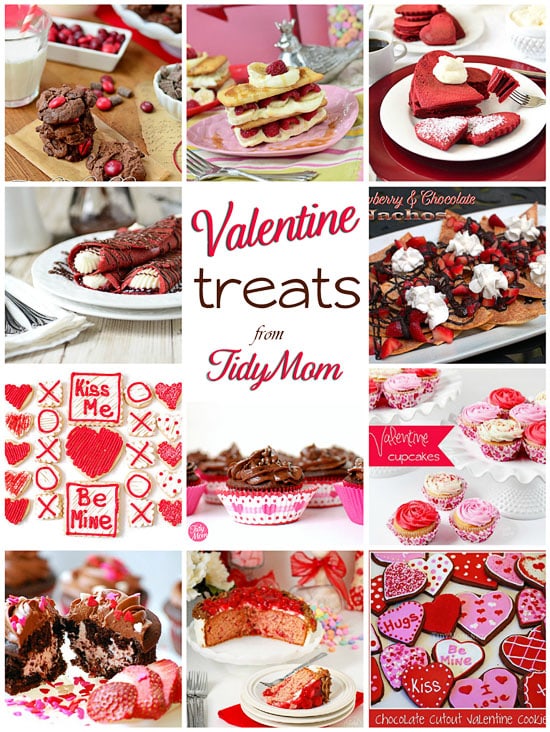 Triple Chocolate Cherry M&M Cookies |  Caramel Banana Raspberry Napoleons | Red Velvet Pancakes | Red Velvet Crepes | Strawberry & Chocolate Nachos | Valentine Butter Cookies with Butter Cream Frosting | Chocolate and Salted Caramel Cupcakes | Valentine Rose Cupcakes | Chocolate Cupcakes with Strawberry Whipped Cream Filling | Cherry Sweetheart  Cake | Chocolate Cut-out Valentine Cookies with Royal Icing
Are you ready for Valentine's Day?  Do you do anything special?