Creamy Chicken Pot Pie: Easy Weeknight Dinner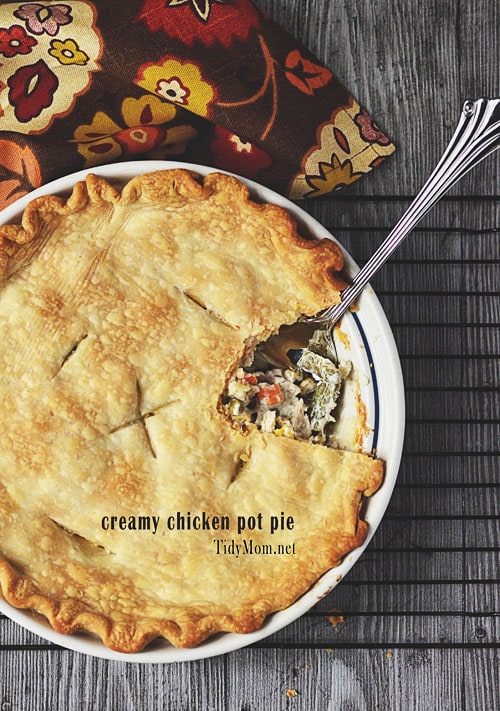 Fall came tapping on our door the other day!  I had all the windows open, while I enjoyed the crisp cool air that filled the house.  I actually had to put on a sweater and socks and started to close some windows, when I decided it would be the perfect time to crank up the oven for a little bit of comfort food for dinner.  This creamy chicken pot pie is so easy to make and 4 time saving ingredients makes it great for any weeknight feast!
Now of course if you have time, you can always make a fabulous chicken pot pie from scratch, but if you want fast and delicious Philadelphia Cooking Creme can make that happen with  a rotisserie chicken from the grocery store, refrigerated pie crust, and frozen vegetables!  See? Really painless I tell you!
It took me all of 10 minutes to pull apart the chicken, and heat everything in a skillet, pour it in a pie plate, and top it with the refrigerated pie crust!  Toss it in the oven for 30 minutes while you make a salad and set the table and dinner is ready!
My husband wont usually eat something like this, he's not a casserole lover, but to my surprise, he not only ate it, but actually enjoyed it and ate leftovers! SCORE!!  This will definitely be showing up on our regular dinner rotation!
This would also make a great turkey pot pie when you are looking for ways to use up left over turkey after Thanksgiving!
or how fun would it be to make autumn leaf hand pies!  ooooh, I may do that next time!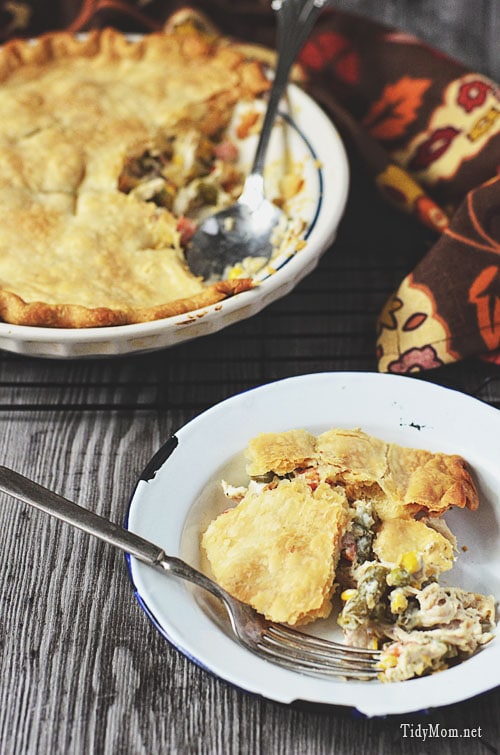 Have you tried the Philadelphia Cooking Creme?  We love them! I use them on grilled pizza and pasta.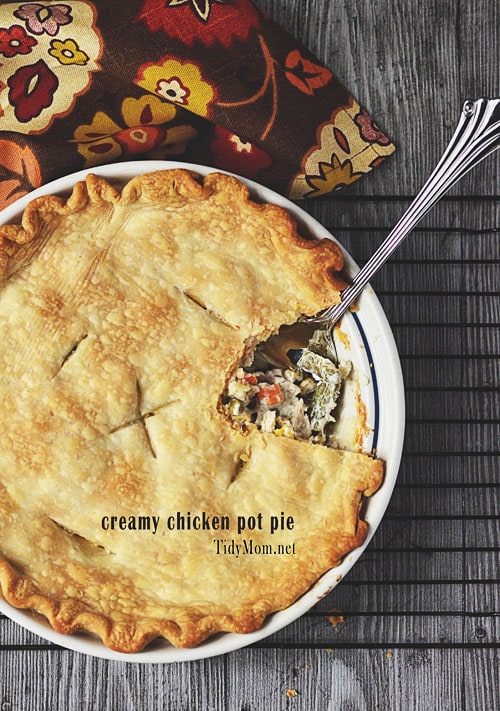 Get the family around the dinner table with this easy creamy chicken pot pie. Recipe from Kraft Foods
Ingredients
1 Rotisserie Chicken, cooked and cut up (about 1 pound)
2 cups frozen mixed vegetables (carrots, corn, green beans, peas), thawed, drained
1 tub (10 oz.) PHILADELPHIA Italian Cheese and Herb Cooking Creme
1 ready-to-use refrigerated pie crust(1/2 of 14.1-oz. pkg.)
Instructions
Heat oven to 400°F.
Warm chicken in large nonstick skillet on medium heat 3 to 4 minutes, stirring occasionally until chicken heated through. Add vegetables; cook 1 to 2 minutes. Stir in cooking creme; spoon into 9-inch pie plate.
Cover with refrigerated pie crust; seal and flute edge. Cut several slits in crust. Place pie plate on baking sheet.
Bake 25 to 30 min. or until golden brown.
Notes
would also be good with left over turkey and Philadelphia Savory Garlic Cooking Creme.
https://tidymom.net/2012/creamy-chicken-pot-pie/
Copyright© 2009-2013 TidyMom.Net
Like this recipe? Add it to your personal recipe box to make later or add the ingredients to your online shopping list to make it this week. Just click the Save Recipe button to get started.
Check out more recipes at Kraft Philadelphia Fresh Family Favorites monthly recipe program, featuring simple, creamy dishes that are sure to please even the pickiest eaters!

Disclaimer: I was selected by Kraft Foods to participate in the Philadelphia Cooking Creme recipe program. While I have been compensated for my time, my opinions are my own, and I have not been paid to post positive comments.